By Laia Cardona, on 10 November 2021
Brand development is an integral part of any effective marketing plan. This is because your brand is arguably your most valuable asset. It represents your core identity and values as a company, and it connects you to your target market. You should therefore always strive to develop your brand and raise awareness of who you are and what you have to say. Companies that fail to develop their brand are unlikely to succeed in the long term.
That said, let's look at why brand development is so important for your business and how expanding the reach of your brand can benefit your bottom line and help you stand out from the crowd.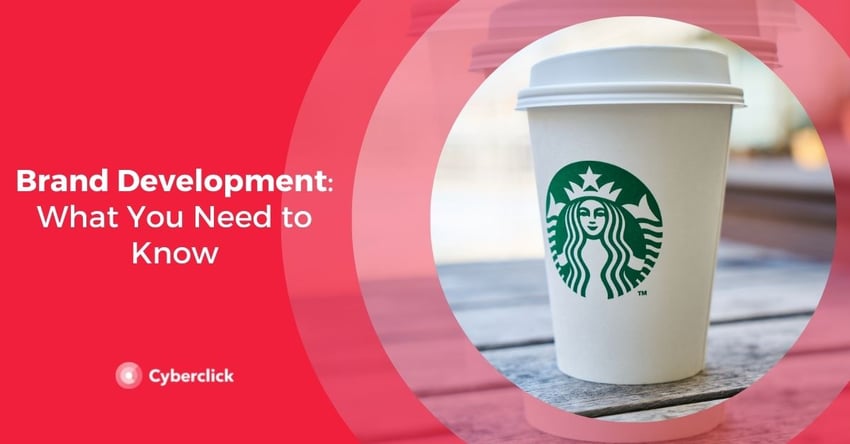 What Is Brand Development?
Your brand is your personality. It goes beyond your reputation. It's about how consumers perceive your products, vision, and content and how they feel when they see your logo or make a purchase from you. It takes into account everything from your voice on social media, to the way you handle customer service and the quality of your products or services. When your brand is cohesive and well-articulated, your marketing initiatives are too.
But your brand is not static. It needs to evolve with your business and with the changing markets. This is where brand development comes in.
Brand development is the ongoing process of maintaining the quality of your brand as well as consumer trust. It is a strategic process of creating your company's image and distinguishing it from your competitors. It involves refining, tweaking, and building a frame of reference for your audience so that your brand captures the essence of who you are as a business and what value you have to offer.
The benefits of developing your brand include:
Better customer recognition

Competitive edge in the market

Easy introduction of new products

Higher customer loyalty

Enhanced credibility and ease of purchase

Increased word of mouth recommendations

Higher advertising effectiveness

Lower price sensitivity
Best Brand Development Strategies
A successful brand is one that is consistent and recognizable. It communicates who you are, what you stand for, and what you have to offer. It is the core foundation of who you are as a business. It's about building an identity, positioning yourself in the market, and effectively managing your brand's growth.
There are a number of brand development strategies that can help you achieve this.
Let's take a look at some of the most important steps in creating an effective brand strategy that drives growth and profitability.
Define Your Brand's Core Message
One of the most important brand development strategies involves defining your brand's core message and identity. This is vital as it determines who you are and what you stand for.
What are your values? What is your personality as a company? What can you offer buyers? What makes you stand out from your competitors? How are you contributing to the environmental, social, and/or economic well-being of consumers or society at large?
You need to take into account two perspectives here:
The relationship between you and your competitors
The relationship between you and your customers
A good place to start is by conducting a SWOT analysis. This involves identifying your Strengths, Weaknesses, Opportunities, and Threats.
Research & Identify Your Market
Once you have defined who you are as a company, the next step in your brand development strategy involves researching and identifying your target market. This is one of the most valuable brand development strategies as you need to understand who your buyers or clients are and what matters most to them so that you can get your messaging right.
The best way to do this is by conducting thorough market research. Conduct surveys, hold focus groups and, most importantly, listen to what people say on social media. This will help you understand the perspectives and priorities of your target market so that you can anticipate consumer needs and communicate in a way that resonates with people.
Position Your Brand
Once you have defined who you are and who your target audience is, you need to work out how you are going to position your brand in the marketplace.
What differentiates you from your competitors? Why should consumers choose you over other brands? What unique value do you have to offer?
You then need to define a positioning statement that captures the essence of your brand and helps consumers understand this unique value. You need to find the right balance between aspirational and realistic as it's essential that you deliver on what you promise.
Build and Gain Exposure for Your Brand
All brand development strategies are built around one vital step: effectively building and exposing a brand.
To do this, you need to consistently reinforce your values and identity. Make sure your essence is communicated in the same way across all your platforms. For example, if you are friendly and open on social media, don't design a website that is formal and rigid. You want consumers to instantly recognize your brand, not just because of your logo, but because of the unique personality that you communicate at all touchpoints in the buyer's journey.
Build your voice and consistently remind your audience of all the positive qualities they should associate with your brand.
Track & Adjust Your Brand Strategy
The final step you should incorporate in all your brand development strategies is more focused on the long term. You need to track your brand development and measure your results on a regular basis.
How are people receiving you? What opinions and perspectives are they forming about your brand? Is your perceived identity consistent across your entire audience? Does your brand identity align with your brand objectives? How does your branding impact your leads and traffic?
The only way to gain a true understanding of your brand's reputation is by regularly tracking and adjusting your brand strategy. Create measurable targets and monitor results on a regular basis. This will help you establish whether or not your brand is well-received and if your brand identity is having a positive impact on sales. If it's not, then you can make the necessary adjustments to your brand development strategies so that you can develop a brand that drives maximum growth and profits.