By Laia Cardona, on 18 February 2021
Earning a HubSpot Certification is a fantastic way to grow your marketing knowledge and show others you're up to date with industry trends. HubSpot is a leader in inbound marketing and sales software and has developed their courses as part of their HubSpot Academy. Cyberclick is a HubSpot partner and many members of our team have earned HubSpot certifications as part of ongoing education about marketing applications.
But what exactly are HubSpot Certifications and are they worth the time and effort? We'll explore those questions as well as which certifications we think are the best options.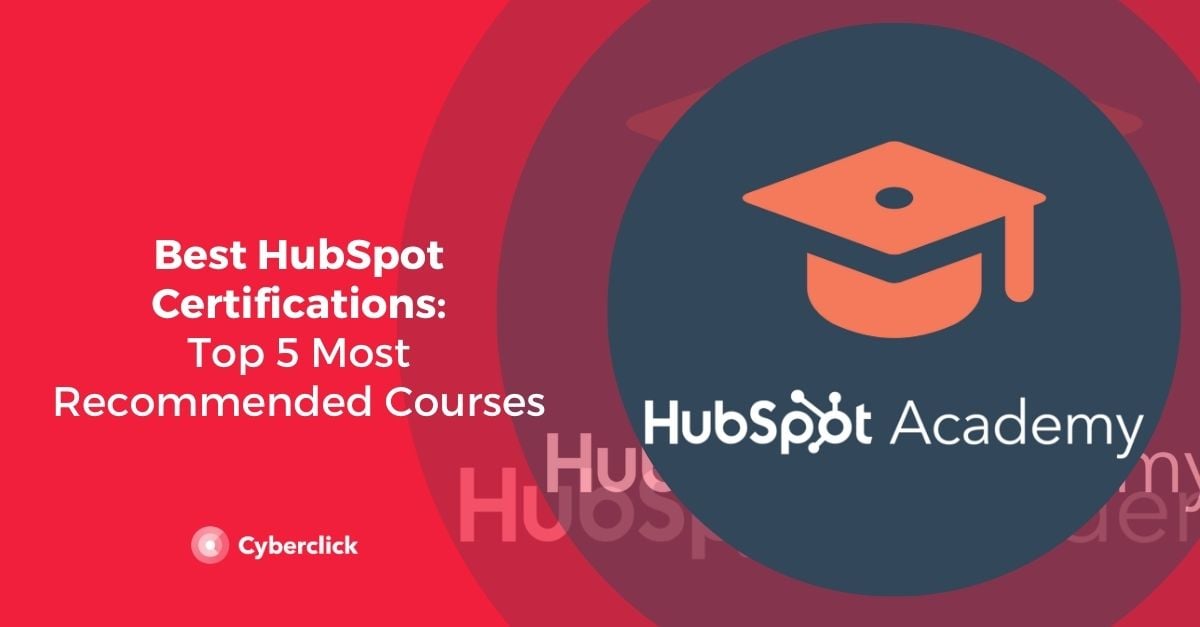 What are HubSpot Certifications?
HubSpot Certifications are free courses and trainings that help businesses advance their knowledge of digital marketing methods, especially inbound marketing and sales. Once certified, you have access to badges which can be displayed online, like on your LinkedIn profile for example. Over 200,000 people have already become certified in some area of marketing through the HubSpot Academy.
It's important to note that not all HubSpot courses come with a certification. Yet with dozens of free courses available on marketing, sales and customer service, it's likely you'll find the ones that make sense for you. There are short, mini-courses as well as comprehensive trainings. You can also search specifically for courses that have certifications by turning on the "show only certifications" option.
Are HubSpot Certifications Worth It?
First and foremost, most HubSpot Certifications are 100% free, so from a monetary standpoint they are certainly worth it. And while most things that are free aren't exactly anything to write home about, this isn't true concerning these quality courses. HubSpot is an industry recognized leader and authority on inbound marketing, which makes their courses viable and valuable. The course content is well crafted and delivers content in manageable portions.
By earning a HubSpot Certification you can expand your own knowledge while learning from experts. They also add a visible boost to resumes and profiles. Many employers are looking for people with knowledge in a range of marketing applications and HubSpot certifications are a great way to show that off.
Best HubSpot Certifications
HubSpot currently offers 20 certifications within their selection of dozens of courses. Some are bite-size, one hour affairs while others can be up to six hours in length. Depending on your marketing goals or what areas you'd like to learn more about, you can find what fits best. That being said, here are our favorite HubSpot Certifications currently being offered:
HubSpot Inbound Marketing Certification
This certification focuses on inbound marketing techniques that range from content creation and nurturing leads to converting them into satisfied customers. Inbound marketing is a less invasive approach than traditional marketing tactics and is at the core of many modern strategies. The course is free and contains eight lessons divided up into 34 videos.
HubSpot Social Media Certification
Social media marketing has become the primary means of advertising for many brands. HubSpot's social media course will teach you the fundamentals of strategy, brand awareness, public interaction, social inbound methods, measuring ROI and more. This certification is also free and has 40 videos within eight lessons.
HubSpot Content Marketing Certification
Content is still king, and producing great content is a skill every marketer should know. This course is one of the most in depth trainings HubSpot offers and focuses on various strategies for increasing the quality of your content on a consistent basis. Learn to create content frameworks, repurpose content and streamline your efforts. Another free certification.
HubSpot Email Marketing Certification
Learn to manage and segment contacts as well as analyze the effectiveness of your emails in this comprehensive email marketing certification. Email marketing is one of the most in demand marketing skills and this course helps you master the fundamentals. Also free and has over three hours of content.
HubSpot Inbound
Become familiar with overall inbound strategies. From marketing, to sales and service, this training covers all the bases of inbound methodology. Additionally, you'll understand the flywheel and how to apply it to your business. Another free certification.
Digital marketing is an ever-changing landscape and keeping up with new methods and tools is a serious challenge. Fortunately, the HubSpot Academy and their free marketing certifications are an excellent way to keep pace with these industry evolutions. They're created by a highly respected brand, contain high quality educational content and are mostly free. We highly recommend earning a marketing certification with HubSpot!