By Chantal India, on 23 March 2021
Marketing on Instagram day in and day out can lead to a stall in your creativity—it happens to all of us. One way to reignite the creative energy and gain inspiration is from checking out other Instagram accounts. Social media marketing is all about variety and novel content, sometimes it just takes a little spark.
You can find inspiring content out there across many industries that can give you ideas for your next campaign. Here are some of the best brand accounts on Instagram for jumpstarting your marketing inspiration.




9 Best Brands on Instagram


1. Book of the Month
Book of the Month knows exactly who their audience is and what they want to see, and they deliver it! Socially conscious women seem to be their target audience and their messaging and humor match the demographic perfectly. They are masters of creating engaging content like polls and questions using their stories. Book of the Month also curates book lists based on user submitted emojis. Most importantly of all, they keep their account fun with colorful posts, funny recommendations and content their followers can relate to.
Takeaways
Know your target audience
Use questions and polls to drive engagement
2. National Geographic Travel
What gets people excited about travel? Inspiring visuals of course! Nat Geo Travel has mastered the art of travel photography and their feed is chock full of inspiring imagery that makes you want to pack your bag and hit the road. Nat Geo Travel works closely with professional photographers, who are Instagram influencers in their own right, by tagging them in their photos and cross promoting.
Takeaways
Use a mix of high quality imagery to things fresh
Partner with influencers who are in your industry
3. Ben and Jerry's
The iconic ice cream brand has brought their quirky, fun-filled branding to Instagram in a big way. Delicious product pictures, witty captions and socially conscious posts are consistently in line with Ben and Jerry's style. Brand accounts for different countries and languages also helps keep international markets included and engaged. Most importantly, their followers eat it up as they stay true to who they are and have always been.
Takeaways
Use consistent to build a loyal following
Use humor to keep followers entertained


4. Away
Another travel brand which is killing it on Instagram is Away. Away is a luggage maker that mixes up product photos with cute animals and soft, stunning destination shots to generate a culture around travel. Away has also partnered with influencers like tennis star Serena Williams to portray a certain lifestyle around their luggage. In addition, Away uses stories for surveys for their product development. This gives followers the opportunity to take part in color selection and design while letting Away know exactly what customers want from their products.
Takeaways
Everyone's a sucker for cute animals—consider using them or other irresistible options in your posts
Use Instagram for product feedback and development
5. Chubbies
Chubbies is a men's shorts brand that blends humor and funky fashion to delight customers. Their Instagram account is filled with clever memes featuring men in short shorts and is all about one thing: fun. The comments on Chubbies posts are also hilarious which tells you that their humor is finding its audience. Chubbies uses stories called 'As seen on' to feature user generated content (UGC) and flashy animations to highlight new clothing.
Takeaways
Feature UGC for 3rd party validation and to build relationships
Build a culture around your products by being different and unapologetic
6. Lululemon
Lululemon is a sportswear brand with a focus on yoga and their Instagram account symbolizes their commitment to diversity and inclusion. A UGC is utilized for their 'Proud and Present' stories featuring LGBTQ followers and ambassadors. Besides having country specific accounts, Lululemon has also gone so far as to have city specific accounts.This brings an ultra local vibe to an international brand which creates relatability and community. Use of hashtags like #thesweatlife also fuels engagement and brand awareness.
Takeaways
Use your platform to support social causes
Make location specific accounts to generate community
Use stories to create a series featuring followers
7. Vans
As shoe company that oozes cool, Vans has extended their brand success seamlessly onto Instagram with 17.5 million followers. What sets them apart is their audience segmentation and multiple accounts for different sports like @vansbmx or @vanssurf and even one specifically for female fans with @vansgirls
Takeaways
Use segmentation to target your different buyer personas
Consider separate accounts for different demographics
8. Patagonia
Patagonia is one the most well-known and respected brands in outdoor sports and in the world of business in general. They are committed to the environment and to running a more sustainable business model. With 4.6 million followers, Patagonia uses their platform to not only market their high-quality goods but also to create a community of outdoor athletes and activists. They use stories to feature clips of their short films on environmental issues, athlete spotlights, and inclusion in outdoor sports. Like Vans, they also have multiple accounts for different sports and international markets.
Takeaways
Use video content to tell stories about people making a difference
Stay true to your company mission and ideals as a brand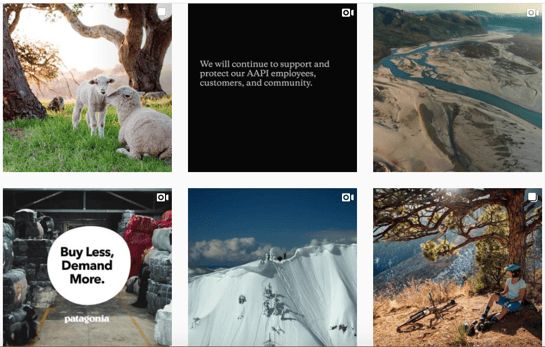 9. Shopify
The ecommerce platform giant Shopify rounds out our list with useful, creative and compelling content that gets your entrepreneurial spirit up and running. Shopify features user success stories as well as inspiring business statistics to get followers started on their own ecommerce journeys. They know their audiences' pain points and offer solutions directly and indirectly. A good mic of images, text and video content keeps Shopify's account varied and interesting.
Takeaways
Know your audience's pain points and offer clear solutions
Provide inspiration through user stories
Mix up your content to keep things fresh