By Jessica Bubenheim, on 15 August 2018
Core to each viral technique is giving each user a clear incentive to share your marketing content quickly. We're exploring how each technique has proven to be a fun way to for users to spread content virally. These proven viral marketing campaigns include marketing techniques that manage to spread a message, propagating it progressively, as if it were a virus.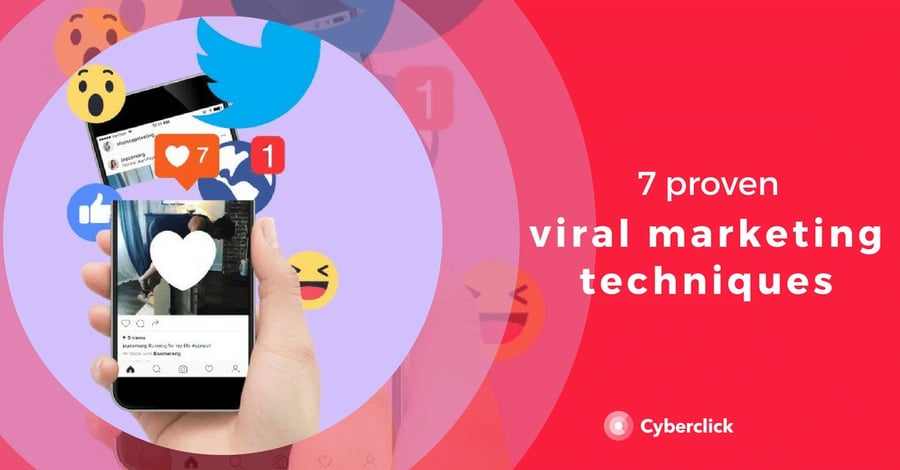 The advantages viral techniques have proven us
The advantage of viral marketing is that it is a very economic process, often at zero cost. Viral repercussions can lead to great brand awareness in a short period of time. One of the greatest advantages of using proven techniques that work, is that your viral messages end up in the engaged eyes of a user, as opposed to a spam folder.
"Going viral" is the dream of many brands. We've chosen 8 proven techniques to make a viral campaign a media success media. These have shown to bring the advantage of brand loyalty, engagement, and reaching new customers.
7 proven viral marketing techniques
1) Solidarity campaigns
Let's start off with the well known marketing case of Pepsi Refresh. This campaign was a winner amongst 'impact driven' millennials as it promised donations for humanitarian and solidarity projects. The Pepsi Refresh Project linked the "refreshing" aspect of this drink with a social impact mission bringing economic aid to achieve a better world.
2) Brand personality campaigns through Video
Video marketing techniques using a "making of" or "day in the life of ..." help your audience get to know you better and feel part of your brand. Share the most curious aspects of your story and you will earn points of viral appeal. Remember that millennials value spontaneity and honesty, so give them a chance to see right into your brand.
3) Animations
It does not matter that millennials are getting older ... animations never get old- and we love them at all ages.
Animated videos attract audience attention and allow brands to transmit their values in a simple and visual way. Working with animation instead of real images offers a lot of possibilities to adapt the style to your brand, from the type of drawing to the colors. So put your design team to work. But before you get lost in the stylistic details, don't forget to plan the most important part, your story.
If you're looking for some inspiration, we've listed success stories of direct marketing techniques here.
4) Engage your users with an app
The viral 'Retro Smooth' campaign, created by the drink Mello Yello, offered its Facebook fans to personalize their photos in a retro tone through an app. This type of app marketing technique tends to always achieve great success because people love to share their creative side with their loved ones.
5) Trailers
This proven digital marketing technique is based on the idea of using trailers to promote any type of brand, product or service, adapting this classic style to the digital world.
Here it is necessary to be original and creative to turn your product into the protagonist of an unforgettable film. If you really want your virality to skyrocket, think about how to get your audience involved and feel part of the story. Lights Camera action!
6) Videonews
Millennials are a very visual generation, so video content tends to succeed. The videonews technique is based on communicating the message of a brand by adapting various video clips to the different social networks. Thanks to options such as live videos from Facebook, Twitter and other networks, the audiovisual possibilities do not stop reinventing themselves.
7) Involve your audience in the message
We're going on a nostalgic trip back to the first Smurf town in the world. In promoting the premiere of the movie 'The Smurfs' - the marketing team launched a campaign to get the whole of spain buzzing. The first Smurf town was given as Júzcar, Malaga. This technique went viral as individuals from the whole town painted themselves blue and disguised themselves as the films protagonists.
There are different techniques that have proven effective to viral marketing campaigns. We owe the viral effects of these techniques to three fields; incentive marketing, undercover marketing, and rumor marketing. Creating viral effects through incentive marketing is the technique of encouraging the user to 'share' using intrinsic motives as well as giving users small incentives (reward for forwarding to their contacts). Undercover marketing techniques are those where a viral message is presented as content or news in a curious and attractive way, without looking like a campaign. Lastly, the rumor marketing technique is where we would create controversy in social medias with videos that seek confrontation and controversy, in such a way that advertising is generated.
To this day, millennials are the most prominent generations of consumers worldwide. That is why it is essential to take into account their habits when selecting your viral marketing technique.