By Anna Ribas, on 10 December 2021
Mystery shopping is a technique used in the marketing world to obtain objective information about your company (or your competitors) from a customer's point of view.
Through a "mystery shopper," you can detect strengths and areas of improvement for your business. Let's take a look at what a mystery shopping study consists of and how it can be helpful for your brand.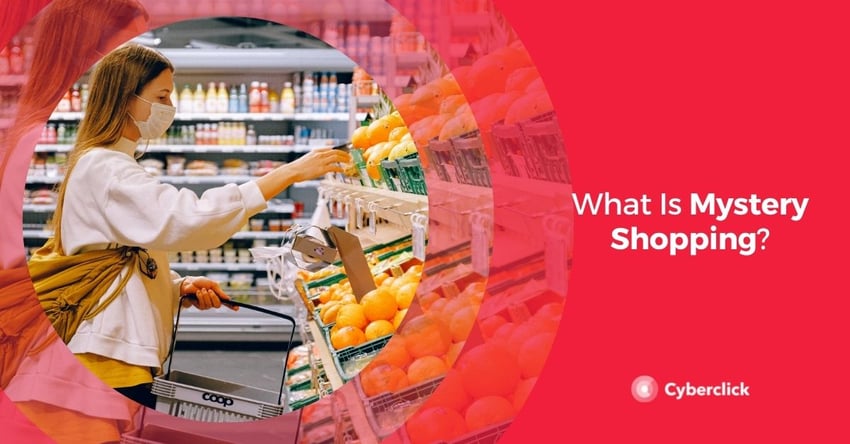 What Is Mystery Shopping?
Mystery shopping is a market research technique that involves hiring a mystery shopper to go through a company's user experience, either online or at a physical store, and document his or her findings.
This person can also buy products or services from your company or your competitor's to understand the purchasing process. Mystery shopping is a helpful research method because it provides valuable insights directly from the user's point of view.
Objectives of Mystery Shopping
Mystery shopping can be helpful for your brand in the following ways:
Conducting market research. Mystery shopping allows you to obtain information about your company in relation to your competitors. It is also very useful for understanding which brands are offered when someone requests a product or service (for example, which brand of bottled water is served in a restaurant).

Analyzing and evaluating the company's customer service. The mystery shopper report should cover all aspects of the service provided, from the first contact with the brand up until the customer leaves the store (in the case of physical businesses). Data around the initial greeting, the way employees act, how long the customer has to wait, and the product quality is collected.

Detecting areas for improvement. Assuming the mystery shopper is evaluating a physical business, he or she can provide insights into how products are organized in the store, how clean it is, what the customer experience is like, and more.

Evaluating employee training. Through mystery shopper visits, you can also ask questions to gauge the employees' knowledge about different products and services.
3 Benefits of Mystery Shopping
Mystery shopper visits are a great way to learn about how your competitors operate.

Auditing the customer journey helps identify gaps in the user experience and ways to optimize them.

It is a great way to evaluate every aspect of the customer journey. For example, if lines form during peak hours or if there are difficulties making product returns.
How to Organize a Mystery Shopping Study Step by Step
1. Define Your Objectives
Mystery shopping has a lot to offer. Think about what your company could get from hiring a mystery shopper. It isn't something you should do just for fun. Instead it is about getting the information you need to improve your customer service.
2. Identify Your Target Audience
Before putting together a mystery shopping campaign, you must have a clear idea of your customer profile. You can do this by creating a buyer persona (a semi-fictional representation of your ideal customer) based on their needs and pain points.
3. Establish a Strategy
Mystery shopping is about gathering valuable information on key moments of the customer journey. Therefore, you must have your buyer journey clearly mapped out.
Classic mystery shopping is done by visiting a physical establishment, like a store or a restaurant, but this is not the only option. Keep in mind that more and more customer interactions are occurring through digital platforms, so it is also worth having a mystery shopper audit the online user experience.
It can be helpful to create a "what if" scenario map so that your mystery shopper has a clear idea of what to do in different situations.
4. Create Visitor Materials
Mystery shopping campaigns should include a training manual and a questionnaire so that the shopper can provide feedback about his or her visit.
The manual should define the guidelines of the visit, explain in detail the different questions and concepts of the study, and serve as a general guide for the mystery shopper.
It is best to keep the questionnaire as objective as possible and design it around the aspects of your business you would like to gain insights on. The idea is that the user fills out the questionnaire after each interaction he or she has with your company.
Here are some examples of the most common questions.
How many people were in the store at the time of the visit?

Was the mystery shopper greeted upon entering the store?

How are the products arranged inside of the store?

What did the mystery shopper have to do (search the store, ask the staff, etc.) to find the desired product?

How was the mystery shopper treated by employees?

How long was the mystery shopper in the store in total?
5. Measure Results
Before starting your mystery shopping campaign, you should establish your KPIs (key performance indicators). Once you have these, design the questions in your questionnaire around them so that you can obtain the exact data you need in order to keep your campaign on track.
Other Types of Mystery Shopping Campaigns
Mystery Market: mystery shopping service focused on analyzing customer service in supermarkets and department stores.

Mystery Hotels & Cruises: mystery shopping techniques in the hotel and tourism industry. The focus is on establishments that provide accommodation.

Mystery Diner: a mystery shopping service specifically dedicated to the restaurant industry.

Process Audit: here, instead of using a mystery shopper, an external auditor is used to measure process compliance. This is particularly relevant if you want to evaluate the degree of staff training.

Mystery Calling: analyzing a call to the company's call center to evaluate the customer service.

Mystery Web: a mystery shopping service focused on auditing a company's website and evaluating the user experience. This is especially useful for ecommerce companies.

Mystery Chat: similar to mystery calling, but instead of evaluating a phone call, the customer service provided through online chat or messaging channels is evaluated.