By David Tomas, on 18 April 2018
Recognition should be an integral element of any group, team, start-up, SME, or large corporation. Employee recognition is not just for special days like "global worker recognition day" (4 March).
In Cyberclick we value people, in fact 'admire' is one of our core values. Our way of showing people what they mean to us, is through recognition. This simple act has brought us numerous awards such as "Best Place to Work". Apart from awards, employee recognition brings wide-ranging merits. Keep reading for the top motives integrating recognition into your corporate culture.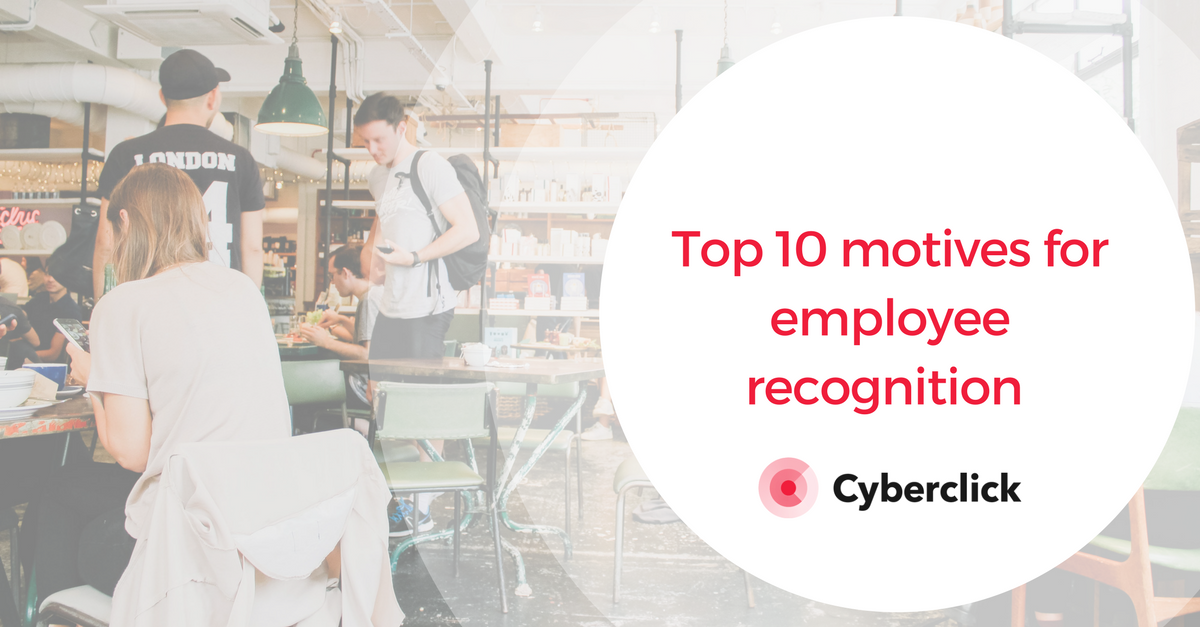 1) Valued employees are happy employees
We are social beings, and whether it seems 'efficient' or not we are sentient. As hard as some may try. We don't leave our emotions behind at the entrance to the office. We bring them along with us to every thought, decision, and action everyday. And in the same way, when we walk out the office door at the end of a working day, we take our feelings from the day with us for the rest of the evening.
Recognition makes employees feel valued, they see that their efforts count. This spreads positive energy throughout the office, creating a pleasant working environment. Pragmatically speaking, its estimated that happy employees are on average 12% more productive. And for your employees, they get the satisfaction of taking home positive feelings, and and continue to perpetuate them there. The synergies for employees of valuing one another are potent.
2) Strong individuals build strong teams
Happiness is contagious. A happy collective comes from happy individuals. Employee recognition brings positive energy at the individual level, resulting in more harmony, more welfare and better teamwork.
The end result of positive feedback from employee recognition is a place where employees enjoy collaborative work and show positive team dynamics. As employees give recognition to one another, each individual becomes the best version of themselves. Strong individuals build strong teams, and in turn, achieve excellence in results.
3) Valued employees are in it for the long term
If your only looking for profits, thats okay too - employee recognition translates directly into profits for firms. Why? Because happy employees are loyal employees.
One of the biggest problems for many companies is excessive staff turnover: put simply, employees seek out the better deal because they do not feel particular loyalty to a firm. High turnover wastes time and money. Time, because a new employee takes months to be fully integrated into the company, know the processes and perform their best. And money, because the training of new employees is an investment for the company.
In similar ways that customers retention is cheaper than customer acquisition, employee retention is cheaper than employee acquisition. One of the best ways to retain talent is through valuing people and giving employees recognition for their work.
4) Employee recognition is fundamental to employee branding
When an employee feels valued and happy, their the main evangelists for your brand, wherever they go. Why is this important? Top talent seeks out current employees to gain insights on whether they think they'd enjoy themselves there and whether it seems like the right fit. So why not make every interaction with potential talent that you may attract a positive one?
Recognizing employees is an investment in employee branding and image dispersion. A strong brand will prove beneficial when hiring top talent and when seeking out key partnerships with firms that value their co-workers, employees, and partners the same way you value your own.


5) 'Thanks' is a powerful little word
"Thanks" is a magic word that opens many doors. It's certainly a word everyone could weave into their vocabulary a little more often. When you say "thanks", the other person opens up to lower their guard and respond "no worries". Like happiness, gratitude is contagious.
With this simple word, the other person understands that you're recognizing what they have done and that you value their efforts.
Employee recognition begin by thanking each member for what they bring to the team, every day.
6) Listening is Admiration
Employee recognition workers starts with listening - and yes there really is a reason why listening and hearing are two different words.
Improvements in any team begin at the individual level- and listening is a place that's easy for everyone to start with. As Oprah Winfrey said, everyone has one thing in common: we all just want to be listened to.
Forgetting to listen means losing track of self improvement and the improvement of others. The moral of the story: if you want your employees to continuously seek improvement and give constructive feedback, the best place to start is though listening.
7) Feel autonomous. Feel purposeful. Feel mastery.
Employee recognition enables individuals to feel that what motivates them most: autonomy, purpose, mastery. The most simple step to achieving life's biggest goals is believing that you can.
The happiest companies are those where workers have autonomy, mastery, and purpose. They know what they are worth and are willing to prove it to themselves every day, to keep improving.
The image that we have of ourselves greatly influences all aspects of our lives. An employee that is left unrecognized, unvalued, start to lose trust in himself. And from there on, it's just a self-fulfilling prophecy.
How do you empower your employees to feel autonomy, purpose, and mastery? Maybe you could take a guess by now- employee recognition. Much of our self image is a construct of how we believe others see us. Knowing that others value your work is the basis for creating valuable work.
8) Employee recognition brings employee optimism
An employee who feels valued and trusts in his self worth as a professional will face challenges with optimism and desire to excel.
For any employee, spending years sitting at the same desk doing more of the same tasks can become deadly for productivity. To improve as employees, and as individuals, we need to push ourselves and face challenges with optimism. A strong leader will recognize natural talents and preferences of their employees, using this knowledge to propose career challenges. When employees are recognized and valued for their true strengths, challenges become opportunities.
9) Employee recognition fosters trust
"Trust" is a keyword for any relationship. Elvis Presley already said: "We can't build our dreams on suspicious minds".
A happy company is one where both the boss and employees rely on one another,fluidly and in all directions. This puts high expectations: when you trust someone from the first moment and show them, that person will strive to be worthy of your trust.
When a worker feels that their needs are taken into account and respected, works are more motivated, more excited and will more proactively try to achieve their personal and team goals.
10) From giving recognition, to becoming a leader
Good leaders motivate, listen, guide, and give confidence that brings out the best in people. You'll recognise a great leader when everyone around them looks encouraged to take on a new challenge. Valuing your employees is your first step towards becoming a leader.