By Helena Alcoverro, on 10 May 2023
Did you know that Facebook Marketplace has become one of the most profitable channels for selling products? It provides an alternative for entrepreneurs, SMEs, or any business that wants to boost its sales. But what makes it different from other channels? You probably think that advertising on Facebook is more beneficial, but actually Marketplace posts have a much longer life cycle.
Read on as we share some tips that will help you maximize your presence on this platform and increase sales!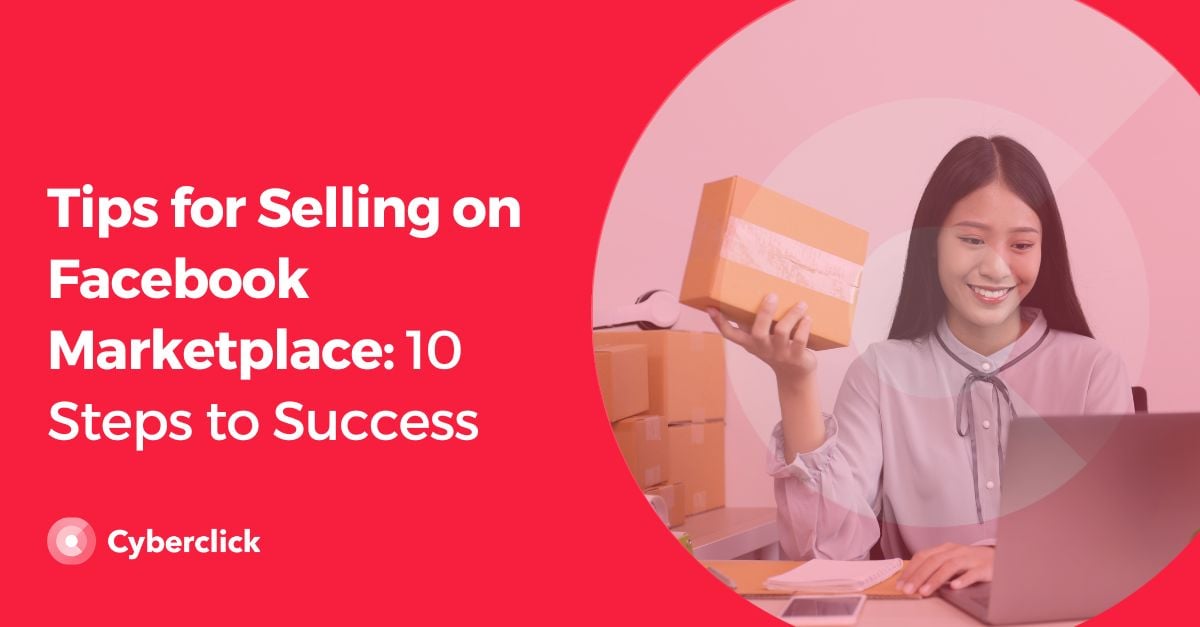 Benefits of Selling on Facebook Marketplace
There are 4 benefits that make Facebook Marketplace stand out from other channels.
The life cycle of the posts. Posts that are published on Marketplace will be visible to users for much longer, unlike on a Facebook page, where their time is more limited.

Sorting products by geographic location. Marketplace organizes products according to geographic location and shares this with potential customer. Although there is always the option to expand this radius.

Searchability. This is linked to the optimizations of your posts. The better optimized they are, the easier it will be for buyers to find you. In fact, this will extend the life cycle of your products.

Better interaction with your customers. Through a private chat, buyers and sellers can interact and build a closer relationship.
10 Tips for Selling on Facebook Marketplace
After seeing all its advantages, you may want to try one of the top marketplaces of the moment. But first, here are some tips and recommendations that will help you achieve your sales goals and stand out from the competition.
1. Research Which Products Are Best Sellers on Facebook Marketplace
Do a little investigating and find out what sells the most. To do this, check different categories and look at what the top products are.
Marketplace also gives personalized suggestions according to the preferences of each user. This will undoubtedly help you make more successful ads for the things you want to sell.
2. Add Quality Photos of Your Products
One of the features that stands out on Marketplace Facebook is the option to upload up to 10 images of your product. Take good photos that have good light and show all the details because this is what will make the difference. And don't forget that the image size should not be less than 600 pixels.
Remember that certain items, especially fashion and jewelry, sell better if you take photos with models.
3. Select the Right Category for Your Product
Choose the category that best fits your product. For example, if you want to sell a car, there is a specific category for automobiles. Many people forget about this even though it's key for you to be found on Facebook Marketplace.
4. Use Keywords in the Title and Description
Research the words that your potential customer uses to search for products that are similar to the one you sell. An effective formula is the following: product type + brand + color/genre/feature (one of these three). See which one works best for you.
Opt for a brief description that has a hook to attract the customer's attention. Something that never fails is to be transparent and human. But first, remember to research who your ideal client is in order to address them with a specific tone.
5. Take Paid Ads into Account on Facebook Marketplace
It will be cheaper and you will have greater reach if you pay for ads in the Facebook Marketplace rather than in the Facebook feed.
One of the advantages of Facebook Marketplace ads is that these appear to users both in the Marketplace and in their news feed.
6. Complete the Fields Facebook Asks You to Fill In
The customer will not buy your product if they are on the fence about it. To avoid this, complete all the fields that Facebook asks for. This way, you can provide a lot of information and if potential customers have any other questions, they can contact you by chat.
Also, one of the best features in Facebook Marketplace is geolocation. By sharing your location, the system automatically organizes the products according to how close the customer is.
7. Don't Forget to Set Prices
Leaving the price field blank is a bad practice. If you don't put it, you will either receive an avalanche of messages about pricing or get very little interest as people select other items that have a specified price.
8. Don't Lie
Transparency is something that customers really value when they buy on the Internet. Avoid saying something is free when that's not exactly true. Add the real price and then if you want, you can lower it.
9. Create an Online Profile with Your Brand Name
Potential buyers will visit the seller's profile. It is important to take care of you profile because, if it transmits an odd or untrustworthy image, it will impact your sales.
Some things you should consider are the cover image (pick an attractive, high quality photo), a profile image that shows your logo, real pictures of your products, and any relevant information about your business.
10. Only Publish Items Once
Many users insist on publishing more than once because they believe they will get more visibility. However, this is a bad practice because Facebook will detect it as spam and could even block your account.
However, this does not mean that you can't republish a product to show new photos, a different title, and a more attractive and optimized description. In this case, Facebook will not consider your ads as spam.