By Estela Viñarás, on 6 April 2016
Gestures, postures, tics… our body language is unique, and says a lot about us, which is why traditional "door to door" sales people have always known how to use it to make a sale. These subtle clues tell us which arguments are best to use in each situation, if the client is bored or giving us their full attention, if they are ready to buy, what offers seem more attractive to them, etc. Basically, a never-ending source of information that simply does not exist when we sell online. But not all is lost: thanks to digital body language, you know all you need to about your potential client, and make the most of their subconscious signals to seal the deal.
Digital body language is the sum of all the digital activities of a user, on both our website and social networks. Visits, clicks, forms, likes… it is the small gestures that form each person's digital fingerprint and, just as in "analog" body language, each client is a unique individual. So, in order for you not to miss out on any of these clues, today I would like to tell you about the 10 reasons to implement digital body language in your marketing strategies.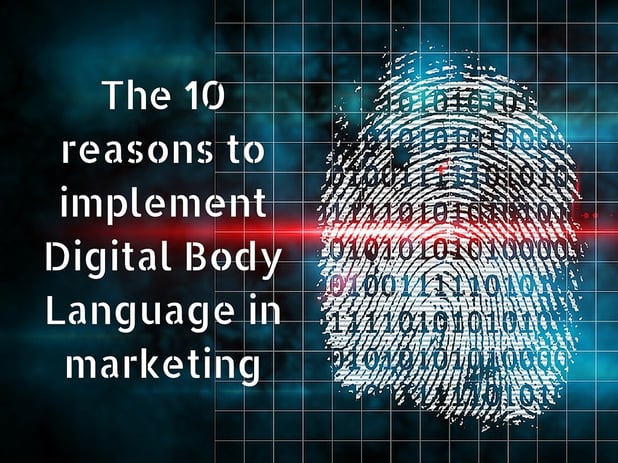 10 reasons to implement digital body language in marketing
Because it allows you to take advantage of the full potential of big data
Surely you have heard of the concept "big data", but do you use it in you marketing plans? Our daily activity generates an infinite amount of data that, in most cases, end up lost in Internet space. Knowing digital body language like a bilingual will allow you to take advantage of the full power of information.
Because it goes much further than Google Analytics
Google's measuring tool is the foundation of many digital marketers' day to day. And although it is a very useful and complete software, it comes of no use when what you want is to get to know your users one by one. Just like any other marketing tool, we have to make the most of what it provides us, and be open to other solutions.
Because you will have all the metrics that matter under control
According to the book Digital Body Language, there are 10 essential aspects to controlling this language. They are all metrics, which we should all know:
Source of the leads: Where do your potential clients come from?

Opened emails: Which titles attract most attention?

Number of forms sent: How many times has your form been filled out?

Website visits: How often is your website visited?

Page visits: How many different pages were visited?

Email Automation: are they in your workflows?

List segmentations: What lists are they on and what communications do they receive?

Recent conversions: Which were the last conversions?

Clicks on social media: How do they interact with your Facebook, Twitter and LinkedIn pages?

Lead score: What are their actions on your website and the information you have gathered worth?

Because you can go back to seeing each client as an individual
Sometimes, when we evaluate the results of our online actions, what we see is masses of clicks, visits, actions… what we sometimes forget is that behind each one is a different person, with very different profiles. Digital body language allows us to "individualize" our potential clients and recuperate that old charm of door-to-door sales strategies, which fit like a glove to each individual person.
Because you can value the engagement of each case
As we saw above, one of the key points to digital body language is called the "lead score". This score accumulates all of the user's actions to tell us, in a simple way, how much the user is "worth" as a potential client. It is, without a doubt, a simple way to measure the success of your marketing strategies and elaborate predictive models about the behavior of your users.
Because you can improve the conversions
The final goal of analyzing digital body language is the same as door-to-door sales people's, who would study every detail of their clients' gestures: close a sale or, in digital marketers' language, convert. Knowing the clues that users give us while navigating our website and networks allows us to know which strategies work better in each case and when is the right moment to make irresistible proposals. In the end, improving our sales.
Because you can get to your users wherever they may be
Digital body language is the sum of all the actions of a user on any platform. You will no longer have to analyze your website and social networks separately, asking yourself how they fit in together. In the same way, you can adapt you actions to the behavior of each individual to reach them at the perfect place, at the perfect moment. The same "door-to-door" as always, without having to pay for gas.
Because you can use automation
Automation is the new trend in anything that comes to managing digital marketing and social ads. The new solutions based on artificial intelligence let you save time and work better, collecting and analyzing thousands of data in a matter of seconds. Not even a single detail will slip past you!
Because you can synchronize your messages and offers
Thanks to online marketing platforms such as Hubspot, you can analyze every detail of your potential clients' answers to each one of your actions. There is nothing worse than receiving an excessively commercial message when you are not ready to buy yet, but, luckily, you won't make the mistake again! Now, you can always arrive with the perfect message with the most appealing offer, making the most of everything you know about your clients.
Because you will have all the data you need to keep improving
Digital Marketing is truly an on-going effort that does not end: each strategy we set in motion is an opportunity to get more data, which then serve as a foundation on which we can design new strategies. It is a continuous improvement process where real time, user-individualized information gives you a definite advantage.
Estela Viñarás