By Enric Llonch, on 17 May 2023
Although the changes that Netflix is introducing in its subscriptions are causing the streaming platform to receive a lot of criticism, the numbers indicate that the results may be better than they seem at first glance. Although this has just begun and things may change over time, it's a fact that advertising on streaming platforms does not cause a stratospheric drop in users.
If you want to know more about what changes Netflix has introduced, find out which platforms are planning to do something similar, and why it may be a good idea for your company to advertise on streaming platforms, read on.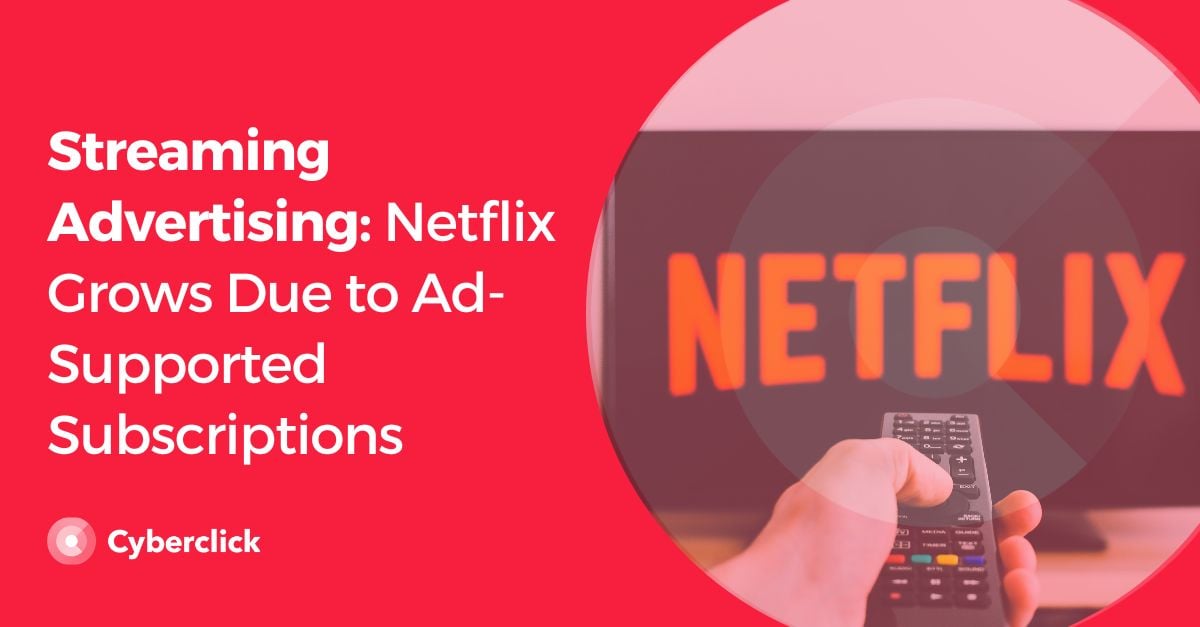 What Happened to Netflix and Is Account Sharing Over?
In 2022, Netflix launched a new subscription option in several countries including the US, UK, Australia, and more. This basic plan with ads has the following features:
HD video quality (720p)

$6.99 a month

Limited catalog of series and movies.

Only one device at a time is allowed
The end of shared accounts seems imminent and is something that the platform wants to do sooner rather than later when it finds the way. Its goal is to eliminate them completely and give the possibility to create sub-accounts to subscribers of the standard and premium plans so that they can be used outside their home for a lower price.
What Led Netflix to Make This Decision?
The introduction of advertising and changes to subscriptions are due to Netflix's need to diversify its business model as it experienced a decline in the number of subscribers for the first time in 2022.
Advertising on Netflix allows the platform to earn additional revenue which, in turn, gives it the ability to create cheaper plans to increase its subscribers.
What Other Platforms Will Add Ad-Supported Subscriptions?
Amazon Prime Video
Amazon Prime Video has raised prices, but does not plan to introduce subscriptions with advertising like Netflix. However, in the United States there is Amazon Freevee, a catalog of content that Amazon offers for free, but that includes advertising.
Disney +
In the United States, Disney + has already launched a subscription with advertising, so it is likely that this will also become an option in Europe. Disney + is a platform that is growing so it will probably implement the strategies used in the United States in other countries.
HBO Max
The ad-supported subscription thing isn't new for HBO Max in the US. Back in 2021 the platform launched its ad-supported plan, HBO Max with Ads, which allowed subscribers to enjoy content, but with ads placed before and during.
HBO Max with Ads implements contextual targeting ads, which means that the ads that are shown are based on the context of each user.
Advantages of Advertising on Streaming Platforms
Although advertising on streaming platforms is still a new field, it has great potential and can be very beneficial.
Traditional television is losing viewers to streaming platforms, positioning them as the perfect place to reach an increasingly large audience.
The measurement of ROI (Return on Investment) is more rigorous on this type of platform compared to traditional TV ads, so you can create better strategies and better understand the results you get.
Advertising on streaming platforms allows you to address the target audience of your brand in a more accurate way.