By Cyberclick Team, on 2 January 2019
One of the most powerful eras of the year for digital marketing is approaching: SALE! Are you ready?
Traditionally we associate sale to queues and madness in shopping centers, but digital marketing also has a lot to say during this time. We're exploring everything you need to know to put the finishing touches on your sale campaigns this year or start preparing now for the next season.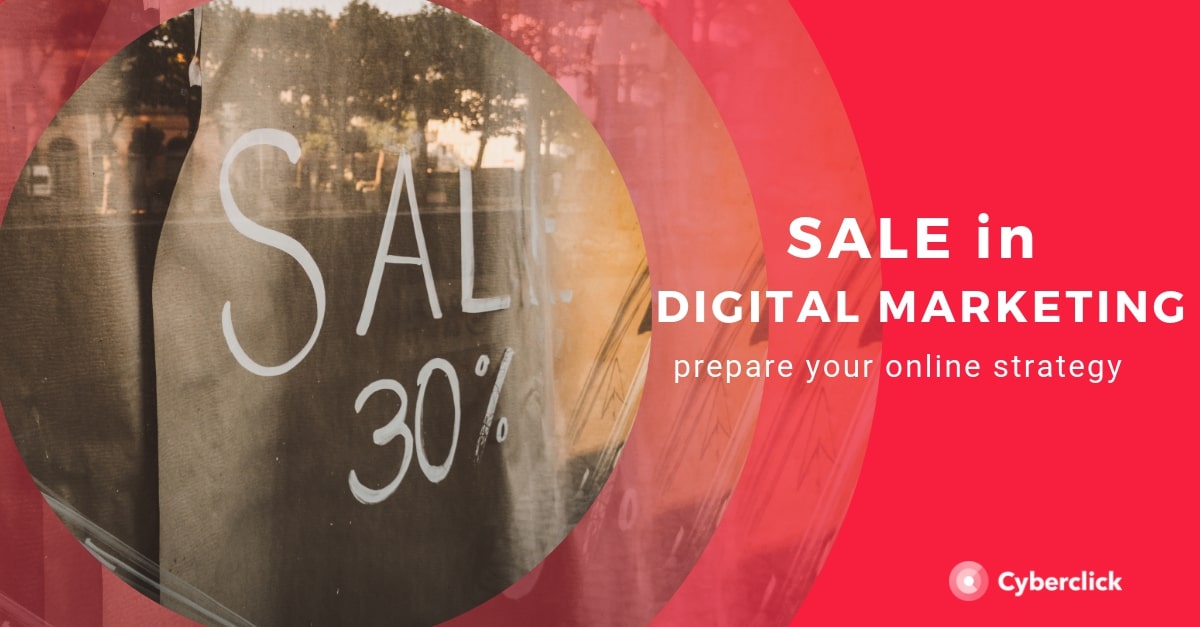 The sale strategy in digital marketing
Sale is not what it used to be. Nowadays, discounts and promotions take place throughout the year, especially in the ecommerce sector. Therefore, discounts no longer seem so special and it is more difficult to encourage customers to buy at these dates.
A distinction that we have to be clear is that although you can get items at a reduced price throughout the year, conceptually they are not the same as discounts. We can distinguish between the following types of discounts:
Discounts consist of putting items for sale at a lower price than they had previously, usually at the end of the season. In our country there are several regulations that regulate the period of discounts and their conditions.

Offers bring the possibility of obtaining items at a reduced price, but without being subject to the conditions of the sales or have to occur at a special time. For example, we can put a "3 for 2" offer on a product that interests us especially.

Clearance are reduced price products whose value has decreased by deterioration, disuse, obsolescence, manufacturing defect or other reasons.

And finally, liquidations consist of the sale of items at a discounted price to get rid of the inventory before a particular circumstance, such as a retirement or a transfer.
To propose a strategy of discounts or punctual discounts that make sense for our brand, we must link them to the rest of our digital marketing campaign and ask ourselves what we want to achieve with them.
Here are some possible examples of objectives for your marketing campaign:
Capture new customers. Sale season is a good opportunity to increase our customer base, since we can attract new users by offering attractive discounts. Of course, if you want them to stay with you in the long term, you will have to show them that you offer a value that goes beyond the low prices.

Increase short term sales. Sale can be used to give a boost to our sales figures, as it attracts users who may not be able to afford the products at their usual price.

Make repeat customers repeat. For example, you can communicate discounts via newsletter to your customer database so that they are encouraged to buy.
When it comes to organizing our digital marketing campaign, we have to be very clear about what we are going to offer our clients, that is, what is the added value we offer besides the reduced prices. Competing only in prices is not usually a good strategy (except in very specific cases), since it reduces margins and can even cause the brand to be discredited.
Digital marketing channels to promote SALE
When we already have our strategy clear and we have defined what products we are going to discount, when and how much, the time has come to think about how we are going to get these discounts to customers to maximize conversions.
In the digital marketing environment we have Many channels at our disposal, so the ideal is to combine several of them in a coordinated way according to the needs of our brand. Let's see some ideas.
1 # Email Marketing
Email marketing is a tool with many utilities. In essence it is nothing more than a direct channel to communicate with our customers.
Ideally, you should have a database of users who have agreed to receive your commercial communications and what communications have been working throughout the year. So, when the sale season comes, you can contact them to communicate the discounts and encourage them to convert.
The problem with this tool is that due to its great popularity and effectiveness, it is also very saturated. After the holidays, the user's inboxes are full of promotional emails, so most of them end up being ignored.
To avoid this being your case, our recommendation is that you segment your user base and send them the discounts that interest them most. To get their attention, you must also ensure creativity in the various elements for your emails.
2 # SEM
Search engine advertising campaigns are ideal for short term results, and this fits perfectly with what we look for during a sales period. Successful short term results require longer term prior planning.
On the one hand, we have to be very clear about the structure of the campaign we are going to launch, including the list of keywords and ad groups. Tools like the Google Ads keyword planner will help us with this job.
On the other hand, it is also necessary to have prepared the landing page to which we are going to direct the users. Normally we will have an individual landing page for each offer and group of products. This allows the user to directly access the information that most interests them and increases the conversion probabilities.
3 # Content Marketing
If you have done your homework with your content marketing strategy, you should already have a good base of articles, infographics and other entries in your blog. The sale season is a great opportunity to take advantage of all the traffic you receive in your content and encourage these visitors to convert with superspecialized CTAs.
For this strategy to work, you must adapt the CTA to the content in which it is displayed, for example, directing the user to the landing page for different groups of products. Another even more sophisticated option is to use "smart CTA", that is, call-to-action buttons whose content changes according to the preferences of the user who visits them.
And if you want to maximize the impact of CTAs, take note of these tips:
Place the CTAs in a place of high visibility, such as the header/footer of the articles or the sidebar.

Experiment with the color and size of the button to increase conversions.

Make sure that the CTAs are oriented towards a specific action and that you clearly communicate to the user what you expect from them.

Do not use cliches and the usual texts, try creative versions and observe the results.

Test with CTAs that contain real text and look like part of the written content of an article. The conversion rate is increased x2.
4 # Social ads Social
Social media advertising platforms have a lot of segmentation options that allow us to reach a very specific audience. If we seek to promote our discounted products, we can use one or more of the following techniques:
Use social ads as retargeting platforms, that is, direct the ads to people who have previously been in contact with the brand and therefore are more likely to convert.

Segmenting users based on our buyer persona or the similar audiences tool, so that we will be focusing on a user profile related to our brand but we will have the possibility of attracting new users.
Use lead ads generation to quickly link social ads to conversions.

Use Carousel or Catalog formats to show our products discounted in a visual and direct way.
5 # Display campaigns and pop-ups
Although banners and other display advertising formats tend to have lower CTR than other types of advertising, they can be a very valuable ally during the sales season.
We can use banner campaigns on third-party sites (perhaps in combination with a remarketing list or with Amazon Ads purchase intent targeting), or we can use banners on our own site to increase conversions. For this, there is a format that can be very effective: "exit intent" pop-ups.
The exit intent pop-ups appear automatically just when the user is going to leave the page, so they work as a last resort to encourage him to perform an action that interests us.
In times of sales, we can use "exit intent" pop-ups to capture the data of users who have left a product page, or to try to convert a sale directly through a personalized offer.
6 # Social Networks
Communicating discounts on social networks (always in combination with other types of content) is the easiest and most direct way to get our offers to our potentially interested user community.
As it happens with other channels, social network users can suffer a certain saturation in these particularly popular sale dates. So it's important to place special emphasis on creativity and personalization to capture user attention and interest.
It is also common for users to use this channel as a customer service, so we will have to be ready to answer questions and comments.
7 good practices for SALE in digital marketing
Protect your brand. Sacrificing your brand to increase short-term sales is a determining mistake. Even if you offer your products at a reduced price, you should continue to take care of your values, your presentation and your customer service at least at the same level as the rest of the year. Otherwise, the damage to long-term results may well outweigh the benefit you can get.

Make the conditions clear. When it comes to digital marketing, it is essential that the client feels that they can trust you. Therefore, you must clearly communicate what can be expected, especially in aspects such as shipping and returns. Remember that the sale season is a good opportunity to offer advantages in these peripheral aspects, not only in the core aspect of the items price.

Have a well defined communications plan. As in any other marketing campaign, organization and preparation are crucial. It is useless to set up a fantastic sale strategy if clients do not get to know your offering. Therefore, we advise you to plan in advance in which channels you will inform about the sale, at what time and with what messages.

Take care of the customer. With the increased volume of sales during the sale period, there is also an increase in requests for customer service and questions. Think about how you will respond to this increase in demand and if you need to have extra personnel during the key periods. Your brand reputation is at stake!

Do not neglect the inventory. Another catastrophic error but more common than it might seem: not having the necessary inventory to deal with the sale. To avoid this, give a good overview of your stock logistics in advance. If you are not interested in replacing a specific product, let users know how many units are left and take advantage of the sense of urgency to stimulate rapid sales.

Make discounts progressively. To stretch campaigns to the maximum, many brands choose to carry out a second or even a third sale, with increasing discounts. This strategy is very useful to maximize sales, but you should always make sure that the margins obtained are still worthwhile.

Customize the offers. Working with digital marketing gives us a great advantage over traditional businesses; we have a lot of information about customers. To get the most out of it, you would use this information to offer and communicate personalized discounts to each client, for example, by sending an email with the discounted products that may be more interesting depending on preferences and previous behavior.