By Enric Llonch, on 15 November 2023
Product videos are a type of content widely used within video marketing strategies, especially since consumer habits have changed and online shopping has increased. This has led brands to come up with ways to show their products in eye-catching and attractive ways and product videos are one of the most effective ways to do this.
Read on as we explain what exactly this type of video is and how to create one, especially for an online store.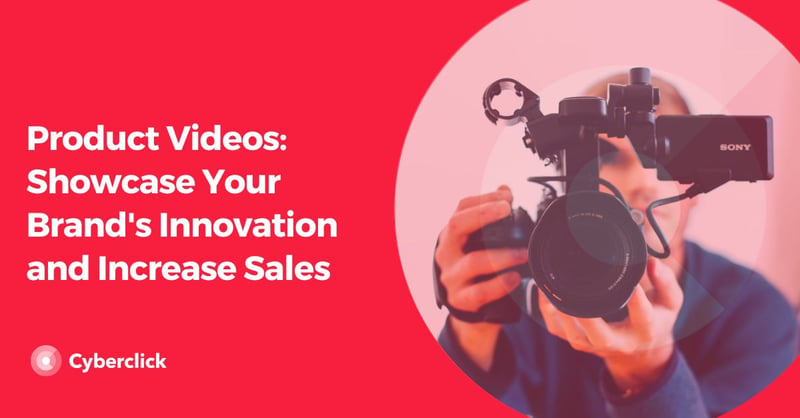 What Is a Product Video?
A product video is a type of audiovisual content used to showcase and promote a brand's product or service. Its main objective is to capture the attention of the target audience with dynamic images that do not necessarily have to be accompanied by text. It's created with the idea of informing and showing the features, functionalities and benefits of the product or service in order to persuade people to buy or use it.
Product videos are an incredibly valuable form of content that are great for showcasing the qualities of a product or service. They achieve this through compelling demonstrations, feature highlights, testimonials, or comparisons with similar offerings on the market. Moreover, they can show everyday scenarios where the product proves its utility, complemented by music, graphics, and visually appealing elements to captivate the audience.
Advantages of Using Product Videos for Your Ecommerce
Using product videos has numerous advantages, one of them being that it improves the customer experience. In video format, you can see and understand much better what a product is, what it consists of, and what advantages it offers. This generates more confidence, eliminates doubts, and encourages purchases.
Another advantage is that video can be used to transmit a large amount of information much more effectively and quickly. More features and details can be shown than in an image or text. This gives people a much more realistic idea of what they are buying, which significantly reduces the number of returns and disappointments.
It has also been proven that the video format generates greater engagement and is a way to differentiate from the competition, since generating static or textual content is much more common.


Another key point is that search engines like Google value web pages that have multimedia content, so a product video could be a way to improve SEO and achieve a better position in SERPs, which translates into more organic traffic.
Finally, this type of content also facilitates customer support, as it can help customers configure, use and maintain a product, which can significantly reduce post-sales queries.
How to Create a Good Product Video
If you are using product videos, it is essential that they are eye-catching and attractive and that they contain relevant information for the consumer. This means that it's important to take into account a number of factors when creating the video.
Define the objective of the video. First of all, you have to decide what the objective of the video will be. Do you want to show how the product works? Show its features? Explain its benefits? Something else?

Know your target audience. Before creating a product video, it is necessary to be clear about your target audience, since the content of the video must be adapted to their knowledge, needs and interests. For example, the content of a product video related to a piece of tech should not be the same when aimed at an audience in this field knowledge as it would be if aimed at the average person.






Have the right equipment and the right place to shoot. It is necessary to have both a camera that records at high quality and a space with lighting and without distractions where you can record.

Prepare the product well. Make sure that the product to be shown is in perfect condition. If the packaging has any damage or the product itself has any scratches or does not work properly, it is better not to use it for the product video, since this is the image that consumers will have of it.

Create a script or outline. To cover all the key points in a logical way, it is best to make a script or outline in which all the points to be discussed are included. Unless the video is aimed at a professional/expert audience, avoid using technical terms and give the information in a clear and easy to understand language.

Record the video. For the video to look good, it is advisable to use a tripod or image stabilizer. It is also a good idea to record the product from different angles and take several close-ups so that all the details can be seen.

Edit the video. All product videos should be edited afterwards, as it may be necessary to crop, edit or improve the image quality with an editing program. If it can improve the content, music or text can be added. During editing, also try to optimize the length so that it does not exceed 3 minutes, since long videos tend to have fewer views.

Publish and promote. When the video is ready, it's time to publish and promote it through social media.
Producing a product video typically demands more resources, both in terms of time and effort, compared to text or images. Consequently, many brands tend to shy away from creating this type of content. However, precisely because of this, product videos stand out as one of the most best ways to distinguish yourself from the competition and establish a strong presence on search engines like Google.
Examples of Great Product Videos
There are many brands that have chosen to launch product videos to increase sales in their ecommerce, so let's take a look at some examples.
1. Apple
Apple decided to go for product videos when it launched the new MacBook Pro and Mac Mini. The brand decided to put the content of the video in the hands of consumers, who gave opinions and testimonials after trying one of these two new Apple models. The goal was clear, to impact people through the opinions of others, something that generates much more confidence in the public.
The video featured posts from Twitter users mentioning the products and videos created by real Apple customers. The campaign was a success and, although the full video was almost 20 minutes long, Apple was able to extract fragments of it to post on social networks. This meant a lot of eye-catching and attractive promotional material in audiovisual format.
2. Dyson
Dyson has also used the video format to showcase its products. The brand does not need more than a few seconds to show what it offers, what its products do, and how they differ from the competition.
Typically their videos focus on highlighting product features and functionality, with special emphasis on the advantages of using Dyson over any other brand.
3. Easyplant
Another example (from a lesser-known brand) is Easyplant, which launched a product video focused exclusively on the need it fills. Many people who have plants in their homes forget to water them, so Easyplant takes advantage of this pain point to offer its product, a pot with an automatic watering system.
These are just three brands that have harnessed the power of product videos in their marketing strategies. It's an engaging and visually captivating method to connect with your audience, and it's especially compelling when you consider all its advantages.