By Estela Viñarás, on 7 June 2023
Programmatic advertising, also known as programmatic ad buying, involves using a platform equipped with advanced technology to buy online ads in real time in different media and formats for different websites. To make this ad buying much simpler and faster, brands often use a private marketplace, also known as PMP. But what exactly is a private marketplace and how can it be used correctly in programmatic advertising? We'll explain it all below!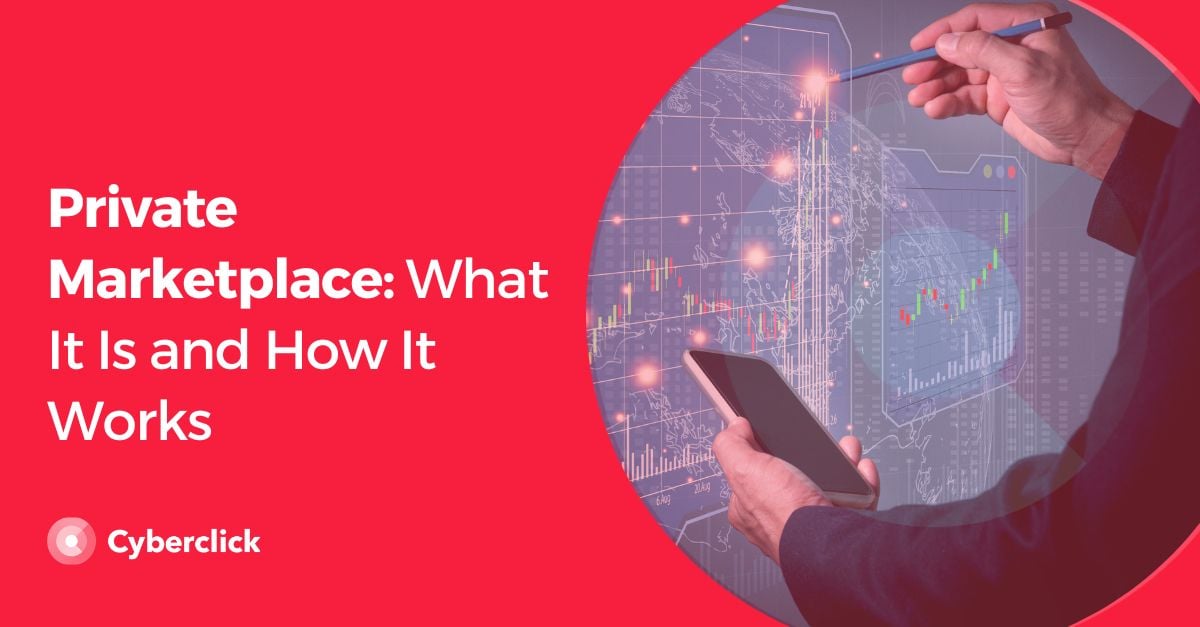 What Is a Private Marketplace?
A private marketplace or PMP is a space that allows the real-time purchase of digital advertising in different media and formats for different websites. However, not all brands and advertisers can access a PMP because it can only be accessed by invitation. This exclusivity allows the media to have some control over the brands or professionals that can advertise on their spaces. Because it is private, advertisers always know where their ads will be published, so the purchase of these spaces is totally transparent.
How a Private Marketplace Works
A private marketplace invites a specific number of buyers and advertisers to use the platform to bid for advertising space. Normally a minimum price is set in the auction and can will rise depending on what buyers or advertisers are willing to pay for it.
This allows media owners to have control over the type of advertisers that will occupy their space and allows advertisers to know where their ad will be published.
Types of Private Marketplaces
There are two types of private marketplaces. The most common are private auctions where a starting price is established and, before the bidding begins, the advertiser has information about the space they are paying for. The media owner offers the space to very specific advertisers, who will have exclusive access to the auction and can decide the exact amount that they will pay.
There are also open auctions where there is no exclusivity or limited access. Any advertiser can participate in the auction to advertise in that space. Unlike in a private auction, the media owner has no control over the brands that can participate, although he or she does know who ends up with the ad slot before the ad is published.
Another type of private marketplace is the preferential agreement, which is a type of private bidding. In this case, there is no auction but the price is agreed on between the two parties based on a minimum amount. Depending on supply and demand, the price may be higher or lower, but the advertiser can decide (until the last moment) whether or not to close the deal. In addition, specific conditions can be agreed upon, such as a fixed price for a number of impressions.
Differences Between a Private Marketplace and Other Programmatic Advertising Platforms
There are different types of programmatic advertising platforms, but not all of them work the same way. As mentioned, in a private marketplace, the purchase of digital advertising space is carried out through auctions. The advertiser has certain guarantees and there is total transparency for both parties.
However, when using a Programmatic Direct platform, for example, the space has a fixed price and it is the advertiser's decision whether or not to pay for it. In other words, it is a direct purchase/sale, without auctions or bids. There are also Real Time Bidding or RTB platforms, which allow the purchase of ad spaces through auctions, but without a pre-agreement.
In both Programmatic Direct and RTB platforms, the purchase is done directly and there is no human intervention. This means that the media has zero control over the companies that can advertise in its spaces, although it can control the price of these spaces to a greater degree. It is an open market in which any professional or brand can buy a space to publish their advertisement.
Another feature of this type of platform is that, for a fixed price, a number of impressions is guaranteed. The ad will occupy the space until it reaches the agreed number of impressions. Therefore, this type of digital advertising comes with less risk and is faster and simpler.
Examples of Private Marketplaces
Although there are many private marketplace platforms, some of the best known ones are:
DoubleClick Ad Exchange, also known as AdX, is a marketplace where advertisers and media meet to make purchases and sales of advertising space in real time in a quick and easy way.

AppNexus is a programmatic advertising platform that allows you to auction advertising space on any website in real time . It is very intuitive and allows you it to connect advertisers and media in a quick and easy way.

MediaOcean has traditional and digital advertising media platforms. It has a private marketplace that connects advertisers and media.
These are just three of the many platforms, so if you want to use this digital advertising system, try the one that best suits your brand's interests and needs.
Advantages of Using a Private Marketplace for Programmatic Advertising Campaigns
Using a private marketplace has numerous advantages for a programmatic advertising campaign. One of them is transparency, since the media knows which advertiser will appear in its space and the advertiser knows what it is paying for and where its ad will appear.
Another advantage is programmatic efficiency, as advertisers can buy ad space quickly and easily on reputable websites. This eliminates the need for a human team in charge of managing, buying, and selling. This in turn reduces costs and speeds up processes, which are done in an automated way even if there is a human behind them.
In addition, advertisers have a wide variety of platforms to choose from, as do the media. You can opt for the one that best suits your needs.
It has also been proven that PMPs make advertising campaigns much more effective and economical, since the space is purchased depending on where the target audience is.
Using a private marketplace is helpful when you want to launch ads in a controlled way in a digital environment. It also has advantages for the media in question, which can choose the brands who advertise on its platforms, assessing things like whether their values correspond to its own.