By Anna Ribas, on 3 January 2022
Fewer and fewer users are shopping only online or only in physical stores. In fact, 58% of consumers already combine both channels, and this figure is expected to rise to 73% in a few years.
To meet consumer expectations and make the most of their marketing efforts, brands will need to combine digital and physical experiences. This combination has been coined as the "phygital" experience.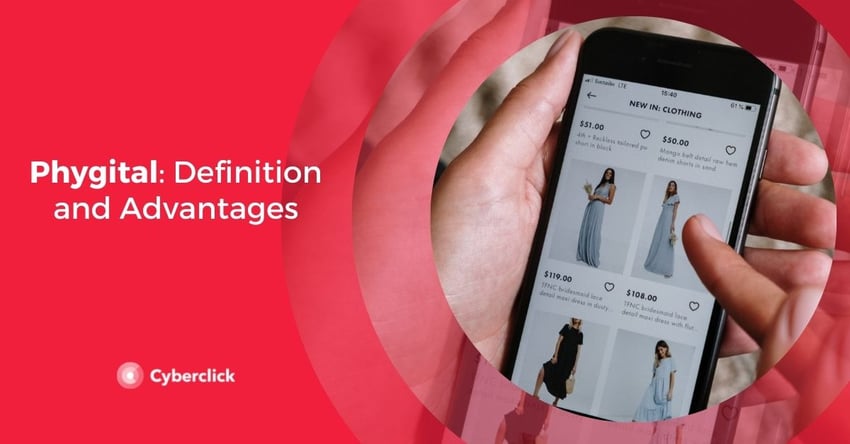 What Is Phygital?
Phygital is a marketing trend that combines a brand's ecommerce site(s) and physical store(s) to offer an enhanced user experience. It integrates the benefits of digital environments, like speed and convenience, with the advantages of physical environments like interacting with products.
The phygital experience seamlessly connects online and offline worlds. ROPO (Research Online, Purchase Offline) and showrooming are two clear examples of this.
ROPO consists of researching a product online before going into a physical store to buy it. Consumers are in control of the entire research and purchase process.
Showrooming is the process of researching a product offline in a brick-and-mortar store and then purchasing it online. This allows consumers to take advantage of online discounts and home delivery.
For brands, phygital is an opportunity to improve the customer experience by adapting to consumer habits and preferences. Over time, this leads to increased brand satisfaction and customer loyalty.
Creating Phygital Experiences for Your Customers
There are multiple ways to leverage multichannel marketing to create a phygital experience, making this trend adaptable to companies and budgets of all sizes.
5 Ways Companies With Higher Budgets Can Create Phygital Experiences
Touch Screens: these can provide information about the products on display in the store.

Light ID: technology that uses light as a communication channel to send alerts directly to mobile devices.

Beacons: these use Bluetooth to locate consumers and send them information about where they are in a physical store.

Digital Signage: offline advertising that integrates digital elements. For example, billboards or interactive billboards.

RFID and Smart Fitting Rooms: RFID is a tag that replaces traditional barcodes and stores all kinds of product information. Fitting room mirrors can use RFID to recognize the product the consumer is trying on. The person can then interact with the mirror to see more information about the product and even suggestions for similar products.
3 Ways Companies With Smaller Budgets Can Create Phygital Experiences
Social networks can be used to offer discounts and coupons that can be redeemed in-store in exchange for performing an online action (e.g. sharing a piece of content). You can also encourage customers in a physical store to follow or tag you on social media in exchange for a discount.

Pop-up stores are a great way to create phygital experiences for online stores. You can open a pop-up in a strategic location during Black Friday or the holiday season. To find the perfect location, you can use your customers' geolocation data.

Shopify and WooCommerce are low-cost tools that you can use to integrate your online stores with email and SMS marketing platforms.
3 Examples of Brands Using Phygital
1. Amazon Go
With the launch of Amazon Go, Amazon essentially committed to creating phygital experiences for its customers. Leveraging machine learning and AI, Amazon created an experience where users can walk into a store, put products in their cart, and leave without having to wait in a checkout line to pay. Once a purchase is completed, customers are sent an electronic invoice and the amount is charged to their accounts. In effect, Amazon has managed to recreate its digital one-click payment experience in the physical environment, making the shopping process as seamless as possible for consumers.


2. Rebecca Minkoff
Rebecca Minkoff stores have touch screens where customers can select the clothes they want to try on. When the clothes have been pulled for them to try on, they receive a message to go to the fitting room.
Inside the fitting room, customers can also request different sizes of clothing without needing to ask sales reps.
3. Nike
In 2019, Nike created a pop-up store in Atlanta targeting users registered on its Nike SNKRS app.
Users within a 25 mile radius of the store received a notification encouraging them to visit. Once there, customers could use their cell phones to activate a QR code and receive free accessories.
Nike also used exclusivity to promote its pop-up store by launching limited editions of products that could only be purchased in the store.