By Diana Palau, on 16 June 2021
Instagram's algorithm is a hot topic in 2021. In fact, Instagram has just begun a campaign to demystify how the app works and how you're served content. Algorithms are nothing new to Instagram, but there are some recent updates that you should know about because they can affect your brand's marketing content.
We'll explore how Instagram's algorithms work in 2021, how content is ranked, and finally discuss "shadowbanning." Let's dive in.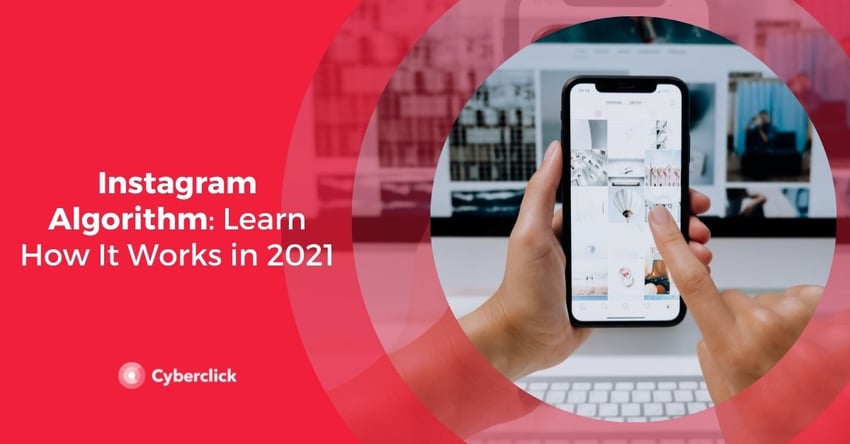 How Does Instagram's Algorithm Work?
Instagram doesn't use one single algorithm but rather multiple algorithms and processes to classify and deliver content. Originally, when Instagram was launched in 2010, feeds were just photos posted in chronological order. As content accumulated it became impossible to find and see all the posts from your friends and favorite accounts.
In 2016, it's estimated that 70% of content wasn't accessible to users. Because of this, Instagram introduced algorithms which select and display content for you based on your recent activities. For example, you are now shown posts from the accounts you interact with most.
It's very important to also understand that Instagram uses different algorithms for your feed, Reels, IGTV, Stories, and Explore. That's because each feature serves a different purpose and should be classified accordingly. Explore is for discovering new content, while your feed is for showing what your friends and favorite accounts are up to. Content is shown based on your activities but also based on the function of the feature.
Let's now break down how content is ranked in different features more specifically.
How Does Content Get Ranked
Content on Instagram is ranked based on a variety of signals. There are thousands of signals like who posted, when they posted, and your interactions with an account. The most important general signals for how Instagram content is ranked are:
Relationship - How often does a user interact with your content?
Interest - Does the user typically engage with this type of content?
Time - How recent is the content?
Use - How often a user opens Instagram
Session Time - How much time a user spends on the app
Accounts followed - How many accounts a user follows
We discussed how Instagram algorithms work in general terms above but it's also critical to understand how signals work for each feature.
Ranking for Feed and Stories
Your Instagram feed and Stories are all about content from people you know and accounts you follow. Instagram takes this into account and ranks content based on many different signals. The most important signals for feed and Stories are:
Post data - How many likes or views a post has, when it was posted, tagged location, length of video, etc.
Account data - This is about the person or brand who posted and how important they might be to you based on their activity and yours
Your activities - Posts you've liked or engaged with in some form
History of interaction - how much you interact with someone as well as if you like or comment on each other's posts
Instagram makes a series of predictions based on this data and then shows you certain content based on that.
When it comes to feed content, the 5 most important interactions used to make predictions are how likely you are to spend time on the post, to like, comment, save the post or click on the user's profile picture.
Instagram also tries not to show too many posts from the same user in succession. If content is deemed to be spreading misinformation (validated by third party fact checkers) your content won't be prioritized.
Ranking for Explore
Explore was created for users to discover new content and accounts they may be interested in. Instagram combines a series of signals to decide what content you may be interested in seeing. These signals include posts you have liked, commented on, or saved in the past.
If you engage with a certain post, Instagram will then look at others who have also engaged with that post and investigate what accounts they follow. If these accounts match or are related to content you like, you may then see them in Explore. Instagram ranks posts in Explore based on the following actions:
Information about a post - The popularity of a post is extremely important when it comes to how it's ranked in Explore. This means how many people are engaging with the post and how quickly as well. Popularity is a much stronger signal for Explore than for your feed or Stories.
Your history with the account that posted - If you've interacted with a user in any way then it's likely they'll show up in your Explore even if you don't know them. That's because your past interaction(s) are good indicators that you're interested in that content.
Your past activities - What posts you've liked, commented on or saved in the past.
Information about the account that posted - Data about how many people have interacted with the account and the frequency of these interactions. This supports Instagram in finding new and interesting content to show you.
Ranking for Reels
While Explore helps you to find new content, Reels is about entertaining the user. Instagram ranks Reels content similarly to how it ranks for Explore. Content is curated for you based on your activities, interactions with the account, information in the post and account, etc.
One particularly important ranking factor for Reels is how likely you are to watch a video clip all the way through. Instagram's algorithms make these types of predictions based on your past activities.
What Is Shadowbanned?
Shadowbanned is a term that's been created to define content or accounts that have been "mysteriously" removed by Instagram. Users also complain about their content not being shown because Instagram is biased against them. This myth has more or less been debunked as many experts—and Instagram themselves—have explained what's actually taking place. Basically, if you violate Instagram's terms of use or community guidelines you may have content removed or it may not be shown in a hashtag search. This helps reduce spammy posts with irrelevant hashtags and the spread of misinformation.
Unfortunately a small percentage of "innocent" content and accounts are caught in the algorithm for one reason or another, a flaw that Instagram says is being worked on.
How can you avoid being shadowbanned:
Stop using bots and automated services
Avoid

banned hashtags

Follow Instagram's rules and regulations
Instagram posted this statement on shadowbanning in February 2021.
Instagram algorithms may still seem confusing and that's because they are complicated processes. While these algorithms can feel like enemies to users they ensure that content is served in a structured and logical way. Thankfully, Instagram is starting to be more transparent about their ranking signals which helps creators maintain and grow their presence. Try to work with Instagram's algorithms by using relevant hashtags, creating engaging content, and posting when your target audience is online. Finally, don't try to "game" the system, but rather focus on authentic, quality content.