By Laia Cardona, on 24 October 2019
The power of content is stronger than you think. Creating quality content, like ebooks, is a great way to find and acquire new clients.
If you're thinking to yourself "easier said than done," have no worries! In this article I'm going to walk you through the steps of using an ebook to generate more clients, using a case study. You can easily replicate this process in your next inbound marketing plan for your brand or company.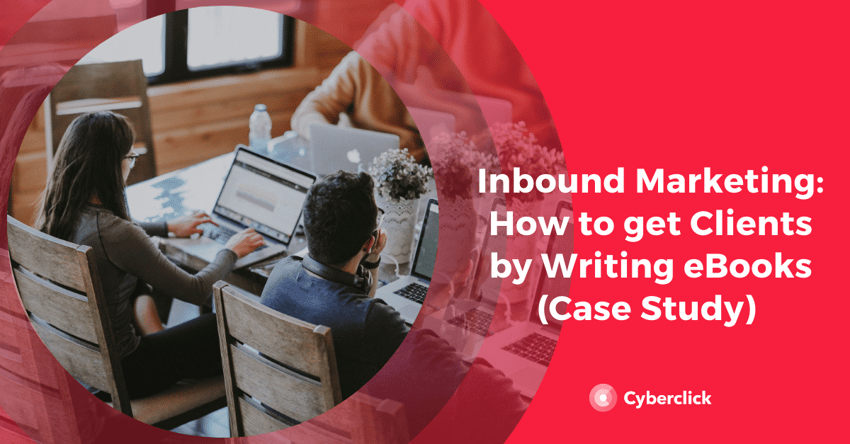 Do eBooks Actually Get Customers?
If you're anything like me, when you first heard of the concept of inbound marketing you probably asked yourself "What is the point of writing so much content and ebooks?"
It's not for the love of the art, but actually to attract your potential target. Over time your content will establish enough trust that your audience will download your content, thus providing you with the necessary information to analyze if that person is a potential customer.
This is how the inbound marketing funnel is fulfilled. The user goes through each phase of the funnel, until finally your sales team can contact them.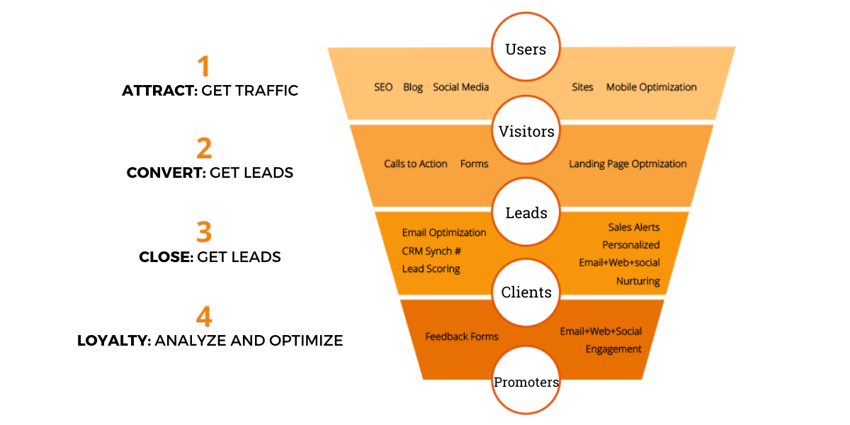 Inbound marketing is a type of marketing that adapts to the needs of the current user. Instead of chasing prospects with invasive advertising, you let them come to you when they have a need for your service. Here are the 4 steps of inbound marketing:
Attract: The first step of inbound marketing is to attract customers using well positioned articles on Google. Think of the keyword that your buyer personas will be searching for. Don't know how to design your buyer persona? Learn how here.

Convert:

The second step is to convert the users into downloading your content. This is where the eBook comes in. By creating relevant content that is aligned with your buyer persona, prospects will begin to trust you, and use your articles and ebook to help solve their problems. By introducing relevant calls to actions, you can help bring them to your landing page.
Close:

Now that you have all the data to help you define potential customers, you can now make your first personalized contact. For example, using the email address they used to download your content, you can send them a personalized email, reaching out to them, acknowledging the ebook they downloaded, and asking if they would be interested in a call. From here, depending on where the lead is in their buyer's journey, your sales team can work to close the sale.

Loyalty:

Inbound Marketing doesn't stop at the closing! Now, you need to focus on keeping the customer. It's easier to retain an old customer than earn a new one, and since word of mouth marketing is powerful, especially with social media, you can't afford to lose your customer loyalty.



What Is Your Buyer Persona Looking For?
As you can see from the funnel, digital books can be a major tool in the convert phase of inbound marketing.
But writing ebooks, and all other content, should be purposeful. It's not enough to just pay a copywriter to knock out a certain number of articles a month. Instead, your blogs, articles, videos, and all content, should revolve around the specific keywords that your buyer person will be using.
Let's use Cyberclick as a case study. This example will include content from the Spanish side of our blog, but the overall concept is the same.
Case Study
Our buyer person is a marketing manager or head of digital marketing. That means that we must take into account what type of searches or content a marketing professional may be interested in. A common topic of interest among marketers is "remarketing" and how to do it on the various different platforms that exist. Some searches related to this topic would be:
Remarketing

Retargeting

Retargeting google

Google remarketing

Retargeting facebook

Facebook remarketing

Email retargeting
Let's look at what Google's Keyword Planner tells us about those keywords: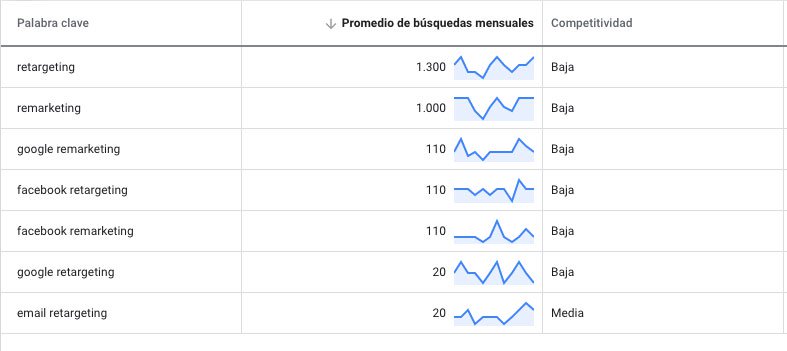 As you can see, there are quite a few searches for some concepts (retargeting, remarketing) and others with less (email retargeting) because they are more specific.
We can also do a search for the keywords in SemRush and get more ideas.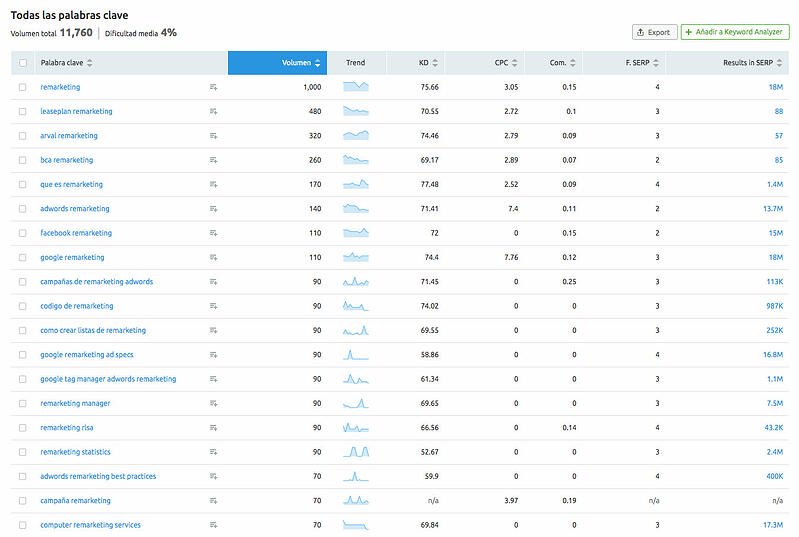 In both of these searches you can see that the keywords "remarketing" and "retargeting" have many searches. There are also several long tail keywords that often include the words "remarketing" and "X advertising platform", for example "Facebook remarketing."
Based on the popularity of these keywords, we now know that an eBook about the remarketing options on each platform would be an interesting subject for our buyer persona.
Since this is a very specific content piece about marketing, at an advanced level, you can rest assured knowing that whoever downloads it will be an interested person, and very close to the profile for your buyer persona.
Develop Your Digital Book to Turn Visitors into Leads
Let's continue to use the previous example.
Based on the popularity of the key words, we decided to develop an ebook on remarketing, as well as several related articles. Since our blog has been around for a while, we included our already existing blog posts about remarketing.
Launching the eBook
The landing page is where the conversion takes place. It must be simple, attractive, and contain all the necessary information to make the download happen.
It's very important to consider where you put the form on the landing page, as well as what information you ask the user to fill out. If you want the conversion rate to be high, do not exceed more than 6 parameters to fill out, especially if it is the first time the visitor is on your page.
Articles Relating to the eBook
The below articles are where we placed our call to action for the ebook.
eBook:

Remarketing Example

Article 1:

What is remarketing and how does it work

Article 2:

5 steps to remarketing with Facebook Ads
This is the download data of the eBook in Hubspot, our Inbound Marketing platform.

The conversion rate from visitor to register is 52.67%, more than half of the visits!
What Information Do You Need to Know About Your Contacts to Define if They Are an MQL?
Let's continue the case study. We were able to get 2,381 people to download our ebook, of which 1,390 are new contacts (meaning this is they first time they've submitted their information to us), and 991 are contacts we already had in our data base.
Our question as marketers is now: are they likely to be potential customers, both new and old?
You should have enough information to determine this from the form you used on your landing page. By including the important parameters you will be able to determine if they are an MQL (marketing qualified lead) or not.
An example of the information you should ask for includes:
First Name

Last Name

E-mail

Company

Job Title

Size of the company

Company market sector

Phone number

Investment in digital marketing

Interest in hiring a digital marketing company
Having this information helps makes it possible to assess whether the contact can be a potential customer or not.
But it's important to not scare off the visitor by asking for too much information, too soon.
This is why smart forms are important. Smart forms use cookies to detect whether or not the user has already visited your page. If they have visited or submitted information before, instead of showing the user the same form, the smart form will include new information to fill out to help us better assess the contact.
First time forms should ask for:
First Name

Last name

E-mail

Company
A second visit form can ask for:
First Name

Last Name

E-mail

Job Title

Company Size

Company Market Sector
And the third time:
First Name

Last name

E-mail

Phone

Investment in digital marketing

Interest in hiring a digital marketing company
It's important to always include first name, last name, and email so that the system can connect the contact with their new information.
So, if a contact happens to download 3 ebooks then we have managed to gather all the necessary information to determine if they're an MQL or not. Let's use a fictional contact as an example:
First Name: Maria

Last Name: Pineda

E-mail: mpineda@example.com

Company: Example Jewelers

Job Title: Marketing Director

Company Size: Between 20 and 100 people

Company Market Sector: Jewelry

Phone Number: 109-876-5432

Investment in digital marketing: $20,000 a month

Interest in hiring a digital marketing company: Yes
This would be the perfect type of contact for an MQL! At this stage you can now personally contact them, whether through email or a phone call, in order to secure a meeting with them and assess how you can help them.
Closing Stage: Convert MQL to SQL With More Digital Content
A sales qualified lead (SQL) is a potential customer of a brand, defined and analyzed first by the marketing department and then by the sales department. This type of customer is considered ready for the next stage in the sales process because they have shown interest.
At this stage of SQL, you can continue to use digital content to convince the potential buyer to become a customer. For example, a success story or study with data that facilitates convincing the client can be used.
After the Close You Can Establish Brand Loyalty Using More eBooks
Congrats! The customer you worked so hard to get is finally yours. Now you need to keep them.
Your customer's journey doesn't end with their purchase. You must take care of your customers in order to keep them. Through your different content, such as newsletters, you can offer additional content that encourages the purchase process to repeat.
For example, the same customer who may have found us through remarketing may later be interested in doing email marketing. A new buying process could start from scratch there.
That is why the conversion funnel is not actually a funnel, but a pinwheel that is always spinning, called the Flywheel, by Hubspot.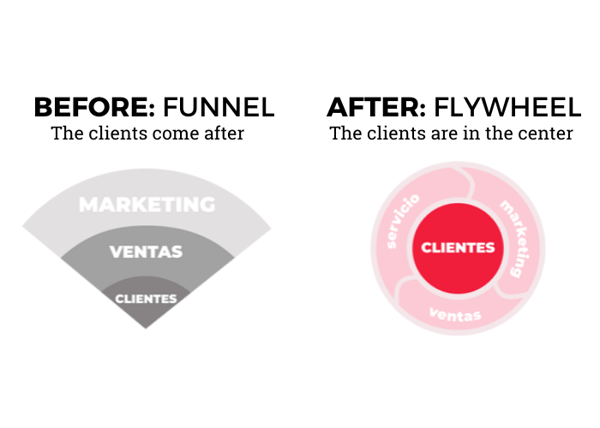 Hopefully using e-books to get clients for your next inbound marketing plan is clearer now. Let us know what you think!