By Shanon Roberts, on 9 June 2020
HubSpot's Marketing Hub platform is an essential tool for any Inbound Marketing strategist.
Bursting with inbound marketing tools like CTAs, forms, landing pages, etc., Marketing Hub provides a centralized area for marketers to plan and take action on their various inbound campaigns.
But, if it's your first time using the platform you might be a little overwhelmed by what exactly each tool does and how to use the Marketing Hub on a day-to-day basis.
In this article, we'll explain the key features of HubSpot's Marketing Hub, including a step-by-step video tutorial on how to use the most important tools.
Step-by-step video tutorial of HubSpot Marketing Hub
HubSpot Marketing Hub Features
Depending on the package you purchase you will have a variety of tools and actions available to you through HubSpot's Marketing Hub platform. We'll review the most important tools found in this platform and how you can use them in your own inbound marketing campaigns. Use the following sections as an aid to our video tutorial to Marketing Hub.
Ads
In Marketing Hub you can link your Google, Facebook, Instagram, and LinkedIn paid ads to your HubSpot account. Although the inbound methodology is about non-intrusive marketing methods, paid ads and SEM do play an important role in a well rounded inbound marketing campaign as they do help increase exposure.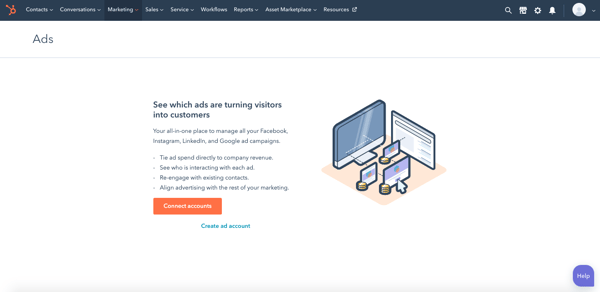 Linking your paid ads into Marketing Hub allows you to get a high-level view of how successfully your ads are integrating with your inbound strategy. Ads will show you all the essential metrics relating to your paid ad campaigns, like impressions, clicks, contacts, and deals.
Email
A strong inbound strategy must have a strong email marketing strategy. This is why the Email tab within Marketing Hub is so crucial. The Email tab hosts all of the essential tools for creating and sending out emails to your contacts or for your workflows.
In the "Manage" section you can monitor your email's status as you create and send out emails as well as create emails.
Marketing Hub will give you 3 different email creation options: Regular, Automated, and Blog/RSS.
Regular is a good option if you need to send a one-time email out to a list or segment of contacts.
Automated is ideal for workflows or emails that need to be sent automatically after a trigger action has been taken by a lead or contact.
Blog/RSS emails are perfect for sending your blog content out to your readers and subscribers.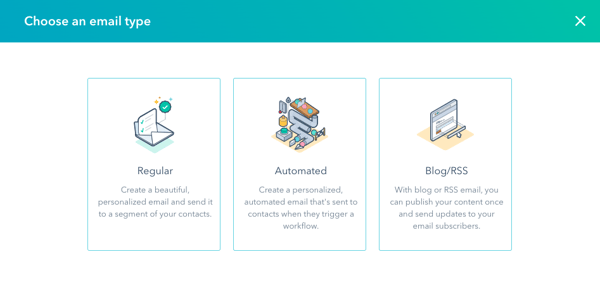 In our Marketing Hub Tutorial we walk you through the steps of building out an email within HubSpot.
In the "Analyze" section you can monitor all the metrics and data about the success of your email campaigns. The date range of the data is customizable, but by default HubSpot will display metrics from the last 30 days. Metrics shown include how many email were sent, open rate, click rate, and click through rate, and much more. The beauty of this section is that you can get as macro or as detailed as you'd like.
Social
Similar to the Ads tab, Social allows you to link your various social media accounts to your HubSpot account. There are many benefits for doing this including:
Monitoring: You can see all of your latest posts on social in one spot, as well as their engagement rates and any comments left on the posts.
Blogging: Having your social media linked to Marketing Hub allows you to publish blog posts to your social feed automatically in HubSpot. When you schedule your blog posts to go live on your website, HubSpot gives you the option to schedule social posts at the same time.
Reporting: HubSpot will provide you with metrics relating to your social media posts and specifically how they relate to your overall inbound campaigns.



Websites
The next tab in Marketing Hub is the Website tab. Within Websites, you will find 2 or 3 options, depending on the type of package you have. If you host your website on HubSpot, you will see Website Pages, Landing Pages, and Blog. If your website is hosted on another platform, you will only see Landing Pages and Blog. Let's review the difference between these sections.
Website Pages: If you host your website with HubSpot, then Website Pages is where you will build all of your static pages that exist on your site. This includes you Home page, services page, about us. Essentially, pages that will give more information about your company, without much change or variation.
Landing Pages: Within an inbound marketing strategy, Landing Pages is a very important tool. As opposed to Website Pages, Landing Pages are the pages you build specifically for different inbound campaigns or activities. For example, ebook, webinars, and thank you pages will always be built on your landing pages. Think of Landing Pages as your in between - not quite a static website page, but not a blog post either.
Blog: An essential tool within a good inbound strategy is a strong blog. The blog tab is where you can create blog posts for your website.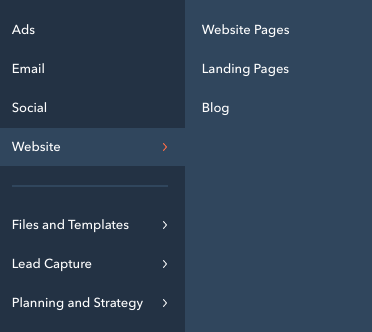 In our Marketing Hub tutorial video we walk you through how to create a blog post and landing page, as well as review some extra tools within each function.
Files and Templates
Within Files and Templates there are three main sections: Design Tools, Files, and HubDB. On a more day-to-day basis, Files will be the tool you'll likely use most out of these three.
Designs Tools is where you can create templates and the look of your website, using a drag and drop editor.
Files is where you can input all of the assets and collateral that will be used on your website. Files works similar to any cloud management software, like Google Drive or Dropbox. This makes it super easy to save and have access to pictures, videos, pdfs, and any promotional collateral without ever having to leave HubSpot.
HubDB works similarly to spreadsheets tools that display data using rows, columns, and cells. This tool is good for creating calendars or any data that you would input into an excel sheet.


Lead Capture
The Lead Capture tool houses two of the most important inbound marketing tools: CTAs and Forms. In the video above we review how to create both a CTA and a form, as well as their different features.
CTAs (call to actions) work to entice visitors on your website to perform a specific action, like download an ebook or sign up for a webinar. CTAs can take many forms, such as text based, image based, or buttons. HubSpot makes it super simple to create many different types of CTAs. In fact, there are two in this blog post. Can you spot them?
Forms are tools you can use to get more information about your website visitors in order to turn them into leads. You can customize your forms to ask for a variety of information, and HubSpot also gives users the option to create Smart Forms, which is a great way to get even more insight about your leads.
Planning and Strategy
Finally, the last major section with the Marketing Hub is the Planning and Strategy tab. This section includes Calendar, Campaigns, SEO, and Projects.
Calendar allows you to get a birds eye view of all the different activities happening within your HubSpot account. This tool is especially useful if you take advantage of HubSpot's Ads and Social linking, as it allows you to see all the planned actions of your campaign in one central spot. Any social media post, blog post, landing page, email, etc. will show up in the calendar.
Campaigns is another powerful tool that allows you to organize all of your content and assets by campaign. By assigning all of your activity and content to a campaign, you will be able to get oversight of how well everything is performing, all in one spot. In the video tutorial we go a bit more in-depth with this tool.
SEO helps you in both your technical SEO and SEO topics. When you first enter the page you can click the "View Recommendations" button to see any technical recommendations that HubSpot has flagged, such as word count, duplicate content, alt text, etc. In the Topics section you can add topics and subtopics that you want to focus your content on.
Finally, the Projects section is an area that allows you to create structured step-by-step tasks that help you and your team accomplish tasks faster and with a guideline.
If you want to learn more about these features of see these tools in action, check out the video above! HubSpot Marketing Hub is a very powerful tool for your inbound strategy and one that shouldn't be overlooked. With this guide, you'll be sure to succeed!