By David Tomas, on 14 May 2020
Choosing an inbound marketing agency is no easy task, as the success of your business is in their hands. If you are hiring an agency, you want to be able to work well with them and have full trust in them.
Inbound marketing is a complex and very involved methodology that can take up a lot of time and resources. Therefore, in many cases the best solution for brands is to hire an agency that takes care of the whole process for them.
But how do you know you're hiring the right agency for you? In this article we'll help you figure out the key considerations you should take into account when choosing an inbound marketing agency.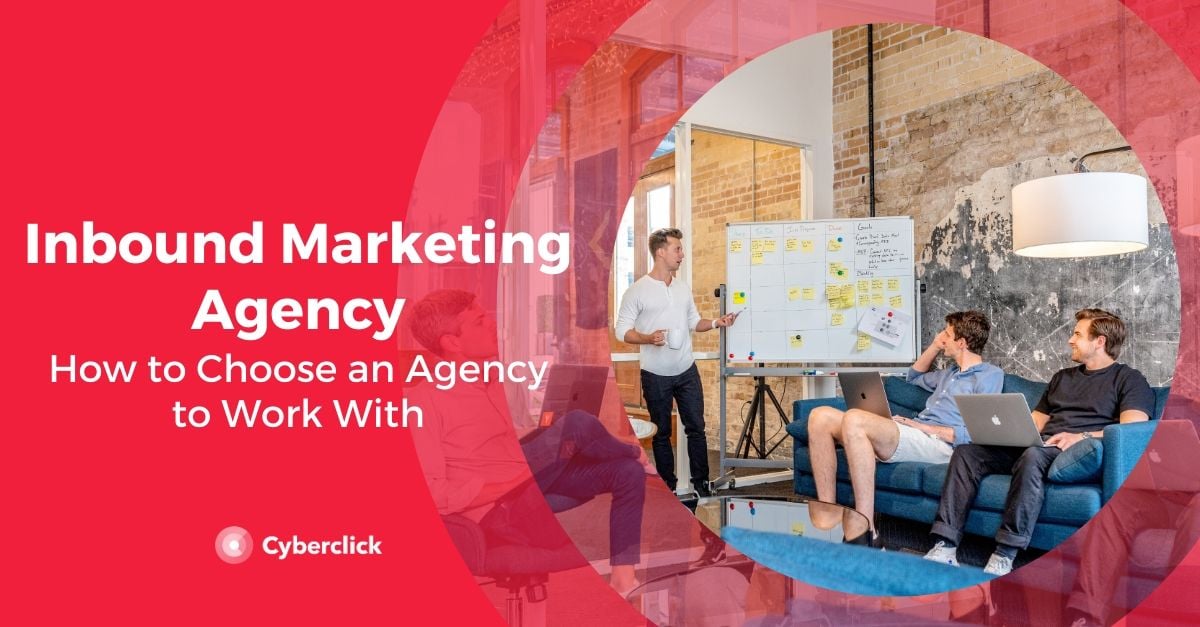 How To Choose An Inbound Marketing Agency, Step By Step
In this section, we'll highlight some key questions you should ask yourself as you begin your search for an inbound agency.
1) Considering What You Need From Your Agency
Before you start looking for an inbound marketing agency, there are a number of factors you need to consider in order to narrow your search and set priorities.
Do you need a provider or strategic partner?
There are two different working models between agencies and clients.
If you are looking for a strategic partner, then you want an inbound marketing agency that uses its experience in the sector to advise you on what to do. Often in this work relationship style, the client shares their needs with the agency and actively works with the agency to develop the strategy.
If you're looking for a provider, you are likely clear about the inbound marketing strategy you want to enact, and are looking for an agency to run it.
In general, ask yourself how hands-on do you want your agency to be and ensure you find an agency that matches this working style. Additional options have advantages and drawbacks, but the important thing is to be clear about what you're looking for and make sure your inbound marketing agency fits that profile.
Are you action-oriented or goal-oriented?
For agency-client collaborations to be beneficial, it is important to know how results will be measured and what exactly you will be measuring.
Typically, if you are looking to partner with an agency for an action-oriented inbound marketing plan, then the agency will publish and track content for the client. For example, 10 articles, a 20-page ebook, and one webinar per month. The great advantage of this approach is consistency: the agency will be creating a long-term content reserve that the client can then use for many inbound plans.
On the other hand, if you are seeking to do a goal-oriented campaign, then the inbound marketing agency will work to get you a certain number of leads a month, even if all of them come from a single action.
Of course, the best partnerships come when these two priorities are combined. Good inbound marketing features a healthy dose of content creation and lead generation. You want to find an agency that excels at both.
What role does inbound play in your marketing strategy?
Some agencies choose to abandon outbound channels altogether and focus exclusively on inbound marketing techniques. For others, inbound is just one ingredient along with other traditional advertising and marketing techniques.
It can be beneficial to work with an agency that has experience in other marketing methods, as you it means you can add additional techniques to boost your inbound strategy, especially in the beginning. In any case, determine what you think would work best for your brand, and see what the agencies have to offer.
How are you going to manage sales?
Marketing and sales must always be coordinated. When collaborating with an inbound marketing agency, ask yourself what you prefer:
Have the inbound marketing agency deal exclusively with marketing and pass qualified leads to the in-house sales team.
Contract an agency that can handle both stages. This means they will take care of both generating leads and closing sales.
2) Evaluating The Candidates
Once you decide what you're looking for in an agency, you'll soon realize that there are many options to choose from. In order to evaluate potential candidates, my recommendation is that you make a list of criteria so that you can compare results. These questions will help you get started.
What services do they offer?
Investigate whether the agency has a clearly defined catalogue of services and rates. This will help you narrow down whether or not they offer what you would like to do, as well as centralize your budget.
If the agency includes a list of customers on its website, check it out for examples of inbound marketing and digital marketing campaigns that they've designed for them. Not all campaigns have to be unique and original, but they do have to be able to use creativity to bring value to their customers.
What is the agency's customer retention ratio?
A relationship between an agency and client can end for many different reasons, from unrealistic expectations to economic instability. In addition, agency and client don't always fit, and if things don't work out, the best solution is usually to say goodbye. But even if 100% retention is impossible, it is important that the agency has stable clients. Don't be afraid to ask an agency their customer retention ratio. If they are proud of the relationships they have built with their clients, then they will be happy to share this information with you.
Are they specialized in a specific industry or area?
In general, it's a good sign that they have experience with customers similar to you, as they will better understand your industry. But if the agency only works with a very specific type of client, there may be problems with potential competitors. Aim for an agency that has a wide range of clients, with bonus points if they're experienced in your sector.
How do they use metrics and reports?
Metrics and reports are crucial for understanding whether the collaboration with an inbound marketing agency is paying off. Therefore, ask the agency how they evaluate campaign success, what specific metrics do they typically look for, and whether they provide regular reports.
What are the strengths and weaknesses of the agency?
It's impossible to be good at 100% of things and 100% of the time. But, an agency should know what their weaknesses are in order to improve on them. Therefore, when interviewing a potential inbound marketing agency, do not be afraid to ask them what their weaknesses are and what they do to fix it. This question will also help you assess how transparent your agency will be when working with them, which is especially important during conversations about results.
Are they up to date on industry trends?
Inbound marketing in an ever-growing and changing field. Technology and consumer habits continue to evolve, which means sometimes today's best practices can be completely outdated by tomorrow. Ask the agency if they participate in constant training and keep up to date with the latest news and trends.
3) Collecting The Final Information Pieces
So now that you've settled the dust on the more broad questions, it's time to get more specific. Once you've narrowed down your search to 2-3 agencies, ask them the following questions to discern whether or not they're right for you:
What is their action plan for your brand? An inbound marketing agency should be able to develop a customized action plan and budget based on your needs. This proposal should clearly lay out the specific tactics and techniques they plan to use, as well as the associated fees and investments.
Who is in charge of creating content? Inbound marketing is largely based on content creation as a way to generate attraction to the brand. Think of this content as your brand's cover letter on the internet. It should always be adjusted to your brand's tone and values. Therefore, it has to be clear whether your brand will develop content internally, or whether the agency will take care of it. You could do some combination of both, for example the agency handles ebook creation, while blogs are written in-house. You must also ask the brand how they will handle the approval and editing process if they do create your content.
What should you expect after kickoff? Ask the agency how their onboarding process works. This will help you understand the first steps, what the agency needs from your team, and when you might expect the first results.
Who are you going to work with? It's important to have a good relationship with the people you'll be working with from the agency. Ask and meet your future point of contact and ask how they will take care of your account. Don't be afraid to ask for their experience and skills - you want to ensure that your account will be managed by someone who has experience in the inbound game. It's also important to know who you need to address when you have questions, when they are available, and what response times they typically have.
How do they manage crises or emergencies? If there's one thing we've learned in these months, it's that plans can change at any time. That's why it's essential to know what the inbound marketing agency's availability is to solve crises and what approaches they've taken in the past.
What tools do they use? Sometimes agencies and clients can share tools to work in a coordinated way. For example, if you work with a HubSpot Agency Partner and you also use HubSpot, you and the agency will be able to work within the platform together. Even if it isn't, it's important to understand the agency's work, so you should ask them what tools they use and, if necessary, ask them to explain them to you.
What payment model do they use? Some agencies may charge a monthly fee or a project-based fee. In any case, all rates and any extras should always be well defined in their proposal to avoid any surprises.
7 Tips For Choosing The Best Inbound Marketing Agency For Your Brand
1) Be Clear About What You Need
Remember, the agency wants to do a good job for you just as much as you want them to do well. If you are clear and transparent on your specific goals and needs, the agency will be better able to let you know if they are able to accomplish them.
Even if you do not have concrete end-results in mind, be clear with the agency about that as they can help you set realistic goals and expectations on what they are able to accomplish.
2) Seek Blending
The relations between your agency will be two fold. You want to work with an agency that will deliver results, and you also want to work with an agency that you can build a solid relationship with. This means, you want their action plan to be able to blend into your own, just as you want your relationship to blend into a friendly and easy rapport.
3) Learn About The Philosophy And Values Of The Agency
This is an overlooked factor, but very important. Every company has its own culture and the way it works. Sometimes an agency can be specialized in customers of your size and industry, but maybe your understanding of business and marketing are not aligned. To avoid this error, talk about values.
For example, at Cyberclick we have always been advocates of happiness at work and have synthesized our culture into three values: "Admire people", "Always find a better way" and "Customer experience freaks".
4) Study success stories
The most effective way to really know how an agency works is to see what it has done for other clients. Many agencies include testimonials or success stories on their website; it's a good start, but you don't have to stop there. Don't hesitate to ask directly to be told experiences firsthand, especially if you can't find a testimonial that is similar to your own situation.
5) Look At How They Do Their Own Inbound Marketing
The best success story of an agency is... its own marketing! So find out what inbound strategy they've used to promote themselves as an agency and what the results are. If you can't see it, it means they might not be all they promise.
6) Communication is Key
In all relationships, both personal and professional, good communication is a fundamental ingredient. You have to feel that you and your agency speak the same language, that you can express doubts or concerns, and that they answer you honestly, transparently, and in a trustworthy manner.
7) Look for an agency with which you can learn
The best inbound marketing agencies do not place themselves on a pedestals, but strive to explain to their clients what they are doing and even offer specialized training.
The collaboration between the agency and the client has to be based on transparency and trust. Even if you've never done inbound marketing before, you have to understand what, how, and why they're doing at all times. After all, they're speaking on behalf of your brand.