By Judit Pan, on 26 October 2015
One of the best ways to get more out of your content strategy without increasing your budget is to use the "hot times" of each medium, i.e., those where it is more likely that users will see your content and interact with it.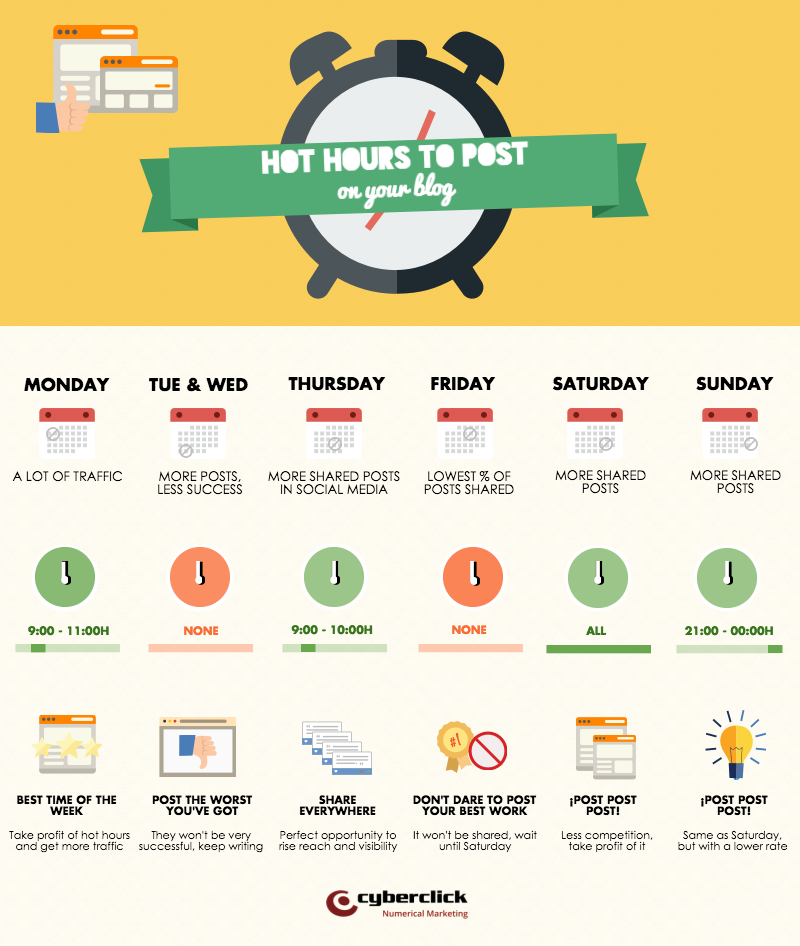 At the time to implement your content strategy it is essential to have a blog that is regularly updated, but it is also one of the most expensive time investments that you'll make. To make the most out of this investment in Cyberclick we have analyzed various studies to find out what are the best days and times to post on your blogs. And here you have the results of our research, the hot hours to post on your blog:
If what you want is to get more traffic to your blog, several studies agree that Monday morning is your time to shine. The hottest hours are between 9:00 and 11:00am.
According to TrackMaven, most posts are published on Tuesdays, but this does not seem to have much success. Wednesdays are also not the best day if you want to increase the impact of your blog. Take advantage of them to publish less important posts or to write new articles that you will publish another day.
According to Shareaholic, posts published between 9:00 and 10:00am on Thursday are the most shared on social networks, another interesting opportunity you can leverage to your advantage.
Friday is the day when a smaller percentage of items are shared, according TrackMaven, so this day is not ideal to publish an entry that you've been working on for weeks.
The most social day, according to TrackMaven, with 18% of posts shared. However, it is one of the days when least content is published. It seems clear that there is a discrepancy between days that brands are encouraged to publish and days in which the audience is more available to read and to share that advantage!
As is the case with the previous day, the content published on Sunday benefits from less competition and hence are shared more (though not as much as Saturday). As for hot hours, both TrackMaven and KISSmetrics indicate that the best hours are between 21:00 and midnight.
As you can see, there are many moments that might be interesting, according to different studies. So, our advice is to experiment until you find the date and time that work best for you and your brand. Since most blogging systems allow you to schedule your post to be published exactly when you need it, it is very easy to test. You can spend one or several months experimenting with different days and hours of publication and use Google Analytics to interpret your results. Good luck!
Laia Cardona y Judit Pan