By Jessica Bubenheim, on 15 May 2019
"The most startling truth is that we do not even think our way to logical solutions. We feel our way to reason. Emotions are the substrate, the base layer of neural circuitry underpinning even rational deliberation. Emotions do not hinder decisions. They constitute the foundation on which they're made!"
This quote from the business magazine Fast Company by Douglas VanPraet, author of the work" Unconscious Branding", describes what significant influence emotions have on our decisions. Data about our emotions and their effects are increasingly used in digital marketing to get people to share content or buy specific products.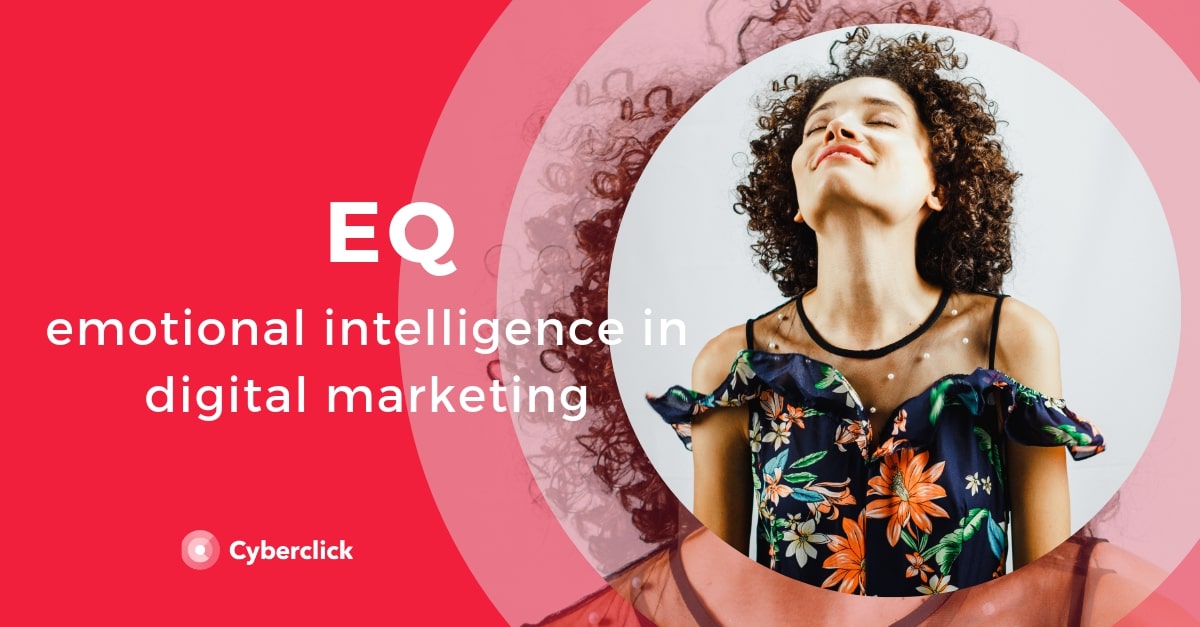 Emotional intelligence empowers us to deal with patience, empathy and imagination; the problems we face in our relationship with ourselves and with others. Under the generic term "emotional intelligence" we understand skills and competences such as compassion, communication skills, conflict skills, tact, and the like. Emotional intelligence is the ability to accurately recognize, understand, and constructively deal with others feelings, and using one's influence to reinforce positive feelings and alleviating negative feelings.
In what way does emotional intelligence play a role in marketing?
The final decision for or against a purchase will be taken by the customer on the basis of his own individual emotions, and values that give rise to these. General consensus states, that the purchase decision is 90 percent influenced by customers own emotions.
The importance of emotional intelligence in marketing is thus about recognizing, decoding and responding to the need of the audience. Only then can we adequately address the recipient of an advertising message.
The perception of a need, can be gauged by the use of results of social media analytics and A/B testing with a potential target group. The acquired knowledge about possible needs as well as the interests and values of the target group can be decoded and interpreted under strategic marketing aspects and should ultimately be reflected in marketing communication. By deciphering the results of social media data and A/B test results, information about the appropriate approach, the selection of communication channels as well as the contents and much more can be obtained. Finally, the appropriate response takes the form of a digital marketing campaign that is optimally tailored to the target group. Ultimately, it must be clearly communicated to the potential or existing customer that their wishes and needs are understood and taken seriously. Only if the customer feels that the product meets their personal values and your company shares these values, takes these values seriously and even supports them, will they opt for the purchase. Accordingly, emotional intelligence is required to successfully compose a digital marketing strategy. In customer interaction, their emotions must be recognized and understood. Only in this way can a long-term customer loyalty take place.
Analyzing the feelings evoked by content.
How can brands use emotions as an incentive? Studies show that people are choosing a brand on basis of emotions. People are emotional beings that responds to positive as well as negative emotions. An extraordinary, emotional story is a sure way to get attention and increase the interaction rate.
Here at Cyberclick we absolutely love reading, whether on paper or in digital formats. Sometimes we recommend books or publications that we found useful, so that you can join us in our enthusiasm in our new discoveries. Moreover, every trimester we all get together and choose a book that can help us with both our professional and personal growth, and the whole team reads it. At the end of each trimester we sit down and talk about it, to see how what we learned can help us in our day to day life here at Cyberclick, to continuously improve our company's happiness.
Today however, we are not going to recommend a specific book, but rather a unique application called Tekstum. This Spanish startup has created an online platform that applies Big Data to the publishing sector to analyze the feelings caused amongst reader by books. This serves, on the one hand, for publishers to decide the next launches, and on the other hand, to create a book recommendation method based on emotions.
And it's not even just a great idea still to be developed – they are already on the market and have repeating clients that are stirring movement. They were also semifinalists in the London Book Fair's Quantum Innovation Award in April 2016, which certainly gained them significant importance in the international publishing sector. The judges pointed out that they were, in fact, the most innovative proposal, having created an emotional recommendation system using Artificial Intelligence (AI).
The formula for a book's success on World Book Day or even during the rest of the year does not yet exist, but Tekstum has created a pioneering application that might just help. Economists Marc Santandreu and Marc Martínez are the two architects of this solution.
Tekstum is able to discover the feelings and emotions that a book stirs on the Internet. The system uses Big Data and Artificial Intelligence to collect thousands of opinions, comments and reviews generated by specialized websites or social networks. With all this information, this young company's team created a dictionary with 20,000 words specific to this industry to identify the feelings triggered by a piece.
Analyzed book: "The happiest company in the world"
So here goes an example of how to use the platform… "The happiest company in the world" is a book by David Tomás that was launched into the market in September of 2015. Tekstum, after having run its feeling analysis, shows that there are a total of 13 book reviews (all of which positive) and 214 tweets, in which 99% include positive words such as "useful", "recommended", "vital", "easy", and "inspiring". The book has a score of 9.8 in 10, and the average reader profile is a 36-year-old woman residing in Spain.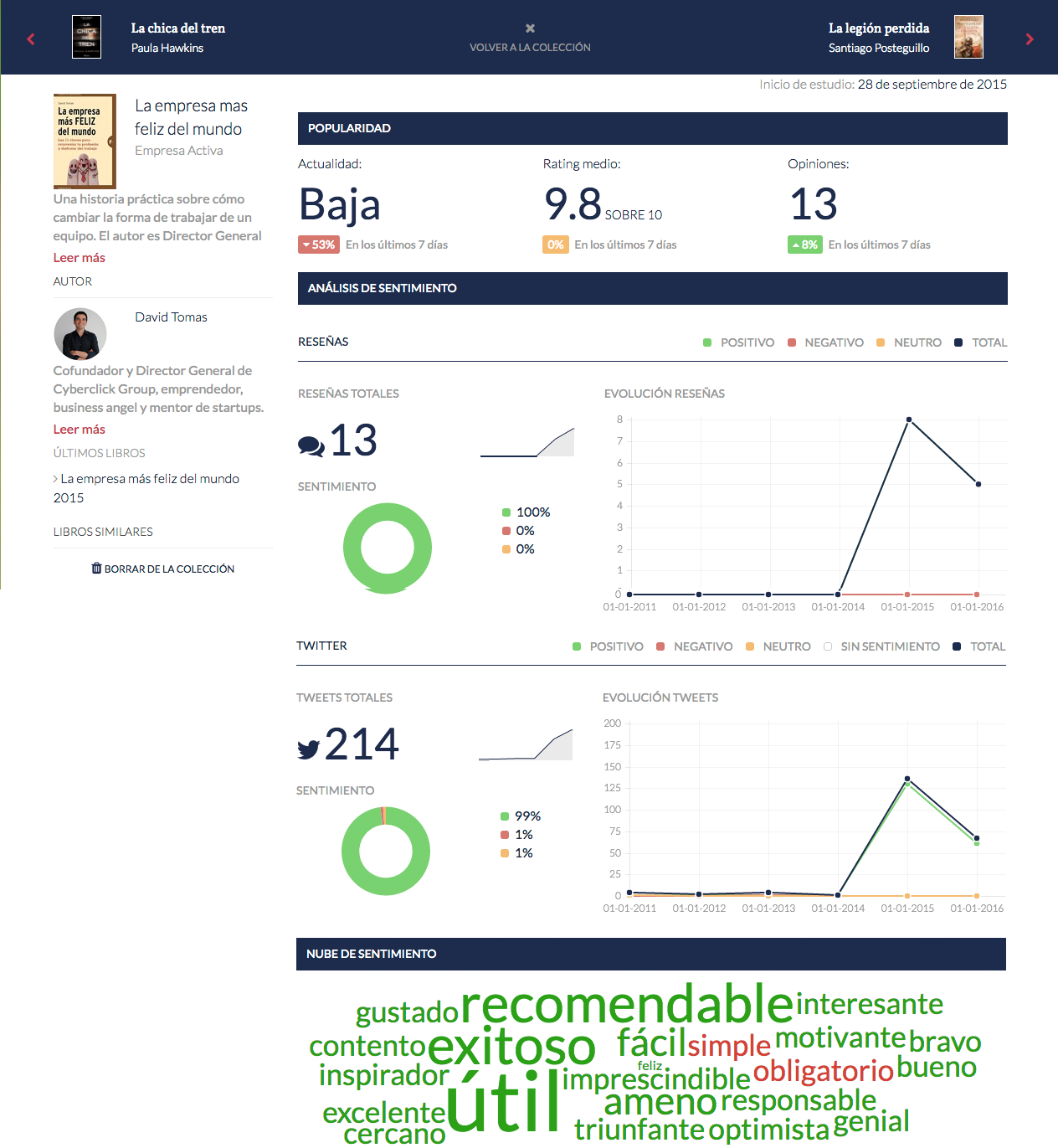 It measures the positive, negative or neutral emotions triggered by any publication, and its evolution over one year. Based on this, it forms a word cloud that becomes the book's emotional DNA. Once this data has been processed, editors can use it to determine the next publications. Tekstum has even created a new book recommendation method – currently, the readers give the book a score and guide themselves by most sold books, but what Tekstum proposes is a 100% emotional recommendation system.
"If a reader wants a passionate, intense, original and epic read, that at the same time is accurate and well documented, our algorithm detects what other publications have been described by those words by other readers" says cofounder Marc Santandreu. According to a study carried out by Deloitte, research from mobile devices influences 64% of in-shop book sales in the United States. Taking this into account, Tekstum wants its application to be used to look up the feelings triggered by a book just before readers buy it.