By Cyberclick Team, on 28 February 2022
Cyberclick has been named Google's Premier Partner for 2022. This distinction recognizes 3% of marketing agencies in a country that have obtained better results during the previous year managing Google Ads accounts. This is the highest recognition that Google awards to its partner agencies.
Specifically, the Google Premier Partner badge highlights all of the work done by Cyberclick in 2021 in terms of performance and investment.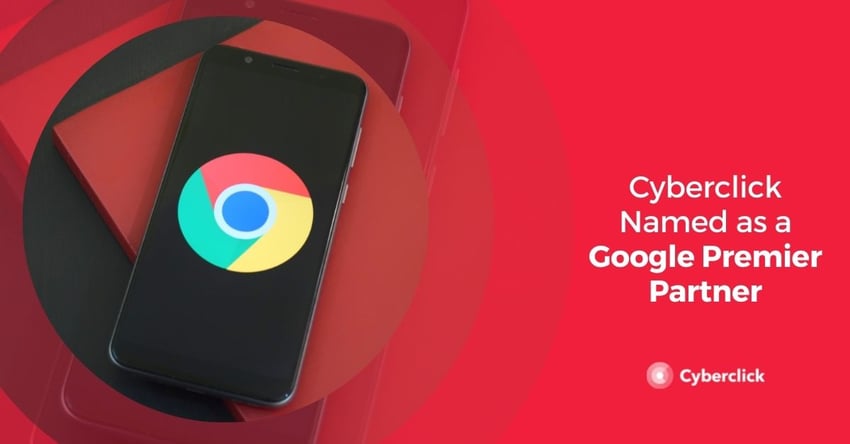 The new Premier Partner badge distinguishes Cyberclick for having invested more than $10,000 in advertising during the last 90 days. These high levels of investment demonstrate that Cyberclick is able to identify new opportunities for continuous growth for its clients and maintain its good results.
Additionally, Cyberclick is also certified as an agency with at least 6 Account Strategists and 100% of its SEM team having obtained Google Ads certifications and advanced knowledge in this type of advertising.
What Is a Google Premier Partner Agency?
Now, what does it really mean to be a Google Premier Partner agency? In essence, it is a Google partner that satisfies challenging requirements in terms of creating and managing Google Ads campaigns.
Differences Between Google Partner and Google Premier Partner Agencies
Many agencies can be Google partners, but in order to be certified as a Premier Partner, they must be among the top 3% of agencies in the country. This ensures a level of excellence for clients, as these agencies have additional certifications, higher performance metrics, and larger budgets than more basic partner companies.

4 Advantages of Hiring a Google Premier Partner Agency
Access to beta versions: Before making a new feature public, Google usually makes beta versions for its partners. This gives them a better understanding of Google's tools and positions them to be leaders in the industry.

Working directly with Google: Premier Partners have direct communication with Google. So, when questions or issues arise, they can be easily and quickly resolved.

High level of expertise: Google ensures that its Premier Partner companies offer quality services and a high level of expertise. To remain a Premier Partner, companies must maintain Google's standards over time.

Exclusive insights: Premier Partners have access to aggregated data from different sectors.
At Cyberclick, we have a great team of people and we analyze your strategy and needs in a personalized way. We offer custom Google Ads solutions for clients and are always looking for ways to optimize campaigns.
You can learn more about our SEM and Google Ads services here.