By Marina Sala, on 19 October 2021
Engaging, converting, and retaining customers is the ultimate goal of any marketing strategy, and nurturing customer relationships is a big part of this. After all, it is much easier and cheaper in the long run to get repeat business from existing customers rather than searching for and attracting new ones with each campaign.
Most marketers are familiar with the term customer relationship management. However, there is another marketing process that delves much deeper than this, and that is customer lifecycle management. This process includes tracking additional customer-related metrics which measure and reflect the performance of a business.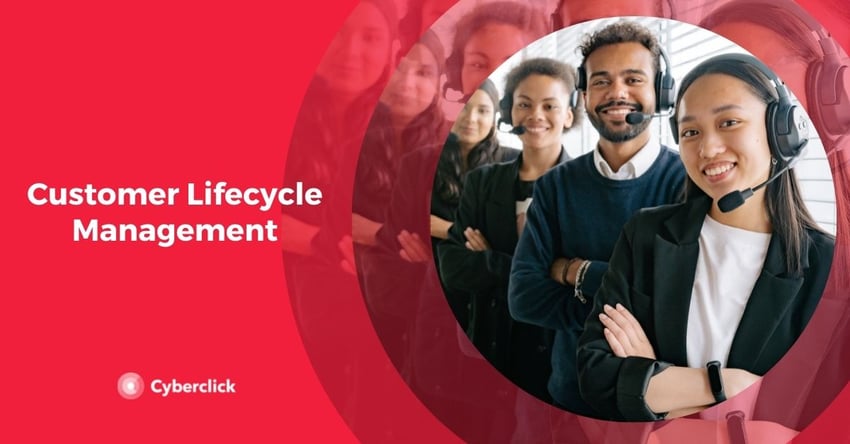 In this post, we will share everything you need to know about managing the customer lifecycle. We will break down each stage of the customer lifecycle and discuss the importance of understanding the buyer journey in order to build a successful and loyal customer base.
What Is Customer Lifecycle Management?
Generally speaking, there are five main stages involved in a buyer's lifecycle: reach, acquisition, conversion, retention, and loyalty/advocacy. This differs from customer relationship management which concludes once a customer has made a final purchase. Instead, the focus is on building long-term, ongoing relationships.
Customer lifecycle management (CLM) is all about turning existing customers into loyal brand advocates. It's about using an effective CLM strategy to positively influence customer behavior at each stage of their journey with your brand. When the right strategy is implemented, you will have a greater chance of successfully cross-selling and upselling to happy customers.
Lifecycle Marketing Strategy
When it comes to customer lifecycle management, the best strategy focuses on how customers interact with your brand at each specific stage of the buyer lifecycle. It also takes into account each and every touchpoint during their journey with your brand.
Your lifecycle marketing strategy should aim to:
Convince prospects to make their first purchase from you.
Improve sales by turning one-time buyers into repeat customers.
Grow your customer base by offering a better buying experience.
Nurture relationships with repeat customers so that they become loyal, long-term buyers.
Reactivate "at-risk" and lapsed customers into active buyers.
Turn buyers into brand advocates who spread the word about your company.
Improve your marketing ROI and lifetime customer value.
Once you have defined your strategy, then you will be ready to launch your customer lifecycle marketing campaigns.
Customer Lifecycle Marketing
Customer lifecycle marketing is when you intentionally improve the user experience at each stage of the customer lifecycle. It's all about educating customers, providing support, encouraging purchasing decisions and nurturing long-lasting customer relationships. The ultimate aim is to create loyal ambassadors that help you expand the reach of your brand and boost the bottom line of your business. What's more, once you have converted a buyer into a loyal repeat customer, it is much easier to upsell new products, and exclusive offers to continue to engage them and nurture a long-term relationship.
The key to creating loyal brand advocates is creating consistently relevant messaging that is in tune with customer needs. The first step in achieving this is understanding who your customers are, what they want and expect from your brand, and which strategies will be most effective in getting you where you want to be.
Once you've understood the basics, then you can focus on engaging one-time buyers at each stage of the customer lifecycle.
Customer Lifecycle Stages
As mentioned above, the customer lifecycle has (generally speaking) five stages: reach, acquisition, conversion, retention, and loyalty. Unlike the buyer's journey, customer lifecycle management also takes into account what happens long after a prospect makes a purchase.
Let's take a look at these five stages in a bit more detail.
1. Reach
This is the first stage of the customer lifecycle, and it is where you should start building brand awareness. The best way to do this is to analyse where your customers are coming from, and how you are performing right now.
Consider the following:
Where do most customers find out about your brand? Social media, search engines, paid ads, etc.?
Are you performing well? Are you reaching a large enough audience? What are your click-through rates and impressions like for these channels/platforms?
How are your competitors reaching customers? What are they doing right?

Do you have a good reputation? What's the general consensus about your customer service experience?



2. Acquisition
The next stage in the customer lifecycle is all about the acquisition channels that are attracting the most customers. In other words, once a user has reached your website or landing page.
Which acquisition channels (paid ads, SEO, marketing campaigns, newsletters, etc.) work best?
Are you providing helpful, educational content that encourages prospects to make a purchase from you?
Is your website easy to navigate and read? Are you transparent about your prices? Is your UX seamless? Do you offer customer support?
Are you addressing the needs, concerns, and pain points of your target market?




3. Conversion
The third stage of the lifecycle is conversion. The most important aspect to focus on here is the value you are providing your audience. If you can demonstrate that you understand their needs and desires, then you will be far more likely to convert them into customers. Once that, then you can start focusing on building the customer relationship and retaining them as repeat buyers.
4. Retention
When it comes to customer lifecycle management, the key to retention is consistently transmitting relevant and meaningful messaging to customers. This will encourage buyers to return to your brand next time they want to make a purchase. The ultimate goal is satisfying their needs and nurturing the customer relationship so that they eventually become long-term loyal customers.
The best way to do this is to regularly collect customer feedback to find out what your customers really think of your brand. You should also take a look at your current UX. How can you improve the customer experience? Do your customers trust you? Have you made it easy for customers to do business with you again? Have you personalised the customer experience so that each buyer feels understood and appreciated by your brand?
5. Loyalty
The final stage of the customer lifecycle is loyalty. This is where you convert customers into loyal brand advocates. In other words, where your customers are so satisfied with their experience with your brand that they recommend you to their friends and family.
The best way to build brand loyalty is by offering your customers quality products and services as well as a seamless customer experience. You also want to nurture existing customers to keep them engaged with your brand. Encourage them to share reviews and testimonials. Ask them to follow you on social media. Another effective strategy is offering them perks like exclusive offers and discounts if they refer a friend.
Not only is brand loyalty and word of mouth a great way of marketing your business, but it also expands your reach, creating new customer lifecycles and increasing the return on your investment. It's the best way to build a solid brand reputation that gets you noticed.