By David Tomas, on 3 June 2016
When the time comes to invest your digital advertising budget, the where is just as or even more important than the how much. To get the best results, you need to be in the places where your target audience spends most time. Want to know how? We analyzed IAB's latest social network study to find out the consumers' Top 10 activities on social networks for you to know where to place your ads.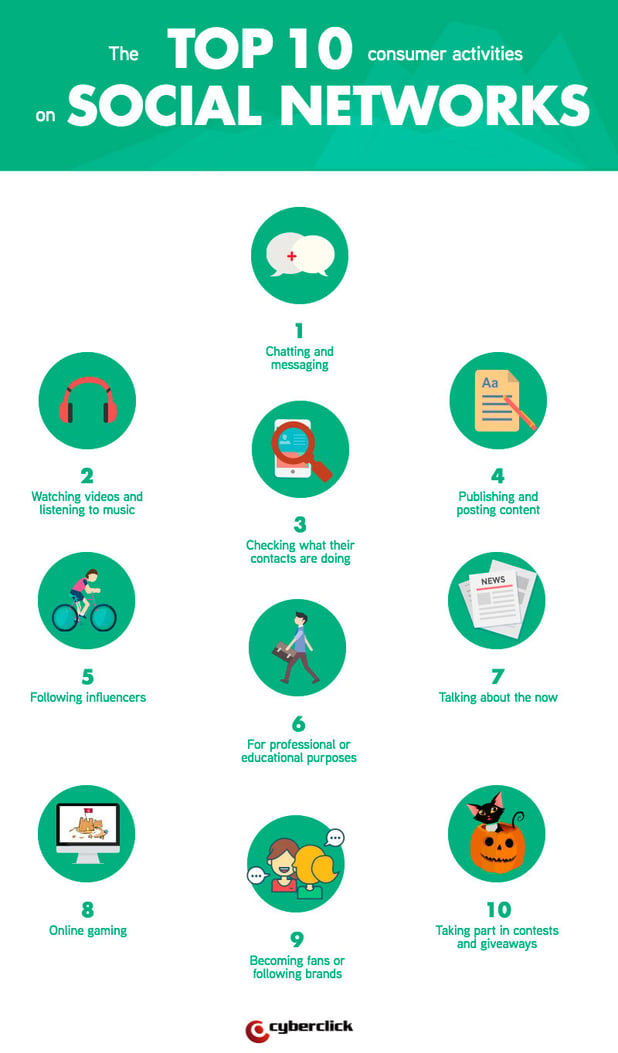 Chat and send messages.

79% of users admit to engaging in this activity "frequently or very frequently" on social networks. The hottest chat platform of the moment, Whatsapp, does not currently allow advertising. But as Berta Ventura has previously explained here on our blog, Facebook will soon incorporate the feature allowing companies to send sponsored messages through their new chatbots. Don't miss out on this opportunity!

Watching videos and listening to music.

Another top consumer activity on social networks, for 57% of users. The advertising opportunities here involve putting ads on YouTube or Spotify or even diving into the deep end by creating your brand's own YouTube channel.

Checking out what my contacts are up to.

It seems 48% of internet users a big fans of gossip, so staying up to date with their friends' and contacts' latest news is one of their top activities. How to use this for your marketing strategy? Through ads that blend in naturally with this kind of content, like ads of Facebook feeds or Twitter Ads.

Publishing and posting content

is a "frequent or very frequent" activity for 36% of users. Create content that they can't help but to share and get people talking about your brand!

Follow influencers.

The same percentage of users (36%) frequently follow their favorite "opinion leaders" on different topics. Have you already thought about your influencer marketing strategy?

For professional/educational purposes.

It is a top activity for 31% of consumers on social networks. If your products are related to some kind of knowledge or education or B2B, there are sure to be ways to make the most of it.

Talk about the

What 29% of users enjoy doing is following the news, and the star platform here is, without a doubt, Twitter. Make the most of it with your promoted tweets!

Online gaming.

This activity is a top for 26% of users. Its clear that we like to play, so don't miss any opportunity to "gamify" your brand experience and attract your target audience.

Becoming a fan/following a brand.

23% of the surveyed people (more than 1 in every 5!) frequently follow brands on social media. Without a doubt and excellent opportunity to talk to them and win their loyalty.

Participating in contests.

Finally, 23% love to enter into contests. This is one of the most effective strategies to make noise about your brand, so don't forget to include it in your marketing plans.
Which online advertising strategies seem most effective to you? Leave us a comment!
David Tomás