By Jorge Vergara, on 25 June 2021
The traditional model for advertising on TV is changing. Netflix has become one of the largest sources of entertainment for consumers today and although this platform doesn't offer advertising spots, there are other for brands to get noticed on Netflix.
In this article, we'll give an overview of how product placement on Netflix works based in part off of a study done by Celia Díaz Muñoz at the University of Seville.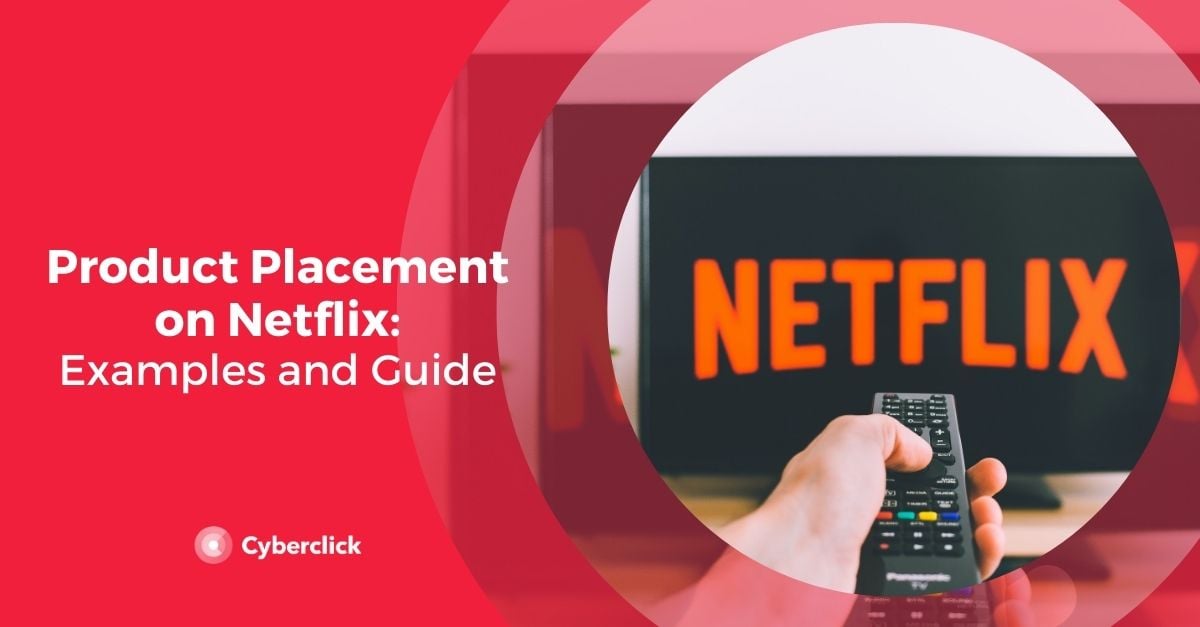 Product Placement on Netflix
For users, Netflix offers a large catalog of movies, series, and programs free of traditional advertising. But advertising does in fact exist on this platform. It happens in the form of product placement where certain products or brands are woven into the plot. Often viewers respond indifferently or even positively to this, since it does not interrupt their experience like classic TV commercials would.
Despite its discretion, product placement on Netflix is a market that moves big numbers. Some series, like those that take place in the past, are not suitable for product placement, but this can make the price of being featured in a series even higher.
Types of Product Placement
Overall, there are 4 main types of product placement.
Verbal placement: the product is named, but the actors do not interact with it.
Passive placement: the product is part of the background set of the series, but nobody uses it or names it.
Active placement: the characters interact with the product.
Hyperactive placement: the characters interact with the product and make explicit reference to it.
Examples of Product Placement in Netflix Shows
With the help of Diaz's study, we have taken a look at several Netflix series to better understand the presence of brands on this platform.
1. Paquita Salas
In this Spanish series, Paquita Salas is a talent agent. When her lead actress leaves the agency, she is forced to find herself again, both personally and professionally.
In terms of product placement, the analysis reveals the following data:
In total, there are 82 product locations within the 6 episodes that were analyzed, making it the series with the most brand presence in Diaz's study.
The most widely seen brand is Apple, with 44 appearances in total, both active and passive.
The remaining appearances focus on soft drinks, alcoholic beverages, and sports brands.
Within the series, the 4 types of placements (verbal, active, passive and hyperactive) are used.
2. Sense 8
Sense 8 is an American science fiction series in which 8 strangers from different parts of the world discover that they have a special connection and must work together to discover what is behind it.
When it comes to product placement, the following can be found:
The brand with the largest presence is HP (8 placements), followed by Porsche and Apple.
The brands with the greatest presence are cars, computers, and beverages.
There is passive, active, and verbal placement.
3. Love
This American romantic comedy explores male and female perspectives on relationships through Gus and Mickey, two very different people who meet by chance and begin a relationship.
As for the product placements in this series, the following are worth noting:
There are a total of 79 product appearances in the 6 episodes that were analyzed.
The most widely commonly seen brand is Apple, which appears a total of 18 times, followed by Samsung (5 appearances). The presence of Honda, Redbull, Converse, Nike, and Adidas also stands out.
4. Sex Education
This British series centers on Otis, a 16 year old boy whose mother is a sex therapist. With the help of a friend, he begins to offer his own, secret therapy sessions to students throughout his school who are struggling with love and relationships.
Within the episodes analyzed, the following product placement can be seen:
The most mentioned brand is Casio (watches), followed by Apple. Asos and Nike also appear.
All the product placement is active, meaning that the actors use the product but do not mention it.
5. Money Heist (La Casa De Papel)
This very successful Spanish series is about a group of people who decide to rob the Spanish Treasury under the orders of a certain "Professor." Their different backgrounds and plots highlight some of the problems in today's society.
When it comes to product placement in this series, the following was found:
In total there are 50 placements within the 6 episodes that were analyzed.
The most present brand is Estrella Galicia beer, with 13 mentions. It is followed by BQ and Lenovo.
There are active, passive and verbal locations.
6. Stranger Things
This American show takes place in Indiana in the 1980s. After a young boy gets kidnapped, a group of friends search for answers to his disappearance. Along the way, they have to contend with mysterious supernatural forces.
This show adapted it's product placement to the 80s theme of the show. This meant that brands created variations of their products to match the time period.
Of the brands featured, Coca-Cola and Cadillac were shown the most.
The third season of this show had approximately 9 minutes of product placement per episode
Other prominently featured brands were Pentax, Sharp, and 7-Eleven.
As you can see, advertising on Netflix is possible, just in a more indirect way. Luckily for advertisers, product placement is often more influential over time because if a series is popular, it has a good chance of being seen by many generations. A good example of this is "Friends," a series in which the product placement continues to have an impact today.