By Cyberclick, on 14 December 2015
Today was one of those days that started out normal and became incredible. By mid afternoon they announced that the Cyberclick Group is the best SMEs to work for in Spain for the second consecutive year. The HR consultancy Great Place to Work announced today, aimed at companies that are integrated from 20 to 49 employees in the country List of Best Workplaces Spain 2015 SMEs.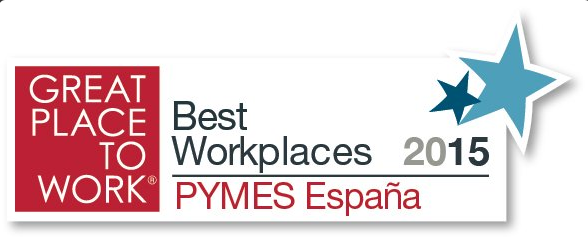 We would like to congratulate and give our appreciation to other companies that have been listed in the Top 5. Second are pharmaceutical laboratories Quinton Laboratories, third is the traditional games developer for social networks and mobile devices Playspace and fourth and fifth place Fiabilis Consulting Group, dedicated to the optimization of labor costs, and Prematecnica, an industrial engineering company dedicated to the design and supply of equipment for the petrochemical industry.
Great Place to Work makes these rankings in over 40 countries and is based on the anonymous opinions of the employees of the companies to which they survey, analyzing their methods of hiring and firing, internal and external communications, talent development, how they thank employees, share and celebrate the successes, how conflicts are resolved and what wage policies they have. So, it performed a useful task for all organizations (luckily it's including more) who want to build happy work places where there is always the opportunity to improve. Surely we could learn a lot in recent years, with GPTW on what makes the best companies.

The best award a company can have is the recognition that his own team, as Richard Branson says, "put employees first and these will ensure that customers have a good experience." In the last few years we have opted for organizing differently, creating companies within the group, led by entrepreneurs who are aligned with the values we have: Admire People, Always Find a Way Better and Customer Experience Freaks.
And we are committed to creating a good corporate culture. One of the prerequisites for achieving this goal is to incorporate optimistic people, who want to enjoy what they do every day and make every moment a unique experience for everyone! We are very pleased that we are seen as the best Spanish SME to work for, but we were most satisfied, above all, to share every professional and personal challenge daily with a group of people so extraordinary.
Cyberclick Group leads in the Great Place to Work 2015 again
This was the fifth edition of the event and the third time that Cyberclick Group has participated. In 2013 we were in third place and in 2014 and 2015 we have achieved the first position. There is no better way to start 2016! We are very pleased with this recognition because it reflects the work that we have been developing for years; focusing our efforts on the happiness and welfare of the people, because that wins both the team and the company concepts of motivation and results.
Cyberclick Group today consists of five expert companies in digital marketing and advertising. We are the first group specialized in offering interactive advertising services in the online environment, through strategies to capture traffic oriented results. So each company has developed its high expertise in specific channels such as SEM, Inbound Marketing, Email Marketing, Social and Content Ads.
Cyberclick is specialized in the optimization of online advertising campaigns.
Gauss and Neumann t

ailored technologies for managing large SEM accounts.

CoRegistros is the gold standard in data acquisition of personalized private users.
Digital Response helps customers manage efficient and cost-effective email marketing programs and cross channel marketing.
Inbound Cycle is the first agency of Inbound Marketing in Spain and Latin America.
All we can say is thank you to all of the people who are part of the group, customers, suppliers, partners, friends and the rest of companies that have participated in the contest, because they are good companies who want to be great places to work!