By Héctor Borrás, on 5 May 2021
Google's first major update of 2021 is coming and can have a big influence on your page ranking signals. The way websites, SEO and SEM strategies, and content are structured all depend on the core web vitals that Google deems important. Considering how much business has shifted to the digital space, these updates can have a major impact on your bottom line. Google was set to update its core search algorithm in May 2021, but then decided to postpone the changes until later this year. Although we don't know exactly when they will implement the changes, it looks like the process will start in mid-June and finish in August 2021. So what can we expect and how can we, as marketers and business leaders, prepare for these changes that can influence our brands?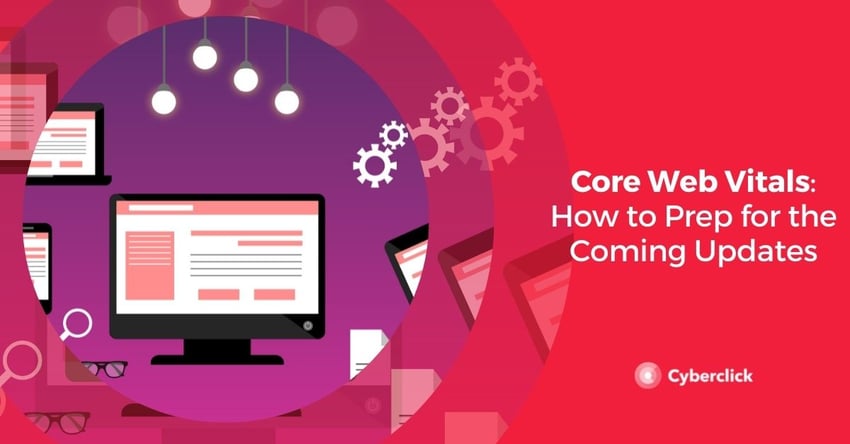 What Changes Can We Expect to See?
We'll go over some of the changes Google has already announced or that we suspect may occur but first let's quickly define core web vitals.
Core web vitals are three metrics that make up a user's overall page experience. Google scores these metrics and ranks your pages based on the quality of your UX, which is essentially what this new update is all about. Google wants to provide users with websites that not only deliver relevant information but are also responsive and well structured.
The three core web vital metrics are largest contentful paint, first input delay, and cumulative layout shift. Don't worry, we'll explain each of them below.
LLargest Contentful Paint (LCP)
This is page loading speed and the performance of your website, with a focus on the largest graphic element. Google says that 2.5 seconds will be considered a good LCP score. Anything more will be considered needing improvement or poor.
First Input Delay (FID)
This refers to how quickly your page responds to a user's attempts at interaction, such as clicks or taps. About 100 milliseconds is considered a good score.
Cumulative Layout Shift (CLS)
This means how stable your page is while it's loading—no major shifts once elements are loaded. How often have you clicked something accidentally due to a sudden layout shift? This happens more frequently on mobile devices or when turning a screen.
We can summarize core web vitals as loading time, interactivity, and visual stability. Of course we can't forget about other important UX ranking signals like mobile readiness, limited pop ups and security either. Overall, Google is making user experience a top priority in how it ranks pages in SERPS. This can be especially beneficial for small businesses who can now compete with bigger companies by focusing on site performance instead of competing for expensive keywords.
Now let's look at how businesses can prepare and position themselves to thrive with Google's latest search algorithm update.
How Can We Adapt?
Core Web Vitals will have a significant impact on SEO and it's essential that brands prepare and execute responsive strategies. While making Google happy is definitely important, improving your UX will also benefit your business overall since user satisfaction will result in a lower bounce rate, less abandoned carts, and more revenue for you. Here are some steps companies can take to ensure they are on track to comply with the Core Web Vital update, build a healthy website, and make everyone happy along the way.
Perform a Site Audit
First and foremost, you can use the Google Search Console to check your URLs and see a clear graph of what pages need improvement. You can also use Page Speed Insights to check any URL and receive suggestions on how to improve its speed. Both of these are useful, free tools from Google that can help you tweak your site in preparation for the Core Web Vitals update. You can also use SEMrush's excellent Site Audit Tool to perform an overall check on your website and get a Core Web Vitals report. Other options include Chrome's web vitals extension and Lighthouse Audit, available from Chrome Developer Tools.
It's important to analyze each URL individually as every page has different elements and therefore varying load times.
SemRush Site Audit Tool
Adjust File Sizes and Remove Unnecessary Elements
Here are a few fixes that you and your team can implement immediately to prepare for the update and improve performance.
Compress large images or files
Scale images for suitable size
Use a Content Delivery Network (CDN)
Remove unnecessary Javascript
Put images in next-gen format
Reserve space for advertising
Monitor Your Traffic and Analytics
Besides checking page performance and finding areas to trim the fat, use tools like Google Analytics to check where user pain points may be. You can monitor and analyze your bounce rates and pinpoint what may be causing users to leave. You can also discover other areas that may be reducing the quality of your user experience.
Continuous SEO Learning
Factors that influence your SEO are changing all the time. The Core Web Vitals update isn't going to be the last update, that's for sure. Overall, Google is focusing on user search intent and using Natural Language Processing (NLP) to prioritize not just keywords but complete phrases, which it interprets to discover what users really want. Make sure you're keeping up with all the variables that can impact your SEO.
Remember that Google uses over 200 signals to rank pages and the Core Web Vitals user experience is just one of them. Tweaking your URLs to achieve good scores will certainly improve your SEO, but nothing beats great content that is valuable and well structured. Follow Google's suggestions, stay on top of site analytics, deliver solid content and you'll improve user experience all while growing your brand.