By Emery Barnes, on 31 March 2016
Digital Marketing events are a way to learn about the new advances and trends while networking with people who could bring you new business opportunities or viceversa. With only three months into the 2016 year, we have already seen some of the world's best digital marketing events take place. Events such as the Mobile World Congress were extremely successful, attracting thousands of people to come and learn about the new technological advances. Due to constraints with time and convenience, we know it is challenging to attend all of these events, but 2016 has just begun and there is still a substantial amount of conferences happening in Europe that you could attend. Plan a trip in advance and get the most out of the these conferences; to help you with this here we have narrowed down the Top Five Digital Marketing Events in Europe 2016.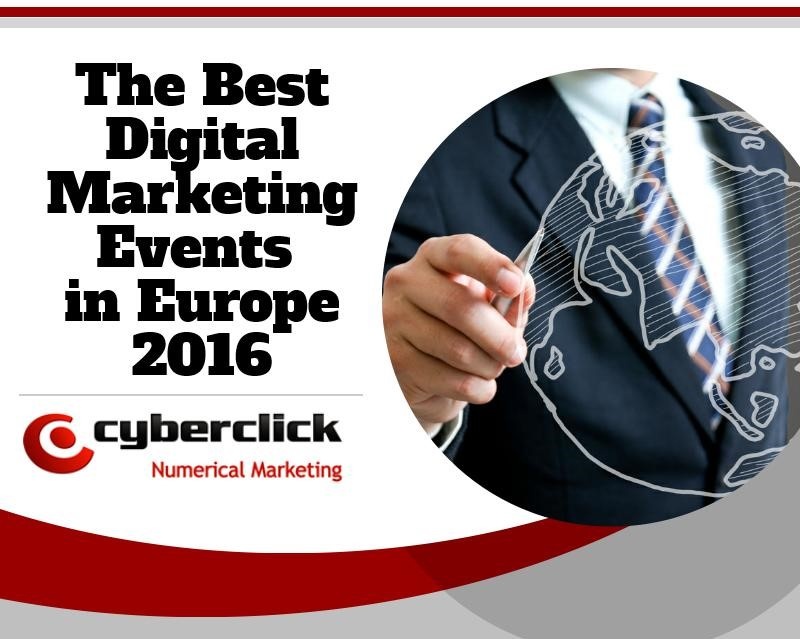 Digital Marketing World Forum
April 13-14, 2016: Amsterdam, Netherlands. June 20-21, 2016: London, UK
In 2015, #DMWF had representatives from the world's leading businesses and brands including Coca-Cola, American Express, GE, Unilever, and Warner Brothers. The list for has grown tremendously for the 2016 conference, including representatives from GOV.UK, Adidas, GSK, and BBC Worldwide. Uniting the marketing community from around the world, this multi-city, two-day conference provides solutions and strategies for individuals to successfully move forward in the digital marketing world. Covering topics such as:
Managing Customer Data,
Developing Digital Strategy,
Understanding and Utilizing Technology,
Overcoming Financial Restraints,
Using Content Marketing to Engage Customers
Maintaining and Growing your Brand and/or Businesses Reputation.
There will be a variety of debates, interaction labs, and case-study led discussions taking place. Here is more information about the event in Amsterdam and London.
Chief Digital Officer Forum
April 13-14, 2016: London, UK
With over 28 industry speakers, and over 100 different delegates, this conference is a must. Known for its interactive sessions and high-level speakers, this London based event provides insight and perspective on the challenges and opportunities the digital marketing industry faces. Some of the topics include:
Adapting Your Business Culture after Digital Transformation
Driving Innovation and Implementing Digital Development
The Differing Role of the CDO in Traditional and Online Companies
Getting your Team Onboard with Data & Analytics
Cyber-Security: the Risks and the Solutions
The list of speakers includes representatives from Oxfam, Zurich, UK Cabinet Office, Philips, and HSBC. Here is some more information about this event and how to sign up!
SMX London/SMX Paris
May 18-19, 2016: London, UK. June 1-2, 2016: Paris, France
Offering two days of session's practical and engaging sessions, SMX London is guaranteed to satisfy all of your digital and online marketing needs! Sessions will address the industry's hottest topics including SEO, SEM, and Online Marketing. Whether you're a marketing veteran, or just getting started, this conference tailors anyone; the only requirement is interest and a desire to learn more about marketing! Previous businesses and brands that have attended SMX include:
Adidas
American Express
Capital One
Coca-Cola
Dell
Facebook
Microsoft
Twitter
United Airlines
And many more!
This event is a great opportunity to gather with all the people who are obsessed with online marketing. Here is more information about the event in London and in Paris.
Festival of Marketing
October 5-6, 2016: London, UK
#FOM16 unites over thousands of marketers, brands, and agencies for a two-day celebration of the future of marketing. Including a long list of the worlds' leading CMO's and marketers, this conference provides insight from the brightest and most innovative individuals in the industry. Topics include:
New ways to collaborate and align your teams around the customer.
Strategies and skills needed to succeed in the era of digital transformation
How the role of the creative has changed and the type of creative ideas that breakthrough in the new landscape.
Top practices, principles and strategies from winning multi-disciplinary campaigns.
The future trends and their implications for your industry and your marketing plan.
And many more!
This conference provides you the opportunity to network and make life-long and valuable connections with over thousands of marketing, media, creative, and advertising professions. (Click here for more information about this event.)
As this industry is constantly evolving, changing and improving, it is crucial for you as a marketer and professional to stay up to date with the most recent trends in this industry. In order to get the most out of the experience when you attend an event, the weeks leading up it is crucialt to plan out everything and research who will be attending and who is the most beneficial for you to set up meetings with. Once the event starts, you'll realize how quickly the time goes and if you didn't schedule meetings, you will miss out on some big opportunities. So what are you waiting for? Take the initiative NOW, sign up for an event, start to network and learn all you possibly can!