By David Tomas, on 9 January 2017
Did you know that there are already over 3.4 billion internet users all over the world? Thanks to marketing and digital advertising, even the smallest of companies have an enormous potential audience at the tipos of their fingers. And when looking to increase outreach, there are two advertising solutions that stand out of the crowd: Google Ads and Facebook Ads.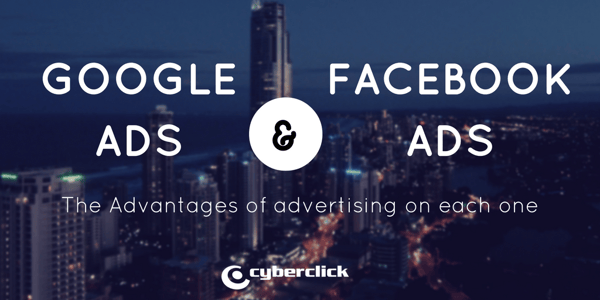 The Advantages of Google Ads
AdWords is the largest pay-per-click platform in the world: without Google, SEM would not exist. Its system is based on showing ads according to the keywords users are searching for. In other words, when using Google Ads you pay for the chance to find potential new customers, based on their searches.
Advertising on Google gives you potential access to over 3.5 billion daily searches. It also has a display option with which you can show your ads on a seemingly endless list of websites.
Comparing to facebook, these are Google's three main advantages:
Its large variety of ad formats.

Over the years, Google Ads has increased its list of ad formats, including Extensions, user reviews, location and website links, offering several options to personalize ads.
The size of its audience.

Google Ads offers advertisers a huge audience that never stops growing. They are the unarguable leader of search engines worldwide and their competitors don't even come close.
Its equality in opportunities.

In Google Ads, it is not always the advertiser with the largest budget that wins, which is big news for small and medium sized companies. Although it is true that some keywords are more expensive than others, the systems put great emphasis on the quality and relevance of the ad. Hard work definitely pays off with Google.
The Advantages of Facebook Ads
Facebook is the social network with most monthly active users, making it one of the most interesting advertising platforms of the moment. Its system is based on putting advertisers in touch with potential buyers according to their interests and online behavior.
Advertising on Facebook opens a door to no less than 1.7 billion users, an enormous market than can be broken into with quite modest initial investment levels. These are its advantages, in comparison to Google Ads:
Its high returns on investment

. Facebook Ads is a great option for advertisers who are looking to stretch out their budget as much as possible. The average costs per click and per action vary according to the outreach, messages and campaign objectives, but are, in general, quite affordable. For this exact reason, even the smaller brands can also invest in facebook and get great returns on investment.
Its detailed segmentation.

There is no doubt that Facebook's biggest strength are its segmentation options, which go so much deeper than simple demographics. This platform lets you filter user based on their interests, beliefs, ideologies and values. Its "Lookalike Audience" tool allows you to look for audiences who are similar to your existing clients, maximizing the probability of conversion. It is a tool that had never been seen before. And as if that weren't enough, the network is constantly expanding and refining the options they offer advertisers, making sure you get in touch with the exact people you want.
It is very visual.

Facebook's Ads are designed to blend into users' newsfeeds, the same way their friends' content does. This is a huge advantage for advertisers who are looking to create visually attractive and inspiring ads. In summary, Facebook is a predominantly visual network, and its advertising makes the most of that fact.
Its integration with Instagram Audience.

Last but not least, Facebook offers a very unique advantage: the possibility to combine your campaigns with Instagram Ads thanks to its acquisition. Both social networks share that same control panel, making it so much easier to create integrated campaigns. With over 500 million active users and a very young and trendy audience, advertising on Instagram is an opportunity you cannot miss out on.
Here is another article that might interest you: Twitter Ads vs. Facebook Ads: The advantages of each advertising platform.
Conclusions and comparisons between Google Ads & Facebook Ads
Know which one you are going to invest in advertising in? Here's some data to help you with your final decision:

In terms of

potential outreach

, Google Ads is in the lead, as it gives you access to 90% of all internet users (compared to Facebook's 44%). The search engine has over 3.5 billion daily searches, while the social network has over 1.7 billion active users.

In terms of

segmentation options

, however, Facebook is unrivaled. This network lets you segment your audience by location, behavior, demographics, interests, similar audiences and custom audiences, while Google includes location, keywords, negative keywords, demographics, language and device.

Both networks are similar when looking at

mobile optimization.

84% of AdWords' revenue and 80% of Facebook's revenue are from mobile devices.

Lastly, the

conversion ratios

on ecommerce campaigns are similar on both channels: 1.84% on Google and between 1 and 2% on Facebook. The CTR is, nevertheless, higher on Google (2% compared to Facebook's 0.5%).
If, after all this information, you are still not sure which is the best bet for your brand, my advice is to invest in both!
Multichannel digital advertising strategies increase the the audience you can reach out to, creates synergy and increases your points of contact. To the best work you can with each channel, invest in your creative elements and you will see how your return on investment grows.
David Tomás