By Cyberclick, on 23 January 2017
There are no boring years in digital marketing, with technologies evolving at what seems like the speed of light, bringing along new and improved ways to communicate with our potential clients. And right from the first moment, 2017 proves to be no exception, already bringing new and exciting news our way.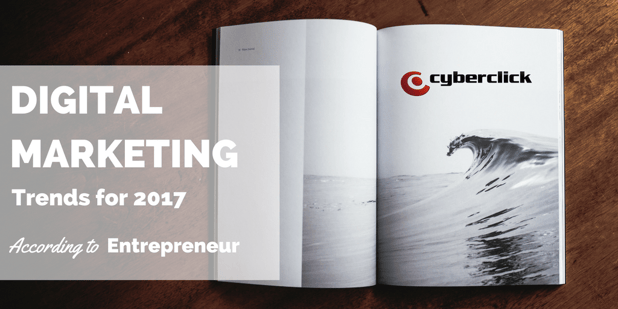 Entrepreneurs predictions about Digital Marketing in 2017
With so many advances, us marketers really have no choice at all other than to constantly be up to date. Not only that, we have to have the ability and discernment to "filter" and distinguish fleeting crazes from actual trends that can truly change the landscape of marketing as we know it. Being able to keep ahead of our competition and become early adopters of the trends that matter is absolutely vital for our brands to succeed. Which means, now that we have a whole new year ahead of us again, that it is time to ask ourselves what will be 2017's exciting new solutions and tools. To help you out, today we are going to talk about Entrepreneur's predictions for the 8 digital marketing trends for 2017.
1) 2017: the year of Native Advertising.
Its official: native advertising has become a must for any digital marketer. So much so, in fact, that it is predicted that in 2018 it will provide 25% of all online media income, according to a recent study by the International News Media Association and the Native Advertising Institute. They also proved that 48% of surveyed media companies were already using native formats and another 29% planned to start using them soon.
Native Advertising is very beloved by all advertisers, thanks to its ability to provide users with an organic experience. In the age of the Ad Blockers, it has become crystal clear that users simply do not have the patience for intrusive ads, and they will make an effort to reject them. As opposed to restricting their freedom, native advertising listens to users, and offers them content that they actually want to read, seducing them rather than imposing on them.
In order to make the most of this kind of advertising, selecting the right content is crucial. It has to be useful, interesting and, above all, appropriate and adapted to the audience it's targeted at.
2) Content Marketing: a classic that never fails.
If Native Advertising is more like a candlelit dinner date, content marketing is more like an engagement to be married. This form of digital marketing is based on creating a long term relationship with the consumer, by creating and distributing content that is appealing and relevant to them. It is a continuous and steady process that needs to be integrated into your overall marketing strategy.
Content Marketing is as close as there is to a "universal formula" in digital marketing. As any company can adapt it to their objectives and needs, it works for any kind of company and product. The key: be consistent and always stick to your brands personality and tone.
3) Influencers: the highway to your audience.
Although influencers have always been around in the marketing world, their, well, influence, just keeps growing and growing. In 2017, influencer marketing will be one of the most effective ways to get in touch with your current and potential clients, especially through social media. In fact, according to one of IAB's recent studies, no less than 85% of users follow influencers using social media.
Influencer Marketing is an opportunity to generate word of mouth using people your audience already follow and admire. You have a whole world of options ahead of you, so make the most of them!
4) Live video: an opportunity to tell stories.
2016 was the take off year for live video, thanks to the improvements in internet speed and the omnipresence of smartphones and their cameras. Social Media users are wanting to see more and more of this kind of content, letting them live experience in real time, from anywhere in the world.
One of live video's crowning moments was back in April 2016 with the launch of Facebook Live. This tool lets any user transmit their experiences at any time, and was a big boost in terms of integrating live video into our lives.
For marketers, the possibilities of live video are all but limitless. Video immediately and emotionally connect with the user, in an infinitely more memorable way than mere words. Use it to attract users by telling stories that reflect your brand's personality.
5) Chatbots: the technology that changes our conversations forever.
The future is here now, and its name is Artificial Intelligence. Once again, Facebook was a pioneer in launching its chatbots, a solution that allows brands to automate customer service. Recently, facebook allowed the use of Chatbots to send advertising messages, opening a never before seen digital marketing path.
Artificial Intelligence isn't just on facebook, though: voice assistants, like Apple's Siri, also open up a new way to relate to technology and brands. This is a trend with amazingly incredible potential, that brands will start making the most of in 2017.
6) Content with expiration dates (or seconds!)
Another one of 2016's big trends was Snapchat, a social networks based on the premise of its fleeting content that auto destructs after just a few seconds. This not only shows great advantages in terms of privacy, but it actually becomes somewhat addictive.
In a world filled with noise, this short-lived content attracts our attention by creating a sense of urgency: it's now or never. If you put an expiration date on your content, you will gain a more authentic and attractive brand. Although this format has its own sets of challenges and risks, it is definitely worth making some room for it in your digital marketing strategy for 2017.
7) Personalization: a top priority for this year.
Year after year, we are the victims of an overload of information that simply does not stop growing. Just like with antibiotics, the continuous exposure has created "advertising antibodies": the more experienced internet users who recognize promoted content from miles away and generally react by running as fast as they can in the opposite direction.
To get your audience to pay attention to you, you need to make it crystal clear that you are trying to speak to them and only them, by creating relevant and personalized content. The goal is to connect with the right people at exactly the right time, with offers they simply cannot refuse. In order to do so, it is important to have the help of a great data analysis tool that can help you keep track of your users' habits, interests and behavior.
8) Marketing Automation gets more and more important by the day.
Automated marketing is growing at a spectacularly impressive rate: 71% of companies are using this technology and 91% of the most successful marketers consider it to be "very important" to the success of their multichannel strategies.
As its name implies, automated marketing uses programs to put repetitive tasks in "autopilot", saving time and effort and eliminating human error. This way, your team can focus their energy on creativity and strategy to obtain the best possible results.
Although originally made as a specific email marketing tool, in 2017 automated marketing will spread to SMS, social media, digital advertising and much more.
We hope this article has been useful for you! You can find the original Entrepreneur article that talks about these 8 digital marketing trends for 2017 here.