By Laia Cardona, on 12 January 2017
Heads up! We've updated our website with the Top Digital Marketing Trends and Predictions for 2020. Check it our here!
2017 is finally here, and our crystal balls are all out: what will be the most revolutionary digital marketing trends of 2017? For you to be prepared and not be taken by surprise, I would like to share with you today what Forbes thinks about what this year has in store for us.
Digital Marketing Predictions for 2017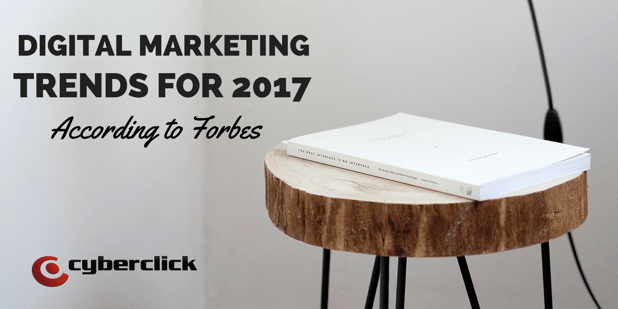 1) Augmented Reality is (finally) here
One of the biggest surprises in the digital marketing world this year was the success of Pokemon Go. This app took the world by storm, making the headlines pretty much everywhere, and achieving income levels of around 10 million dollars per day.
Fast forward a few months, and the Pokemon Go craze has, in fact, calmed down, but it taught us an extremely interesting lesson: users are finally ready to incorporate augmented reality into their lives, and its potential is huge. Which is why Forbes predicts that many more brands will launch augmented reality games and ads this year, as well as trying to make the most of the apps that are already out there.
2) Live video will take off
Social media users are demanding more and more real time content, that lets them see places and attends events that they otherwise couldn't. Thanks to the increase in internet speed and the unfailing omnipresence of smartphones, live video has become a digital marketing trend, and there are increasingly more apps and platforms offering this kind of experience.
Live video has, of course, been around for years and has taken its time making its way to the top, but 2017 will be the year when it finally takes off and conquers more brands and users than ever.
3) Data visualization will become increasingly important
Us digital marketing experts are incapable of living without data. Every day we have more and more access to information on who bought what, when they bought it and why, and which are the best messages and channels to get in touch with them.
Even the best analysts, however, can have trouble understanding the overwhelming amounts of available data nowadays. Our brains are simply not made to be able to endlessly process numbers. Which is exactly why we need to use data visualization tools. In 2017, pretty much all brands will want to start using them, and those who don't will have a hard time keeping up.
4) Native Advertising will be more popular than ever
Here at Cyberclick we are already big fans of Native Advertising, and it will not stop growing. As users increasingly demand high quality content and filter annoying ads with Ad Blockers, the efficiency of native advertising will only become more noticeable.
Which is why one of the most interesting digital marketing trends for 2017 is the appearance of new and improved native ad formats, as well as the incorporation of new brands into the market.
5) Niche markets will triumph
Digital marketing lives and works in a space that is only becoming smaller and tighter: although the number of consumers remains relatively stable, there are increasingly more brands trying to claim their market shares. The solution? Targeting more specific niches, with reduced quantities of users who have very specific interests. And, thanks to the new tools at our disposal, digital marketing is becoming more and more personal.
6) More immersive marketing experiences
Users no longer want to feel like they are limited to a simple screen, and, thanks to augmented and virtual reality, marketers now have ways to solve that. There aren't, however, the only tools to provide immersive experiences: 360º videos or live webinars can also help you make your audience feel a part of something much bigger.
7) New content trends: density vs quantity
As technology evolves and improves, our attention spans become shorter and shorter. Users abandon an app or website that doesn't load within seconds, don't pay attention to most of the content they pass by on social media and are capable of sharing an article having read only the title.
In this war over user attention, the density of your content is crucial. Every line and every word counts, so get to work with your best content creation experts to give your digital marketing a boost.