By Alba Fraile, on 19 February 2016
Heads up! We've updated our website with the Top Digital Marketing Trends and Predictions for 2020. Check it our here!
As any good digital marketers do, here at Cyberclick we realize how important it is to be up-to-date with our sector's latest trends. The ever-changing panorama of this sector make working in it thrilling, but also quite a challenge. For this reason, so you're sure not to miss out on any new opportunities to promote your brand, I want to tell you about the 6 online marketing trends that are owning 2016.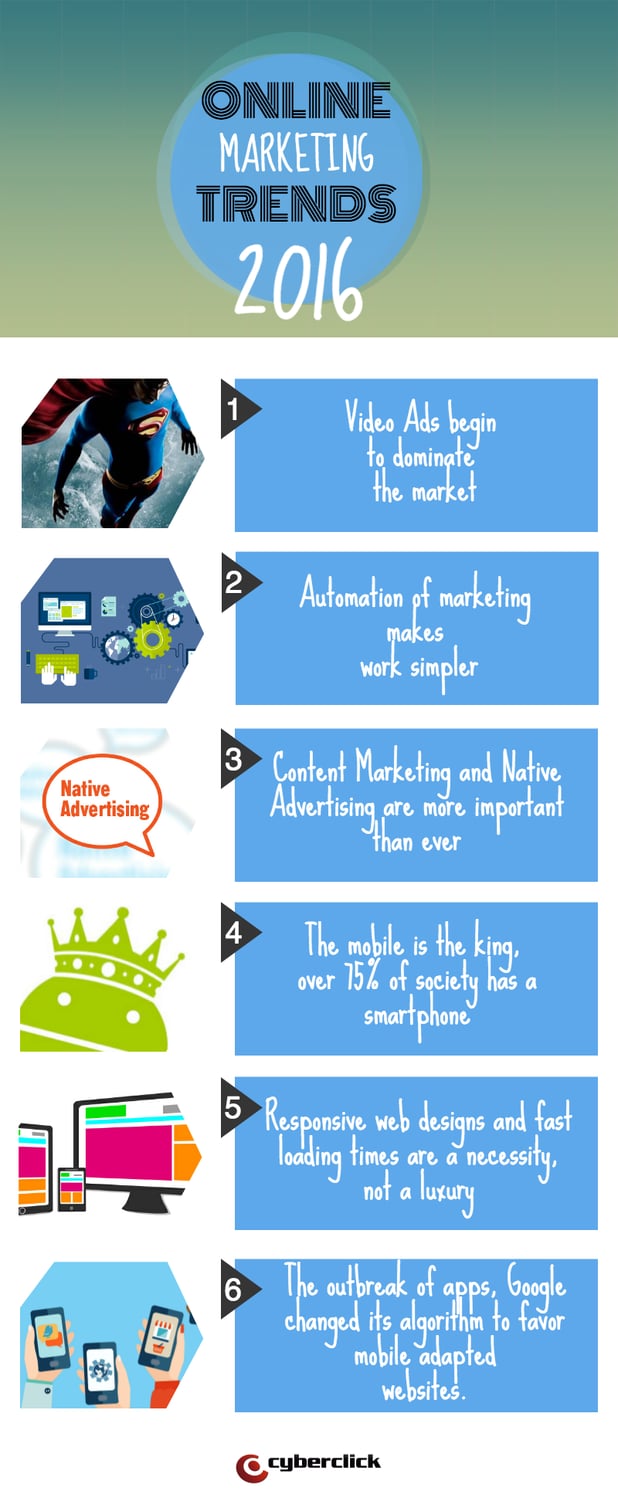 Video advertisements are taking over the market
When it comes to digital marketing trends, video advertising is not exactly breaking news, but 2016 will be a decisive year for these types of advertisements. The reason for this is that Google has announced that it will begin to allow video ads on their search engine results. Without doubt, this is a sign that users are becoming more accepting towards this type of content. This is why in 2016 we should expect to see a increasingly large amount of video ads in places you would not expect until now.
Marketing becomes automated
The automation of Marketing makes digital marketers' work a lot simpler, and allows them to focus their effort on content creation and creativity. This industry already accounts for 5500 million dollars, and we hope it keeps growing, though professionals will continue to be irreplaceable to designing strategies.
Content Marketing and Native Advertising are more important than ever
Given the increase in the use of intrusive Ad Blockers, it has become more important then ever to bring value to the users. This is why we believe that in 2016 native advertising and content marketing will become trends within digital marketing. The goal: To create content that your audience would never want to block.
If you want to know what native advertising is, and how it can benefit your brand, read here.
Mobile is the King
Google has confirmed it: in 2015, for the fist time ever, web visits from mobile devices took over the visits from desktops. The trend for digital marketing this year is to consider mobile the priority, via specially designed websites, advertising in mobile format, and apps.
Responsive web designs and fast loading times are a necessity, not a luxury
When it comes to renovating webpages, more and more brands will decide to invest in responsive design. It is vital to offer that user a great experience, no matter what size screen they are using. Following this same idea, we must also pay attention to loading times. Slow webpages are a thing of the past!
The outbreak of apps
Last April, when Google changed its algorithm to benefit mobile adapted web pages, it also started to take apps into consideration, in its search results. Since then, apps have been gaining more and more weight. We believe that as companies take this into account, we will witness a quite literal outbreak of apps.