By David Tomas, on 9 August 2017
I will never tire of saying that one of the things that makes digital marketing so fascinating is that it never stops changing. And this change doesn't only affect that tools and technologies we use, but the actual nature of our work as well. Which is exactly the case of the role of the Marketing Manager.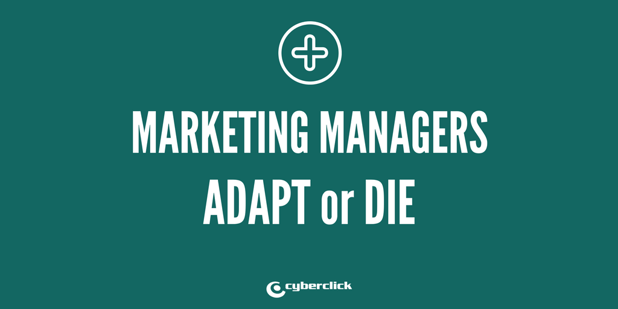 The Marketing Manager: an endangered species
The role of marketing manager is not for the faint-hearted. They are under constant pressure to show results, and it seems they don't last all that long: the average CMO lasts 3.5 years in their role, while CEOs last 7.2.
Not only do they have to know how to deal with this high pressure and relentless stress, but they even have to defend their very own existence. According to a study by Forrester, 30% of marketing manager jobs will disappear this year. Big brands such as Coca Cola are substituting their CMOs for Chief Growth Officers, a real-life "superhero" who combines a marketing manager's usual skills with new ones to develop an all-around strategy.
The answer is clear: it's adapt or die.
What will future Marketing Managers be like?
Constantly learning.

The ideas, tools and strategies of the past no longer work. To be able to keep up with their role and deliver results, the CMO should be constantly renewing their knowledge and encourage the rest of their team to do the same.
Analytical.

We live in the age of big data. As marketers we have all the information we need to get great results, but we need to know how to process and analyze it properly. The marketing managers of the future will have a scientific mind and outlook, with the ability to suggest hypotheses and test them out.
Journalistic mindset.

Traditional marketing doesn't sell anymore. Millennials and centennials no longer want to hear commercial offers, they want fantastic stories that will sweep them off their feet and provide them with value. To create these stories, the marketing department should work with content creators and be able to produce content that their audience will get hooked on.
The ability to find and apply solutions in real-time.

In digital campaigns, information is in a constant flow and can change in a second, and marketers need to be ready to respond. If a campaign starts going wrong on a friday, it cannot wait until Monday to decide whether or not to stop or continue it, or to redistribute the budget to another channel. With nerves of steel and a cool head, the marketing manager needs to know how to give an immediate answer.
Not a boss but a leader.

Orders and commands are things of the past. Leaders need to be people who guide, inspire and accompany their team and bring the best out of each person. Someone who motivates their team and works side-by-side with them. The new generations who are coming into the workforce want to work with people, so bosses need to become leaders, or, even better, another team member, where a horizontal hierarchy reigns. Only then will you have a happy team… and this will be reflected in their results!
Don't die out with the rest of the marketing managers… Let go of the past and become a new leader of the digital marketing age!