By Kelly Rogan, on 11 June 2015
We love to use the phrase "Internet is the future" and we are all aware that it is a fairly settled truth, because there are many market sectors living in part or entirely on the network. Marketers are aware of this reality, but investment in digital advertising remains a small fraction of the budget compared to the investment that is devoted to television advertising. This is expected to change in 2019!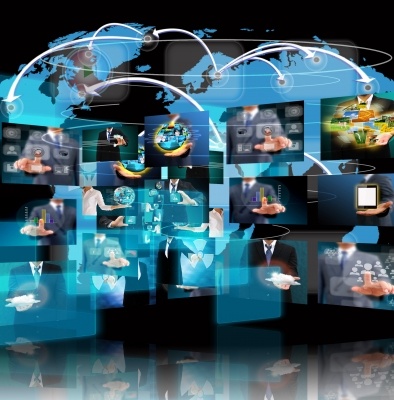 In 2014 online advertising realized revenues of 49.45 billion dollars just in the US but PriceWaterhouseCooper has estimated that by 2019 this figure will rise to 83.89 billion dollars. Within four years we will find the great turning point in advertising, when the online investment will overcome that which is dedicated to the TV ads for the first time. During this same period, the budget allocated to TV advertising will increase from 69.2 billion to 81.05 billion dollars in the European Union.
Consumers are increasingly using mobile devices to surf the Internet and marketers know that in the coming years investment in digital advertising will be decisive, taking into account intended for mobile advertising. In our previous post entitled "Why mobile advertising is seduces brands in 2015," we commented already.
5 large platforms that are used more for digital advertising are:
Mobile devices such as smartphones and tablet

The Display Network

Video

The paid search (Paid Searches)

Adverts (Classifieds)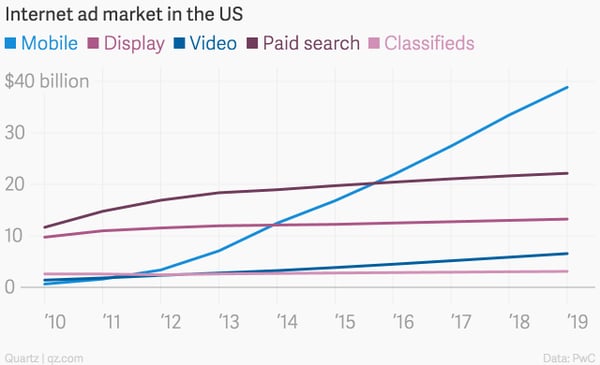 As you can see from the chart created by Quartz, the investment forecasts for each of the brackets are positive and gradually rising, but steady. Although, mobile ads are those with higher growth rising from $640 million in revenue generated in 2010 to $38.850 billion expected in 2019. Within a decade they will have multiplied by six the benefits generated by mobile!