By Shanon Roberts, on 4 February 2021
Often overlooked in years past, LinkedIn has come into its own as a powerful marketing channel. This professional networking platform connects business people and entrepreneurs, and the high success rates of its marketing tools mean it's certainly worth considering as a sales channel. And 2021 brings about new social media advertising options and trends for LinkedIn. What do they mean for your LinkedIn strategy? Read on for details.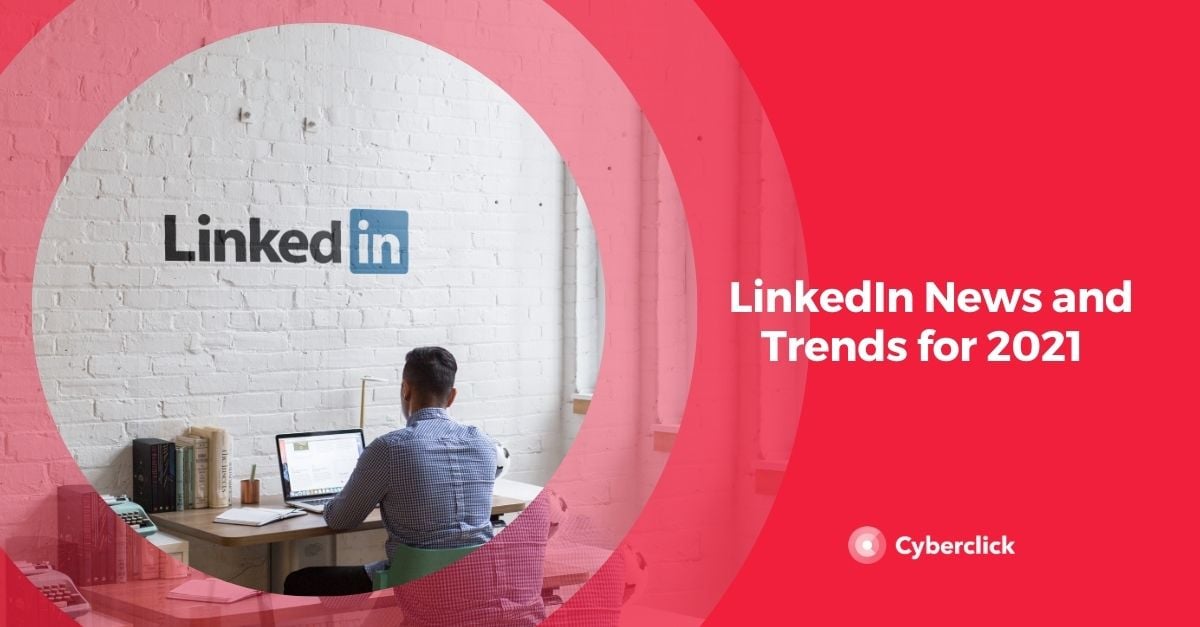 LinkedIn News and Trends for 2021
1. LinkedIn Growth and Popularity
Despite not being as proliferous as other networks, LinkedIn has seen continuous growth since its inception in 2003. The professional social site now has over 660 million users in around 200 countries. And 37% of people in the US aged 30 - 49 use LinkedIn. Whatsmore, 28% of people aged 18 - 29 are also on the platform. If these are your target demographics (they likely are), LinkedIn is an excellent option for growing your reach, especially in the B2B arena.
Businesses have taken notice and 50% of North American companies currently advertise on LinkedIn. In terms of B2B marketing and sales, it's hard to find a better platform. And it's likely LinkedIn will see more interest in coming years, especially as more people go the freelance and solopreneur route which has been sped up by the ongoing pandemic.
2. Increased Marketing Investment
While advertising on LinkedIn isn't quite as straightforward as say, Facebook, the platform has proven successful for many companies. In terms of increasing brand awareness, traffic, and sales, LinkedIn advertising has become a viable marketing option. Being that you're marketing to an audience of professionals also means people are more open than the general public to opportunities and businesses in general.
3. LinkedIn Stories
One of the biggest updates LinkedIn is making in 2021 is the addition of LinkedIn Stories. Much like the uber-popular Instagram Stories, these images or videos will only be visible for 24 hours. Videos can max 20 minutes long and will be cut into smaller segments à la Instagram.
LinkedIn's main aim with introducing stories is to create more dynamic engagement and interaction between users. Stories allow brands to better introduce themselves and their services while having a much more personal and human touch.
For now, LinkedIn Stories are only available for the mobile app version and not on desktops.
LinkedIn Stories add a fun and dynamic touch to business content which lets personalities shine and encourages more engagement.
4. More Personalized Ads
LinkedIn is also increasing the personalization of its advertising with Dynamic Ads. Marketers will be able to automatically target segmented audiences with more accuracy and impact.
Ads will be more personalized to grab users' attention, individualized campaigns can be scaled for larger target audiences and ads can be customized based on your marketing objectives. Tracking and optimizing your campaigns within the Campaign Manager makes sure you're staying on track. Whether you want to increase brand awareness, drive traffic or convert leads, LinkedIn is making it easier than ever to reach potential clients.
LinkedIn also lets you choose different payment options like pay-per-click, per impression, or per message. Setting an ad spend budget also gives greater control over your spending.
Overall businesses can develop and manage audience relationships with much more precision, flexibility and control over expenses. And with a more personalized experience for audiences, they can get to know brands and what they offer with greater ease.
5. Video Chat Integration
Yet another trend for LinkedIn in 2021 is the integration of video chat applications. This is a big jump from the previous basic text chat options. LinkedIn is capitalizing on the surge in remote communications due to the COVID-19 pandemic by making its platform a communication hub.
Video calls can make communication more natural between companies, employers and candidates, and users in general. As if LinkedIn wasn't already a powerhouse in the HR field, video chats will now be used for interviews and other stages of employee life cycles. This feature will also attract more users overall, which in turn, will make LinkedIn even more attractive for advertisers. Video chats will be accessible on the mobile app and on the desktop version. LinkedIn has teamed up with Zoom, Microsoft Teams, and BlueJeans to make this exciting new feature a reality in 2021.
New video conferencing options make building relationships even easier on LinkedIn.
Zoom
One of the most popular video conferencing tools available, Zoom can now be integrated with LinkedIn to answer messages with a video call as well as voice messages and the usual text response. Zoom's relative simplicity means it's fairly easy to set up a call between the two platforms. The recipient of the message will receive a link and can access the video call directly.
Microsoft Teams
Microsoft Teams has also grown substantially due to the home office boom. A more extensive and expansive tool, Microsoft Teams makes sharing files and collaborating, in general, a more professional endeavor. While the learning curve is steeper than Zoom, Teams provides a lot more options. With the LinkedIn integration, users can make video calls, share documents, send messages and publish posts directly onto LinkedIn.
BlueJeans
BlueJeans is a third option for making video calls through LinkedIn. Bluejeans is a cloud-based service that makes it easy to connect participants on different devices and different platforms. One feature that makes BlueJeans particularly attractive is its high level of security and privacy. And the fact that it integrates multiple platforms and devices into a single service makes it an extremely versatile video conferencing tool.
6. Message Editing
Until now, users couldn't delete or edit sent messages on LinkedIn. This included InMail messages, which can be sent to people who are not your connections. So any mistake made, typo or otherwise was irreversible. For 2021, LinkedIn plans to change this and allow any message that's been sent to be deleted or edited. Furthermore, unless they've already seen or read the message, recipients won't know if you've deleted or edited it.
This new message editing feature will be available on the LinkedIn app and the desktop version. We all know how important it is to maintain a professional image and make a good impression, especially in business. And the editing feature is a great addition to LinkedIn which can help manage those little mistakes we all make from time to time.
LinkedIn's new message editing and deleting feature.
7. Mass Messaging
A final bit of LinkedIn news for 2021 is the introduction of mass messaging. Previously you could send messages to multiple users and a subsequent message group was created, but that's where it ended. Now you can archive, delete or mark a conversation as read. Basically, all the options of an individual conversation now apply to groups. You can also delete messages if they were sent by mistake or for any privacy issues that may arise.


With all this news and bubbling trends coming to LinkedIn, now is an ideal time to establish your brand on LinkedIn or expand your current campaign. While other social networks are inundated with content of all kinds, LinkedIn has managed to adhere to its pledge as a space for business-only interactions. And for those looking to make a splash in B2B, no other channel has quite the impact LinkedIn does. These new tools and options can make it easier to connect with prospects and build your professional network like never before. Is 2021 the year of LinkedIn? We'll have to wait and see!