By Cyberclick, on 11 January 2016
Advertising lovers enjoyed Christmas in a special way. I would even say that we live with more enthusiasm and excitement than the rest of us. During this time year after year, brands have to rack their brains to surprise, excite and create impact with their Christmas ads. Everyone at Cyberclick would like to wish you a happy New Year by recalling the 5 best campaigns this Christmas 2015. That is, those campaigns that have succeeded in this special time to get us to smile and even let some tears fall. Undoubtedly, these five digital advertising campaigns will remain etched in our mind until next year. Enjoy them as much as we have enjoyed!
Digital Advertising: Top 5 campaigns from this Christmas 2015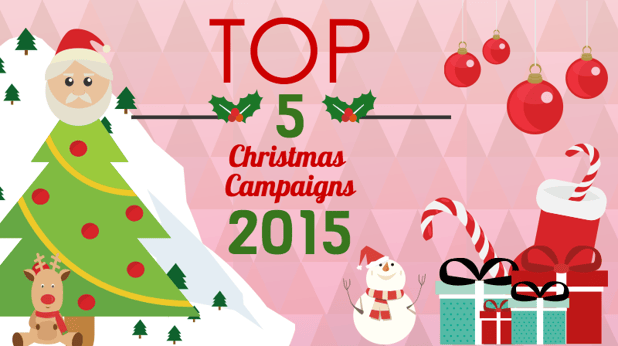 1# El Corte Inglés – Chencho and the bulb
As it usually does, El Corte Ingles has become a hit in its Christmas campaign with pretty Chencho history and the magic lamp. A campaign in the form of a short film, which makes us believe in Christmas miracles.
On this occasion, the agency has developed a SCPF divided into several teasers, of longer or shorter history. It also has a version for the cinema and, of course, also has its own digital version. In its digital advertising campaign, users can access a longer video and even see how it was recorded and it's history. Similarly, history has given rise to a peculiar Christmas Carol which can be read online on the campaign website or downloaded directly to your PC.
2# Spanish Christmas Lottery
Surely, you've been one of the many who have had a tear escape while discovering the beautiful story of Antonio in the bar, right? And, surely, there will be another tear escaping again with the new campaign for the Christmas Lottery. This time with Justino, a lovely caretaker who has earned the love and respect of all Spaniards for his history and his beautiful work as head of Mannequins El Pilar Factory.
Again, the campaign of the Christmas lottery is a great success, not only on television but in all of its various formats. It is also one of the great examples of the best Digital Ads of this Christmas. The reason? A pretty neat story to the smallest detail and a social strategy of 10 are behind this great digital advertising campaign. The followers of this campaign can discover more about the famous mannequin factory on the website of the campaign and official social networks of Justino, where the charismatic character reveals more secrets of his day at the factory and his many efforts to make everyone who crosses his path happy. Is it one of the best campaigns of the Christmas Lottery?
3# Apple – Someday at Christmas
Another great digital advertising campaign that deserves its own merits and sneaked into the ranking of the five best Digital Advertising Christmas campaigns is undoubtedly the ad which Apple has released this holiday season.
Starring Steve Wonder and Andra Day, Apple presents a Christmas ad filled with music, unique moments with loved ones and excitement. A version of the holiday classic Someday at Christmas, Apple blows us away with this great ad that mixes the tradition of Christmas with the sophistication and modernity that define the brand. A successful campaign with already over 3 million views on Youtube.
4# Ikea – Christmas carol
Ikea creates another major digital advertising campaign this Christmas 2015. The Swedish brand is spot on with his excellent campaign "Cook with the heart, cook with the head", a social awareness Digital Advertising campaign created by the agency McCann.
In this emotional campaign, disseminated through television and the Internet, we can see a massive choir made up of scavengers who interpret a known carol. This acclaimed digital advertising campaign aims to raise awareness of the enormous amount of food that ends up every year in the trash. Accompanying his video, Ikea has launched a special website where users can read all kinds of tricks and tips for reusing the leftovers from the great feasts we are giving these days. Do you support the cause?
5# Suchard – Let out your inner child
Suchard, another brand that never fails with their Christmas campaign, has again surprised us with this curious, original digital advertising campaign, based on a sociological experiment that invites us to take out the child that each of us still keeps inside. How do we adults experience Christmas different than the younger generations? Thanks to a large number of interviews with adults and children we can compare the answers given by the older and younger generations on different aspects of Christmas. Why don't we, especially at this time, let out our inner child and enjoy more of these days? That is the premise on which this great Digital Ads campaign accounts.
These were, in our opinion, the top five campaigns from this Christmas. Are we in agreement? Surely you could do your own ranking with other completely different campaigns, given that brands that use the best advertising agencies in the world to create great impact with their Christmas messages. It is at this time, moreover, when we realize how they are influencing new technologies and new digital advertising formats in Christmas advertising campaigns. A few years ago, these campaigns were limited to commercials. Now, viewers become a fundamental part to achieve more or less of an impact on these campaigns becoming viral or not. In this way, the viewer goes from being a passive spectator to an active figure, able to interact with the campaign itself and be part of it.
We hope you've enjoyed the best Christmas campaigns this year (for us) and again we would like to take the opportunity to wish you the best start to the year.
Happy New Year! See you in 2016!
Cyberclick