By Laia Cardona, on 21 December 2015
One of the most exciting things about working in digital advertising is that our environment keeps changing. The "revolution" did not end in digital marketing, SEO or social media, it happens all the time. So today I will tell you 4 Secrets about digital advertising that will revolutionize 2016.
Digital Advertising: 4 secrets that will revolutionize 2016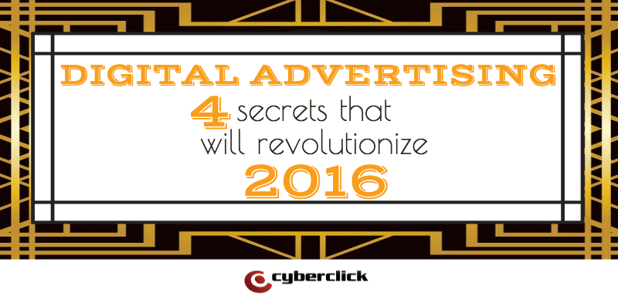 1# Native advertising is unstoppable
Are you worried about the impact of adBlocks in your advertising campaigns? It is time for a paradigm shift: the future is not in the intrusive banners and formats, but in the native advertising. This type of advertising is a kind of modern infomercial because it is based on creating content for digital media users that they actually want to consume. Creativity is more important than ever to bring interest to your target audience. Need ideas? Here are three striking examples for inspiration.
2# Behavioral targeting is changing the market segmentation
Are you sure you really know what your target audience? Marketers are used to focus on factors such as sex, age or place of residence, but behavioral targeting based on market division leads far beyond so you can reach those who really interest you. It is classified to what your potential consumers do, rather than what they are. Thus, taking into account parameters such as the page time, the number of visits, purchased products, whether or not they have subscribed to our newsletter, etc.. The result is a much more effective advertising.
3# The visible impressions are the ones that really count
Did you know... every year $25,000 million are invested in impressions and clicks on advertising that have not been seen by any human beings? Fraudulent digital advertising inflates the cost of ads based on bots, making advertisers pay for impressions and clicks that really have not reached their destination. Therefore, the metric that is revolutionizing the sector are viewable impressions, allowing you to focus your advertising investment on the really profitable ads.
This new system to measure has given marketers the option to precisely know how their investment is doing and get real data on the number of people who have seen an ad. On the side of the media and publishers, they will have to change the way they distribute their advertising space and revalue the elements.
4# Mobile video advertising is trending
Google has confirmed in 2015 that visits are moving from beyond the first desktop. Mobile devices are the star of the new campaign, and also have better screens than ever. Therefore, the latest trend is to create video campaigns designed by and for mobile. One more step to slip into the pocket of users and make our brand accompany them everywhere.
Laia Cardona