By Kelly Rogan, on 21 June 2016
From Facebook to Google and now to Instagram, algorithms are starting to take over websites and social networks everywhere. You may have already heard of this but why is it important and how exactly will this affect your business?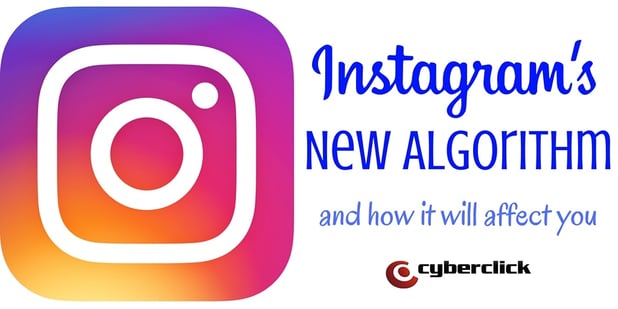 As a company, social media is a crucial key to maintain customer relationships, engagements and interest in your brand. All of the constant changes happening in relation to these networks are important for all companies and they must take these into account when making their strategies. The new changes on Instagram are meant to show users the posts not in chronological order but in the order of importance to that specific user. Although it is meant to be an improvement for user experience, many of the Instagram users are unhappy with this change and are now finding that they don't ever view a large amount of posts from accounts that they follow.
This takes us to the reason why companies should care. All of those posts you are putting hard work into are now able to become lost in the mix of posts, never viewed by your followers or target audience. This would be a very good reason to be just as unhappy as the users but as with many other changes in the marketing and technology world, the key is to find a way to take advantage of the changes that are hurting your competition. This is your opportunity to make incredible images or videos for Instagram that will allow you to shine above all of the other brands out there.
As mentioned in the post What You Need To Know About The Future Of Social Marketing the criteria that determines how successful your posts will be are:
The amount of shares, comments and likesthat a post obtains from the network in general as well as from friends.
If the post has been hidden by anyone.
How often people haveinteracted with this type of post in the past both in terms of the post format (image, video, etc.) and content.
How frequently there is interaction with the accountthat posted the story.
The goal of these types of algorithms is to show users high quality posts that they are most interested in at that moment. If one image has no engagement then the chances of it being shown to followers decreases immensely. What this all really boils down to is that creating quality social media posts is more important now then ever. No longer are you able to throw some old picture up to try to promote some article, ebook or any other content and actually have people view it. The second that someone hides your post or the longer it sits on the site without any interaction the higher your chances are to have it sent off to the social network abyss, never to be seen or heard from again.
How can one give their Instagram posts a boost? Focus all of your energy on creating extremely appealing and attracting visual images and videos. Those doesn't mean that you need to start hunting for the budget to add to these costs, with all of the various types of free resources out there at your disposal there are tons of different options to boost posts without breaking your budget. Some of the greatest tools to create high quality images are:
There are countless other tools that you can use to put together beautiful and attractive images that will help you to get your images to the top of this new algorithm and in the front of your followers and target audiences eyes! Check out this article to learn the five tricks to great images on Instagram!
Kelly Rogan