By Alba Fraile, on 28 April 2016
Chief Marketing Officers are often asked to achieve a large amount of different marketing objectives simultaneously such as customer retention, increase brand awareness, improve customer satisfaction and profitability among others. Very often social platforms are used to achieve objectives related to branding and community building but not as much as a tool for more sales objectives such as innovation strategy creation or market forecasting. Our team of experts have analyzed the micro-blogging platform and worked on the following guide including the top 10 marketing objectives of CMOs to teach you how you can achieve them using Twitter and Twitter Tech Marketing, a tool we have created to make the process easier, faster and more profitable!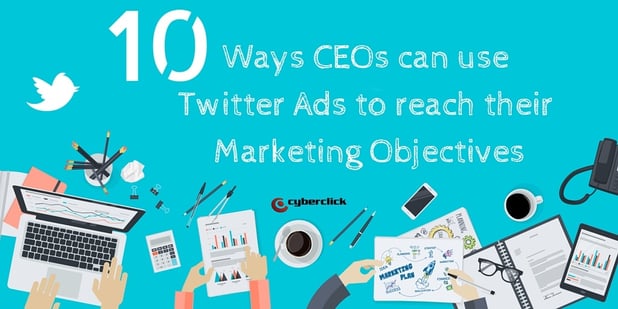 Increase brand awareness and loyalty.
Twitter is the ideal platform to increase brand awareness because of its capability of segmentation, its hashtag use and its hyperlinking options. If you want to go further and make sure your brand gets noticed among your competitors, Twitter Ads will boost your results even higher! It is important to tweet valuable content and information regularly, this way your audience will count on you and check your accounts often in order to cover their information needs about your field, product or services. Providing your audience with the content they seek through Twitter will also improve traffic generation to your website, generating more leads at the same time.
Retain existing customers.
Make your existing customers feel special by providing them with valuable content, information about your product or service that they won't find anywhere else. More than 62% of users consider Twitter the quickest source of information, so take advantage of that and give your followers the fresh news they are seeking when logging in on the platform. If they find value in your tweets and content, you will be the first brand that comes to their minds when in need of a product or service like yours.
Align company & customer.
Your brand's Twitter profile & Twitter Ads will serve as showcase to your audience and it's an amazing opportunity to engage with it, give them the valuable content they expect from you and make sure that the values of your company and the ones your messages and content project are aligned. You will also be able to get insights from your customers' behaviour and reaction to your content, providing you with great information about which content your audience likes better, what are their interests, what graphic content attracts them better and how you can improve the way you communicate with them.
Deliver the amount and quality of leads needed to achieve revenue goals.
Twitter campaigns allow you to direct high quality traffic to your website in order to obtain leads and conversions. This is often one of the most important goals for CMOs as well as for Business Developers, who will then work on those leads in order to arrange appointments, present proposals, etc. Lead generation is closely related to other marketing goals such as branding and positioning and multi-channel generation.
Trend-watching and forecasting.
Twitter's hashtag system works wonders when looking for the latest trends, peaks of interest and special occasions you might want to jump on. It gives real time information about what your audience is talking about, what are they interested in at the moment, what accounts they follow, what they are looking forward for, etc. This information can be applied afterwards to create more accurate strategies, adapt your language and messages to your audience and be ahead of your competitors when innovating and creating new services and products.
Multi-Channel integration.
Over 60% of Twitter users admit they use Twitter on their cellphones while watching TV or using other platforms. This means that if you don't have presence in many different channels and platforms, your message will probably get overlapped by your competitors' one. Investing in only one channel can be a success for very specific campaigns with very targeted audiences, but at the same time it's a risk since your competitors might be getting more attention than you if they're covering those channels that you are not. Twitter is one great platform that allows the creation of very segmented campaigns, so don't miss out and make sure you reach your audience there at all times!
Having an open and genuine relationship with customers will encourage and increase customer recommendations, which is by far one of the most effective marketing strategies. High engagement isn't exclusively limited to big companies on Twitter, and it's totally possible for a small or medium sized company to build a highly engaged community by following few steps and getting an extra push from Twitter Ads. One crucial way to get engagement is to work on the proper segmentations of users, and give niche categories the content and information they're interested in.
Customer experience management.
Many customers use Twitter as a platform where they write their complaints about brands, services and products they are disappointed in. This often happens because it's the quickest and most impacting way to do it, because of Twitter's public nature. Be quick when this happens providing the best customer care possible by taking care immediately of all negative comments and help requests. Your prompt answer will also be public and will give other potential customers a sense of trust and security in case they face a problem with your product or service, and the ones who seeked your help and attention will be grateful and trust your brand again in the future.
Mobile marketing strategy building.
More of 80% of Twitter's active users access it from a mobile device, so don't miss this golden opportunity to generate mobile traffic to your website from it! It is crucial that all your digital presence, website and apps are fully optimized for mobile and multi-device formats. If one of your mobile marketing goals is to increase the number of app installs, Twitter is one tool you can't leave behind: Twitter Ads allow direct app installs that perform extremely well when you use the proper images, videos and calls to action. Just by clicking one button, your audience will be able to download your app through your Twitter Ad, ta daa! Twitter Tech Marketing has shown outstanding results in the past when it comes to boosting App installs, in some cases it multiplied the daily amount of downloads by 5.
Define segmentations and target groups.
Twitter categorizes user tweets through hashtags that allow brands to identify the keywords that their target is using as well as what trends are they following, other brands they engage with and their preferences on certain products, services and consumption habits. Very often highly segmented accounts get more engagement than very general ones, so don't discard the option of creating accounts for the niche categories of your products! If you don't know how to actually reach those users who will be interested in your product, Twitter Tech Marketing will help you out. With few parameters, the tool will be able to generate thousands of ads and segmentations automatically and detect those who react better to your brand, allowing you to know more about them, learn about their preferences, age range, localization, etc. This is a very valuable information that you will then be able to use for future campaigns and product improvement strategies!
Recommended Article: How to optimize your Twitter Ads with the Quality Score
Alba Fraile