By David Tomas, on 24 February 2021
Improving SEO is one of the most important marketing strategies for ecommerce businesses. Showing up on Search Engine Results Pages (SERPS) is a surefire way to generate organic traffic and as a result, increase sales. Understanding how ecommerce SEO works and how to create a strategy can be a bit daunting. Especially true concerning Google algorithm updates. Fortunately, once you get a better idea of where to start it becomes more manageable. In this mini-guide we'll discuss how to develop and improve your ecommerce SEO and begin boosting traffic to your online store.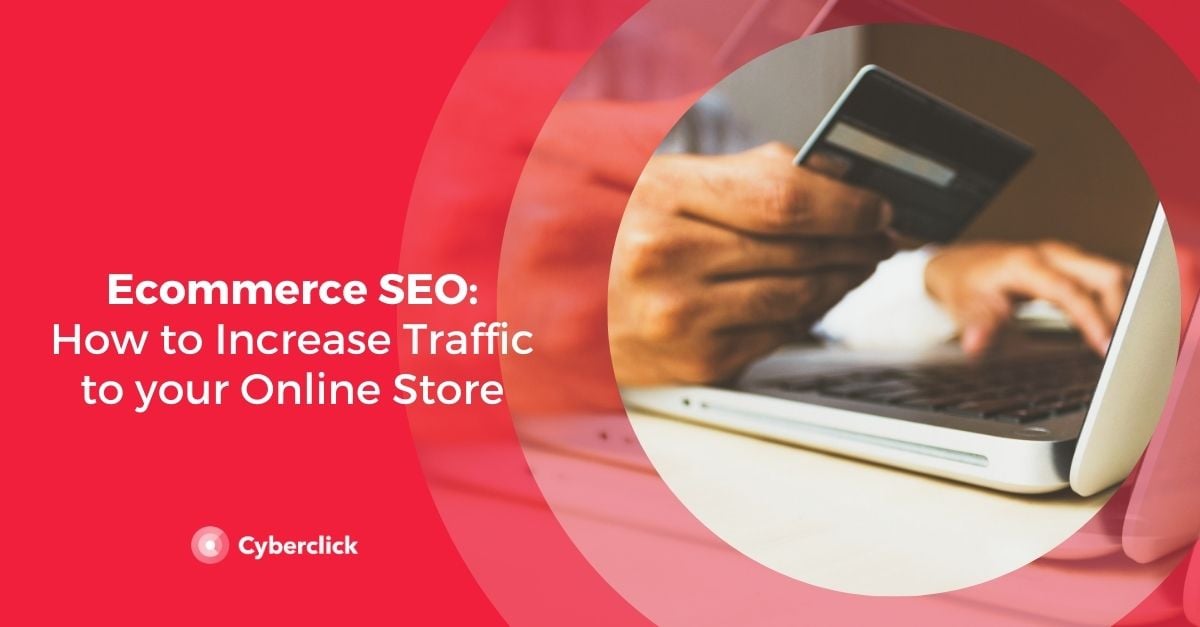 What is Ecommerce SEO?
Ecommerce SEO is the practice of improving your online store's ranking in search engine results by focusing on specific keywords in your content. Optimizing your ecommerce site includes technical aspects like internal linking and metadata, as well as creating the best user experience possible. In essence your goal is to create the most direct and definitive content around a specific keyword—give the best answer possible to a search query.
Why Develop an Ecommerce SEO Strategy?
There are many reasons to develop an SEO strategy for your online store. Most people perform a Google search when looking for a product or service. They're researching, looking for reviews and comparing products. If your ecommerce store isn't findable in these search results you're missing out on interested, pre-qualified buyers.
Many online stores, however, are not built or run with SEO in mind and instead rely heavily on paid ads to generate traffic. This is because optimizing your store takes upfront work but once the heavy lifting is done and you begin to rank higher, your online store will see a stream of organic and free traffic.
The higher you rank in SERPS, the more organic traffic you will generate. It's that simple. A recent study found that the top search result on Google gets 32.5% of traffic on average. The second result? Only 17.6%. So, you need to do everything within your power—and budget—to rank as high as possible: It can literally be the difference between success and failure.
And, ecommerce SEO has a higher ROI, is much more affordable and more reliable at generating traffic than paid search ads. Let's face it: ads aren't cheap, and with more people using ad blockers and experiencing ad fatigue, it's a much safer bet to focus on SEO for generating consistent traffic.
How to Improve Ecommerce SEO
As mentioned, improving your ecommerce SEO requires work, especially if you have a lot of products. That being said, there are a handful of very clear and powerful strategies you can use to bolster your online store's ranking and increase your traffic.
Prioritize Your Pages
If you have product pages that typically outperform others, focus on those pages. Likewise if there is one particular product you'd like to sell more of, and therefore rank higher for, prioritize that page. By deciding which pages you want to boost you can create a more focused and effective SEO strategy.
Keyword Research
This is the big one. Keyword research is absolutely critical to improving your store's SEO and increasing traffic to your online store. Firstly, there is a very important distinction to make: ecommerce SEO is different from normal SEO because it's about commercial keywords rather than information keywords. People are searching for specific products like a phone case, rather than let's say a recipe for guacamole.
Commercial keywords show buying intent. And the more specific their search terms, the farther along they are in the buying process. Think 'phone case' versus 'Otterbox iPhone Pro Defender Series Pro XT Case'. The second search shows they aren't just interested in any old case but have serious interest in a specific Otterbox case.
There are three very important points to consider concerning ecommerce keywords:
Keyword search volume - What keywords are people using and how popular are they in your market? The higher the search volume, the higher the traffic. Google's

Keyword Planner

is a great free tool for this.
How competitive a keyword is - Higher search volume usually means higher competition and higher cost per click (CPC). You want to find keywords that have a good ratio between popularity and cost.
Keyword user intent - Again, how specific are the search terms? For ecommerce keywords you want phrases that show the intent to buy, not just find information.
So how can we find keywords to include in our SEO strategy?
Let's start with Google. I'm sure you're familiar with Google Autosuggest: You begin typing a word and Google gives you a list of suggestions to complete your query. These are popular keywords other people are using to find what they want.
Likewise, at the bottom of a Google SERP you can also find a set of related search suggestions. Both of these are a treasure trove of keyword ideas for your SEO strategy.
We can also perform a similar process with Amazon. And unlike Google, Amazon won't include informational keyword suggestions. Amazon is all about products, just like your store. Just type in a keyword relevant to your industry to see keywords and category suggestions.
You can also use Amazon to do competitor research. Simply find a successful competitor who sells on Amazon and browse their catalogue to find categories, subcategories and keywords relevant to your niche.
Keyword research tools like SEMRush are also great options to get even deeper with your keyword research. SEMRush allows you to do direct competitor research based on urls with their 'Organic Research' feature. You can find all the keywords your competitors rank for, keyword difficulty and other keyword data including on their (and your) other competitors, too. The Moz Browser Extension is another excellent tool for finding out what SEO titles and descriptions your competitors are using. And unlike SEMRush, Moz is free.
For ecommerce SEO, we highly recommend mapping your site and doing distinct keyword research for each page separately. Aside from your homepage, category and product pages are the two main page types you want to invest your time in.
One last word on keyword research: Broad, general terms related to your industry will be dominated by big, household name brands. If you're in the sports apparel industry, don't try to rank for 'sports apparel'—you can't compete. You want to focus on more specific, lower competition keywords related to your particular product and category pages.
Using Keywords
Once you've identified high volume, low competition keywords you can begin inserting them into your pages. Your homepage is of course the page you want to focus on most for ranking, but as we just discussed, don't forget your product and category pages. Apply your keywords naturally to page titles, product tags, meta descriptions and urls.
Tips for using keywords:
Include primary keywords and long tail variations
Include USPs such as free shipping, handmade, local, etc.
Include action terms like sale, buy, free etc.
H1s: for category titles use the category name and for product titles use the product name
Keep urls simple and clear, including relevant keywords separated by hyphens
Write unique, concise product descriptions that include lead and long tail keywords
If you have a physical store as well, be sure to include location keywords, too
Page Structure and UX
Aside from researching and optimizing keywords for your ecommerce site, you need to ensure your store is navigable and user friendly. And how Google crawls, indexes and ranks your site is heavily dependent on the structure and usability of your online store.
How a visitor engages with your store and how easy it is to get around is very important. In general, simple is better and makes scaling for growth less of a hassle, too. You want to make it possible for anyone, including Google, to never be more than a few clicks away from your home page. You also want to send internal links from your pages that rank the highest, such as your homepage or main product/category pages, to lesser ranking pages. Your homepage, for example, should link to all major category pages and even directly to some products.
Your online store should also have a responsive design across all devices. Google is prioritizing mobile first, which means you should do the same. Page speed and load time is also more important now than ever in terms of SEO. In short, your store should give users the best user experience possible and Google will reward you handsomely.
Optimize Images and File Names
High quality product images are essential for selling. Shoppers want clear shots from multiple angles to investigate your products before making a purchase. And images are also important from an SEO standpoint. Take advantage of image filenames by adding in your keywords and product specific image descriptions. Also do the same for your alt tags when uploading the files to your ecommerce store. The result? Your images can then appear on Google Images which has become an important search results page in it's own right.
Ecommerce SEO is a broad subject and there are many more techniques than what we've covered here. These include content marketing, backlink building, technical SEO, etc. Yet by focusing on well researched keywords, prioritizing category and product pages, and making your online store easily navigable, you're well on your way to higher ranking and more traffic.