By Laia Cardona, on 2 September 2015
Many have returned from vacation and we are reinstating daily life and work. At first it is a bit strange and we need a few days to adapt, but the upside is that we come back fresh, active and more energetic. New creative ideas are in our heads and we want to implement them. If one of these ideas is to go for the Inbound Marketing, then this is the article for you and you'll be interested to read it to the end.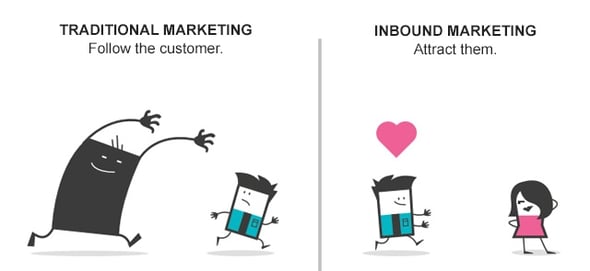 This online marketing strategy is one of the most important at present and with greater projection. First, for its effectiveness to create, enhance and promote the brand image. And, secondly, to attract quality leads (with interest in our product or service), loyalty and support them throughout the purchase process to display greater responsiveness when receiving a commercial offer.
In fact, one recent survey shows that the
average increase in Inbound Marketing investment strategies is 40% among Spanish companies and Latin American countries.
71% of respondents confirmed that they maintained of equal or greater budget in 2014 compared to 2013.
As for the return on investment (ROI), virtually all companies, regardless of category, claim that there has been more positive results in 2014 than in the previous year. Companies facing the end customer (B2C) are getting the best results at the Inbound Marketing ROI, followed a short distance from the B2B. However, non-profit organizations show, in this regard, less satisfactory results.
In terms of profitability, the results are good. Although Spain has better numbers than Latin America, and 92% of Spanish companies surveyed responded that results were higher than in 2013 and 79% of Latin American countries.
When it comes to prioritizing the objectives of marketing activities, the report gives the following order:
Increase the number of leads.

Reach the relevant audience.

Increase revenue from existing customers.

Reduce the cost of purchasing leads.

Demonstrate the profitability (ROI) of marketing activities.
The size of the company is also an important factor in this order of priority:
Generating leads and customers is the main interest of small companies.

Large organizations need to show greater loyalty of existing customers and increase revenue trend.

The need to demonstrate the ROI of the shares is higher in larger business.
To achieve its objectives, Inbound Marketing strategies focus on different types of content and channels. The 3 most important trends are:
Creating content for the corporate blog.

Increase traffic of the web in a natural and organic way (SEO)

The distribution and extension of the contents through social networks, other websites or blogs, to achieve greater visibility.