By Kelly Rogan, on 16 April 2015
Welcome e-mails are, in many cases, the onset of the relationship between a brand and its customers. A context in which, increasingly, companies try to establish more special, durable and cost effective links with users, the welcome e-mail is probably the first (and maybe the last) opportunity to impact and engage users.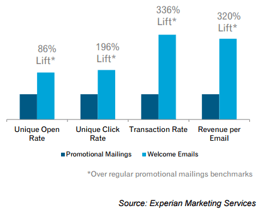 In fact, a study by Experian Marketing Services revealed that presenting these e-mails
resulted 3 times better
than any other e-mail coupon with more openings, better CTR and increased profitability.
If we perform a quick internet search, we find plenty of good practices: it should arrive in a short period of time after the subscription has been made, be personalized, thank the user and inform them of the benefits of being subscribed, be integrated with social networks, etc. While undoubtedly these factors are really important to the effectiveness of welcome e-mails, they are also logical aspects that each of us would already implement in their preparation.
But when it comes to engaging users, we need something different, that really makes a difference and make users want to establish this special and lasting bond of which we speak. And for this, there are no rules, you just have to be creative, think of your target and find what can impress them. As an example, we show an e-mail that we received from PopPlaces, which for us is the image of one of our values: "Always Find A Better Way".
It is simple, clear and relaxed. But also, if we press the play (you can see it here) you'll find team members celebrating with joy that you have joined the community. Nothing out of the ordinary, just a touch of originality that makes us remember this e-mail above anything else we have ever received.
In Cyberclick we have been mentoring the project and we can assure you that this e-mail is not coincidental, but actually it's the result of a way of working. With creativity and applying simple ideas that they decide to implement, other companies are left behind making a big difference in the face of users. From here, today we dedicate ourselves to three values: Admire People, Always Find a Better Way and Customer Experience Freaks. Congratulations!