By Laia Cardona, on 26 December 2019
Year after year, inbound marketing proves itself to be a valuable digital marketing method. And, year after year new trends and practices develop, pushing its evolution further along.
When inbound marketing first emerged in 2005 the way we used the interest was totally different. On the surface, 2020 inbound marketing may look little like 2005, but both share the same spirit: attracting users to your brand organically, and accompanying them on the road to becoming loyal customers.
Let's take a look at the latest inbound marketing trends so that you can continue to use this method for years to come.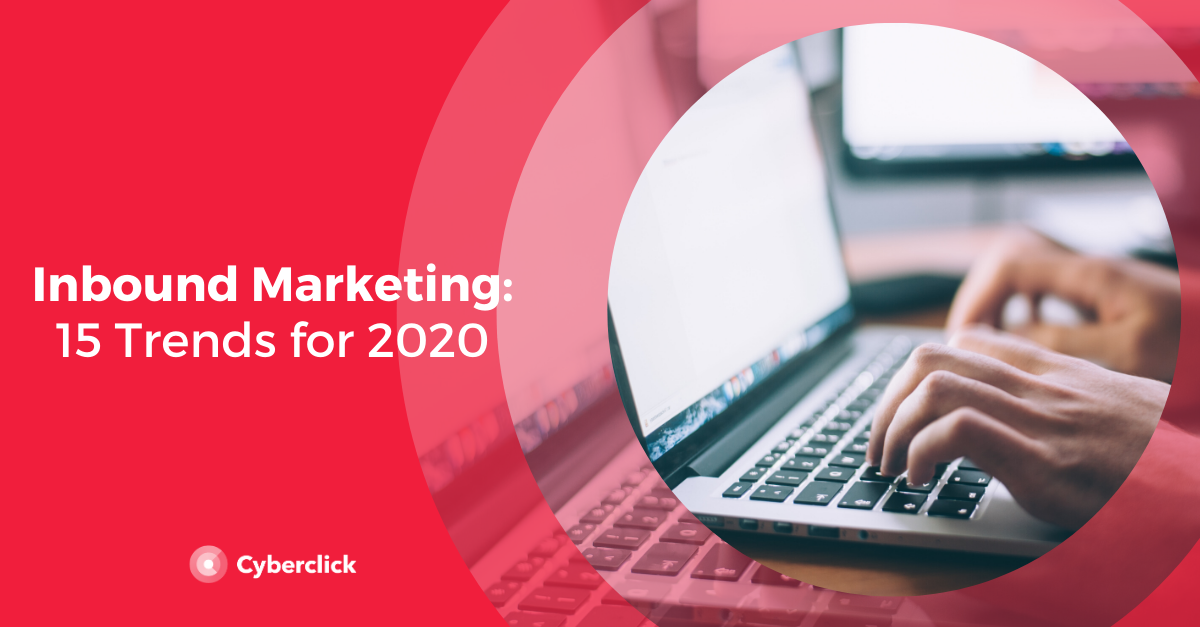 15 Inbound Marketing Trends for 2020
1. Progressive Forms
Forms are necessary to qualify contacts and assess whether they are a potential customer or not. But, at the same time, asking for too much information can cause the visitor to get creeped and leave before completing the form.
Progressive forms intelligently resolve this dilemma by "remembering" the user and showing them only the fields that they have not yet completed on a previous visit. With this method, over several downloads, you can complete the data you have about a lead and see if they are qualified for marketing or sales. However, you must ask the name and the email of the user every time, since this is how the software identifies and recognizes the user.
2. From Conversion Funnel to Conversion Cycle
The diagram of the conversion funnel has accompanied marketers for many years, and has guided many of their strategies, but we think it's time for a change. In 2018, Hubspot surprised the inbound marketing community when they proposed changing the conversion funnel into the conversion flywheel, a moving cycle that covers the following phases:
Attract: Create content and conversations that generate a relationship with your audience.
Convert: Build lasting relationships with customers by providing valuable information and solutions aligned with their obstacles and goals.
Delight: Provide an extraordinary experience that adds real value and encourages clients to become ambassadors for your brand
While a funnel loses energy as it progresses, the energy on a flywheel is efficiently recycled. Thus, the customers you have already gained indirectly help you generate new sales and the process starts again.
The conversion cycle isn't a new concept. It was invented in 1993 by Don Peppers and Martha Rogers, the creators of 1-to-1 marketing. But this old school method has a new life in 2020: we expect to see more companies using this method to incorporate all areas of marketing, sales, and services as a whole.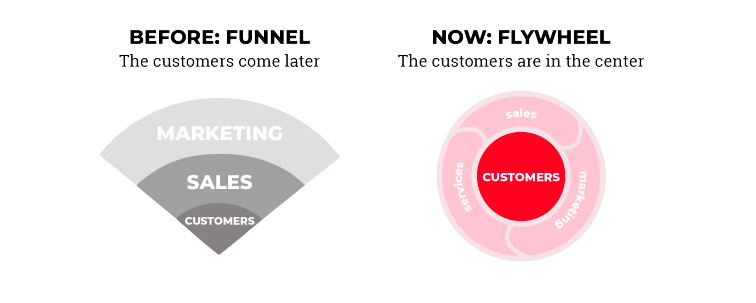 3. Public Relations as Inbound Marketing
Public relations can sometimes get a wrap for being old fashioned, but it is actually one of our top trends for 2020. This tactic is based on cultivating the brand's relationship with the media and getting them to talk about the brand organically, without having to pay for sponsored content.
A modern public relations strategy can have many advantages for a brand: more visibility and engagement, positioning the brand as an expert in their sector, and increasing leads.
4. Predictive Sales Rating
As inbound marketing experts know, getting leads is only the beginning. The next step is to perform a rating strategy that allows us to discern whether the lead is ready to be passed to the sales team, if they need more marketing communications, or if they should be discarded.
Traditionally, lead rating has been done through lead scoring, which includes assigning a series of points to the lead based on different variables. Instead, predictive sales rating automates the process by using an algorithm that analyzes what the lead has in common with clients who have converted in the past, and then gives it a score based on their conversion possibility.
5. Natural Language Processing
Natural language processing is an area of artificial intelligence that keeps moving forward and has multiple applications for marketers, so it's not surprising that its among one of 2020's top trends.
Next-generation language processing systems can distinguish between passing mentions of a brand and those that have an actual purchase intent, and offer the brand a list of potentially interested customers.
Another high-potential application of natural language processing is creating content for inbound marketing. Although computers are not ready to replace a human editor at the moment, in the coming years we expect to see interesting developments in this area. However, there are companies that are starting to dabble in artificial intelligence and using data to create new content from previously published content. The idea is that, through the platform, you can include several links from different sources that you want to use, and then the platform makes new written, visual or video content.
6. Google Indexing as a Trusted Source
According to a Google study, users rely more on search results than on the advice or opinions of family, friends, and acquaintances. This provides an excellent opportunity to capture potential customers with a strategy based on content marketing and SEO.
However, in 2020 the market is saturated with branded content. To be able to stand out, we have to be able to adapt like a glove to the specific needs of users and offer high-quality content, and ditch the general content of the past.
7. A/B Testing in SEO
One of the keys to success in digital marketing is testing different ways to do things, and SEO is not an exception.
SEO A/B testing allows you to isolate variables that actually work when it comes to attracting traffic. With this information, it is possible to make structured changes to existing content to improve the positioning of a page with relatively little effort. To detect areas of improvement, our recommendation is that you start by looking at the pages on your website that attract a lot of impressions but a low click-through rate.
You can try launching a page with two different titles and meta descriptions and see which one works best when it comes to attracting users in SERPs.
8. The Migration of Advertising Investment from Facebook to Instagram
Instagram is becoming an increasingly interesting platform for advertisers, to the point of becoming one of the trends to follow in 2020.
According to Socialbakers, in 2019 spending on Instagram advertising grew while the investment in Facebook decreased. Instagram's higher engagement levels is a direct contributor to the shift.
During the last year, permanent Instagram posts reached more impressions per post than Stories. Despite this, the number of brands that used Stories quadrupled last year, with an increased investment of 213%.
9. Video Marketing
Yes, video is still trending in inbound marketing in 2020. Although this format is nothing new, the figures show that its popularity continues:
With improved smartphone cameras and increasingly popular formats such as live video, which requires no editing, this format is more accessible than ever for brands of all sizes.
10. The Rise of Podcasting Content
Podcasts are a booming trend for 2020. According to data from Statista and Business Insider, Spain, the United States, and the United Kingdom have some of the highest podcast listeners (at 40%, 33%, and 18% respectively). Even more revealing, 65% of listeners surveyed in Encuesta Pod 2019 listen to traditional live or on-demand radio today. Another highlight is that the average podcast user prefers a duration between 30 minutes to an hour.
Additionally, podcast listeners are very loyal. 79% of Encuesta Pod 2019 respondents said they listen to 90% of the episodes of the shows that they're subscribed to.
The most interesting information for marketers is that 40% of listeners claim they are willing to listen to ads while listening to an episode. In short, podcasts are a great opportunity to inject brands into the day-to-day lives of their target audience, offer interesting content, and generate community and loyalty.
11. Artificial Intelligence and Machine Learning
Artificial intelligence has the potential to alter virtually every aspect of inbound marketing by 2020 and beyond, from intelligent content curation to segmentation and analytics.
If correctly implemented, artificial intelligence can help optimize creativity, distribution, and analytics and fine-tune marketing initiatives to help create faster, better, and highly segmented marketing strategies.
But despite its potential benefits, artificial intelligence still faces challenges such as consumer suspicion. In general, users want to receive familiar, personalized treatment, and if they feel like they're "talking to a machine" they can feel rejection and resentment. That's why marketers should start with a strategy to change customer's perceptions of AI before including it in their marketing plans.
12. Automation and Email Marketing
According to a recent Forbes article, "email is not dead, it is evolving." This statement perfectly sums up the current state of email marketing.
A Hubspot study revealed that consumers don't mind receiving emails frequently, as long as they're relevant to their needs. But, sending personalized and relevant communications can be a challenge when managing a large database. The solution? Marketing automation.
With a well-configured marketing automation platform, it is possible to activate email flows in response to specific events, thus increasing the emails' relevance to users. It's not about putting all campaigns on autopilot, but about using technology intelligently to suit users' needs at all times.
13. Conversion Rate Optimization (CRO)
This inbound marketing trend is based on improving the ability to encourage customers or leads to perform a specific action. The CRO is closely linked to data-based marketing, as it uses the analysis of what is happening to determine how to improve metrics.
The CRO helps identify and solve possible critical points and conversion problems on a website. The objective is to improve the conversion rate by introducing a series of simple changes in the key locations.
14. Big Data
We've been talking about big data for years, but as time goes on, this technology has become more accessible and relevant. We are increasingly in need of better capabilities to both analyze available data and put use it for inbound marketing campaigns.
Big Data, within an inbound strategy, can help ensure personalized and user-specific experiences throughout the buyer journey, so potential customers will become more involved with the brand. These types of technologies are already integrated into CRMs like Hubspot, where you can segment your contact base and use content features through smart tags.
15. Chats and Messages
Direct messaging apps such as WhatsApp or Facebook Messenger have changed the way we communicate in recent years. And now, this revolution is coming to inbound marketing.
According to Hubspot data, the willingness of users to be contacted by such applications varies greatly by region. Globally, 49% of users would agree to communicate with brands through Facebook Messenger, but this percentage drops to 26% in Germany and rises to 73% in Latin America. On the other hand, WhatsApp enjoys 46% acceptance globally, but this figure is only 11% among Americans and no less than 83% among Latin Americans.
In a step towards this trend, Hubspot now allows you to manage the Facebook Messenger bot from their platform. For marketers, these applications offer very interesting possibilities in the field of customer service and marketing automation. It's time to experiment!