By David Tomas, on 29 March 2017
Trigger Marketing is an essential tool for your email marketing strategy to be successful. Also known as triggered email marketing, this technique consists in programming messages or notifications to be sent at a specific moment, as a response to an event. This event can be an action completed by the user, a certain day, some important news, or any other moment that creates a conversion opportunity for your brand.
Thanks to triggered email marketing, you can seduce your audience with highly personalized messages, that reach out to them right at the perfect moment. To help you get your strategy up and running, here are 10 types of trigger marketing campaigns and how to use them.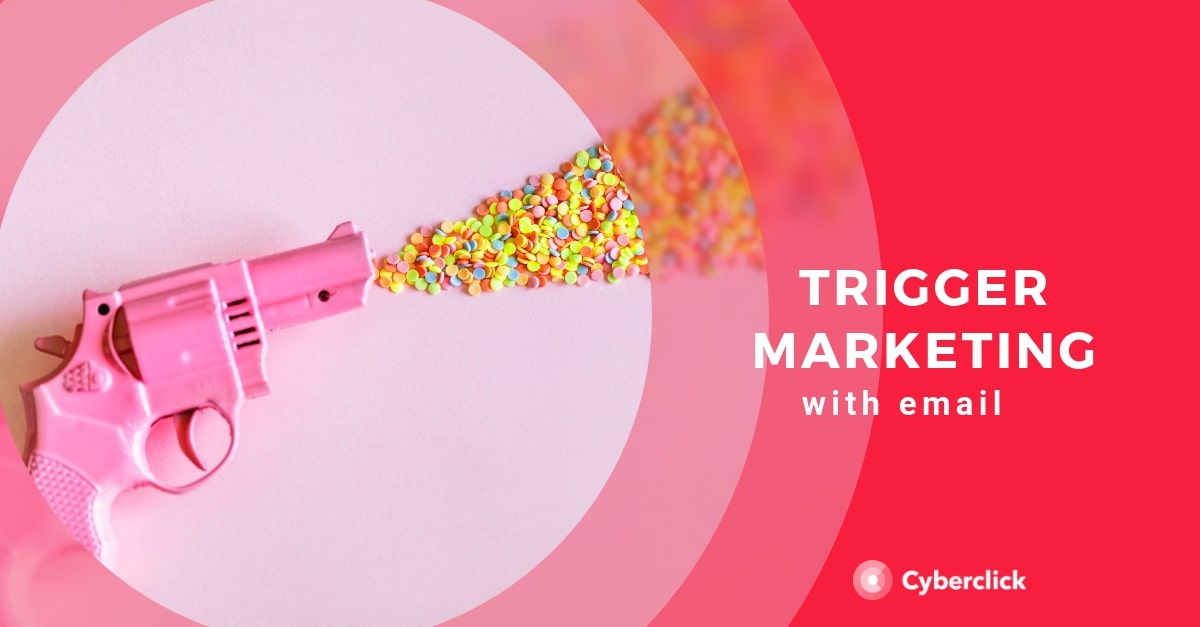 10 types of triggered email marketing campaigns
Welcome.

First impressions are undeniably important, so put some effort and care into your first ever message to your new clients: its success or failure determines the future of your relationship with them. It also helps for the user to know exactly what to expect from you, and to know you to behave in relation to your brand, so be as clear as possible.
Incorporation.

The user has subscribed to your newsletter, but has not yet set up an account nor started using your webpage or e-commerce. Now is the time to send them an email to motivate them to do so.
Early activation.

This message is specially designed for people who have created an account on your website, but have not yet begun the purchasing process. Think about what incentives you can offer them to get them moving down the

conversion funnel.
Reactivation.

Everything was going perfectly… but somewhere along the beginning of the line, the user stopped clicking. If you want to bring them back to you, win them over with the right kind of triggered email marketing.
Remarketing.

If you want to start off slow, using only one kind of trigger marketing campaign, use this one! These messages, also known as the "abandoned shopping cart", target users who gave up on their purchase half way through. These experience the highest conversion rates of any email marketing campaigns, especially if you make the right offer.
Transactional.

These are your typical purchase, order, shipping or return confirmations. On their own, they won't bring you any conversions, but they are essential to maintain healthy communication with your client and strengthen your brand.
Account notifications.

These emails inform users about any password or address changes, or any other information regarding their account. Like the transactional emails, they are not conversion oriented, but are nevertheless crucial to communication.
Personal events.

Show your users you remember them! These are your typical happy birthday, happy anniversary and other happy, important dates. How can your brand help make their day even more special?
Achievements.

This type of campaign focuses on celebrating users' achievements related to your brand. If you do it right, you can turn these into conversion "excuses".
Real time triggers.

Last but not least, these campaigns are based on the user's environment, and react to factors like the weather or their location. Plan these right, and you just might nail instantaneous conversions.
-----
"With triggered email marketing, you can seduce your
audience with highly personalized messages."
-----
How to begin your triggered email campaigns
Honestly, there is not much mystery to the art of trigger marketing. The tricky part is taking to to high levels of personalization, as you run the risk of having so many details and conditions that can overwhelm you.
Where to begin? My advice is that if it is the first time you're getting involved in the trigger marketing world, take it slow. As we mentioned before, the "abandoned shopping cart or basket" type campaigns are the most effective in terms of conversions rates, so you might want to focus your efforts on that. To take it a step further, personalize your emails based on the kinds of products the user had in their basket when they abandoned their purchase.
Other basic emails to add to your list are welcome emails, incorporation and reactivation emails. Transactional and account information messages are important to avoid confusion, but personalizing them is not necessarily a priority at the beginning.
Once you have automated part of your email marketing, you can begin A/B testing and analyzing changes in your opening, click and conversion rates. The more tests you run, the more you can optimize your campaigns to improve your email marketing ROI. You'll be an expert in triggered email marketing before you even know it.
David Tomás