By Marta Canadell, on 13 February 2020
Both SEO and SEM are to basic essentials in any digital marketing strategy, but are also two acronyms that can be quite confusing: which is best for my brand, and how can I use them together?
Well today I would like to solve any questions or doubts you may have on this topic, by telling you what exactly SEO is, what SEM is and the difference between the two… and our own Cyberclick secrets to combining them in the most effective way.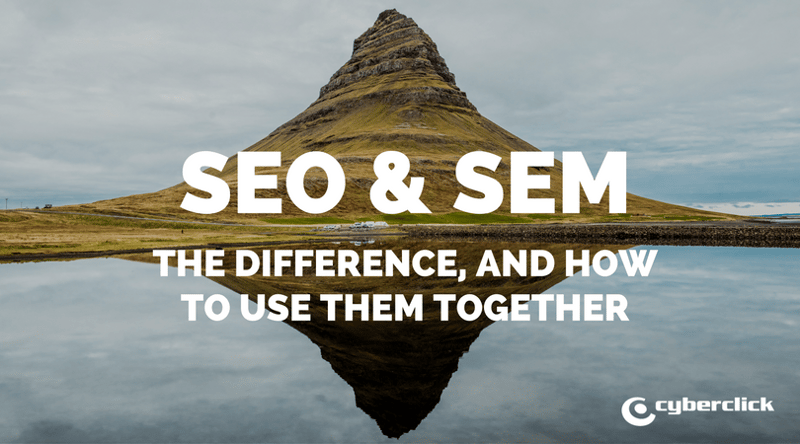 What is SEO?
SEO stands for Search Engine Optimization. According to Wikipedia, it is defined as the "process of affecting the visibility of a website or web page in a web search engine's unpaid results - often referred to as "natural", organic, or "earned results"". In Europe and North America, SEO strategies are focused on Google, as it is by far the most popular search engine in these areas.
With this definition, it is very important to point out that SEO refers to organic results, in other words, we are not going to be paying these search engines to improve our page's position.
Search Engines have evolved impressively over the years, and SEO strategies have become increasingly more sophisticated along with them. Put very simply, there are two fundamental factor that influence a page's position:
Relevance.

Google considers a website to be relevant when it is strongly related to a specific search, in other words, when it answer the user's question or doubt. To improve our webpage's relevance, we use on-site SEO techniques: keyword and URL optimization, faster loading times, improved user experiences, etc.
Authority.

A website has authority when it is popular, and this popularity is measured by the number of links that redirect to it. To improve a webpage's authority, we use off-site SEO techniques, particularly what we call linkbuilding.
If you want to know more, we go into much more detail in this article: What is SEO, how search engines work and why it is so important
What is SEM?
SEM, on the other hand, stands for Search Engine Marketing. Basically, we can say that SEM covers all techniques used to improve a page's position (including SEO). Nevertheless, most marketers use the term SEM as a synonym of search engine advertising. In order to avoid confusion, I will do the same in this article.
SEM, then, refers to the techniques that improve our website's position through paid ads that are shown on search engines for certain keywords. In Europe and North America, the most popular search engine advertising solution is Google AdWords.
The differences between SEO and SEM
As we have seen, both SEO and SEM strive to improve a website's position on search engine, such as Google. But there are several differences between them:
The most obvious of all is the

type of investment they require.

There is a stereotype that "SEO is free", but that is not quite true: getting a webpage on the top results of a search engine requires time, effort and, lastly, a budget. Although, except for some maintenance costs, it is in essence an initial investment that will pay dividends in the future.With SEM on the other hand, you have to pay for each click on one of your ads.

The exact

space

your ads will occupy is also different. AdWords Ads appear in a row at the top or a column on the right hand side of the page, whereas organic results can be found in the middle of the page.

The

type of content

we work with is also different in each strategy. SEO is based on creating high quality content which tends to be longer, while SEM ads are short, with a limited amount of characters and landing pages designed to have the maximum impact in the minimum elements.

Lastly, the

timing

is also different: SEM works for short to medium term results, while SEO is more of a long term investment.
How to combine SEO and SEM in your marketing strategy
The next question is, which is better? SEO or SEM? The answer is both at the same time. If you combine them intelligently, you can make the most of their mutual potential to get better results in both strategies.
Ou philosophy here at Cyberclick to combining SEO and SEM is very simple: first SEM and them SEO. How?
The first step is to

study the most searched for keywords

, and that are most clicked on per sector, product or service. To do this, we can use tools like AdWord's Keyword Planner or SEMRush, which are especially designed for SEM. Ideally, you want to find keyword with high search volumes, but for which the competition is still relatively low.

Using the insights from the first step,

we launch our SEM campaigns

to begin attracting visitors. This way, you can get tangible results from the word go, without the long wait that comes with organic results.

All of this work we have already done does, however, serve our SEO as well.

We now already know which keywords are most interesting for us and how many users are searching for them. The next step is to use this information to plan our content strategy, adapting our website, blog and social media to these keywords. The goal is not to include these words in the text nonsensically, but rather to understand what it is users are looking for, and how we can answer these needs with high quality content, all while strengthening our linkbuilding strategy. This is how we can see the results of our efforts in positioning in Google, in both the short and the long term.