Create your Buyer Persona today!
Defining your buyer personas is the first step of your inbound marketing strategy, so you have to ensure you do it right. This is why we created this downloadable pack to help you create your Buyer Personas.
This pack includes three parts:
An excel sheet with a list of prepared questions that will help you gather relevant data about your potential customer

A blank template where you can input all of the data

A free e-book to help guide you along the process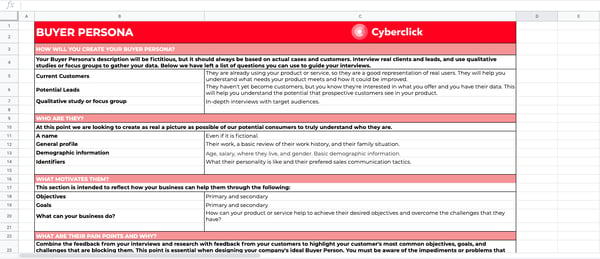 Use the questionnaire (which can be opened using Google Sheets or Microsoft Excel) to ask the right questions, including personal and sociodemographic information, their behavior, and their preferred communication styles and ways to receive marketing and sales information.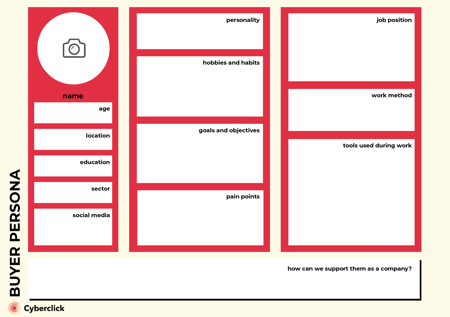 Using the template, you can add in all of the relevant data to conceptualize your buyer persona, including adding a picture, name, ages, demographic information, goals and pain points, and more. You can edit the template using a photo or PDF editor, like Canva or InDesign.
Benefits of Using a Buyer Persona Template
Clearly organize your potential customer's relevant information

Ask the right questions when interviewing your contacts

Have a clear vision of your potential client's needs and anticipate them

You can use it as a guide for the segmentations of your online marketing campaigns

Guides your content creation strategy

Save time when designing your marketing plan
Fill out the form to get your free buyer persona pack today! >>