By Kelly Rogan, on 22 July 2015
On Monday July 20 we held a mini summer foosball league between Inbound Cycle and Cyberclick, two companies within the Cyberclick Group. It was 30 minutes of foosball and started off just before lunch, where all could enjoy an intense and full of emotion moment to start off the week. Although more than one person will ask, 'Is there a foosball table in the company?' The truth is that it serves as entertainment for the team and a strategic tool for the organization.
Who won? Actually, this is not the important factor, but that everyone enjoyed, created feelings of togetherness in the team and, of course had some healthy competition in this foosball game. Each company chose its representatives: Toni Arco and Héctor Borras, for Cyberclick, and Marina Mele and Aniol Quer, Inbound Cycle. All were big foosball fans and the best from each team.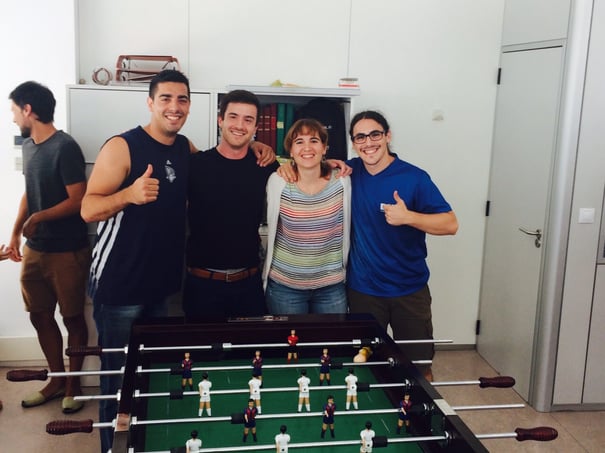 The inner story of the organization could end here, but because with it we can learn how the most pioneering companies are now manufactured in corporate culture.
Why put a foosball table in your company?
Today's most innovative companies are moving away from the classical form of functioning companies, where almost the only important thing was to achieve the objectives. Now, however, the general welfare of the team and individual are highly valued. Why? Thus two factors are obtained:
People work better, feel more valued, motivated and self made.
The company gets a more committed team and working more and more illusion.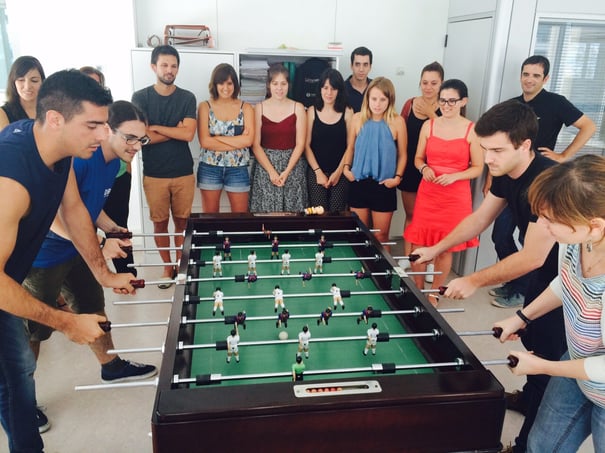 Precisely, in the previous post 'Business Culture and Team: David Tomas in Bstartup' it was stressed that a culture based on a good work environment directly impacts the bottom line. Great Place To Work says companies that work in this good environment grow 21% above the market average.
This is achieved by introducing incentives to help employees to create a better working environment. Also to help people consider their company as a second home and / or as a place where they feel like going to work every day. One of the bonuses is to offer a leisure space where people can freely go to disconnect from their routines and have a good time participating in a team. Then everyone is able to return to his or her more productive and alert state of mind.
The foosball fun is not the only option: for example, the nonprofit organization Kruger Labs in Quito (Ecuador), has chosen to build its new headquarters with a premise in mind, "regression to childhood." To enter the building you need to climb some stairs that are built as Lego blocks, there are slides, fishing nets, a climbing wall and a meeting room that turns into an indoor football room. This is a company that has brought the maximum exponent to create a fun space.
What kind of leisure has encouraged your company? What beneficial effects do you notice?
Laia Cardona
Photos by Judit Pan