By Kelly Rogan, on 11 June 2015
The European Growth Summit 2015 event arrives in Barcelona on Friday, June 12, after visiting Bucharest and Amsterdam. The whole Cyberclick team is thrilled to attend this event because leaders worldwide will speak on the topic of growth, and it's aimed at providing tools for businesses to grow and prosper. For this reason we encourage that you come and join us here.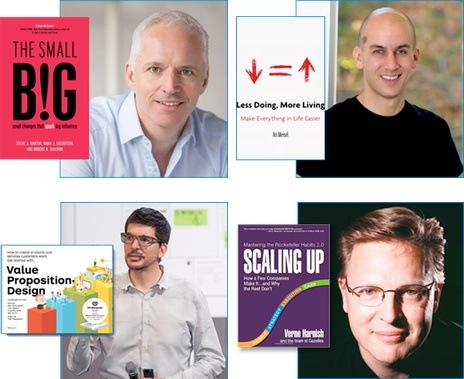 In the Growth Summit you will learn how to design strategies and implement decisions. It is a unique opportunity to hear advice from these speakers:
Steve Martin
Director of Influence at Work (UK) and author of "The Small BIG!: Small Changes that Spark BIG Influence". He specializes in talking about the science of influence and persuasion and their application in a wide variety of business, government and nonprofit contexts.
Ari Meisel
Fachievement Architect in Less Doing and author of "Doing Less, More Living: Make Everything in Life Easier". Ari is a person with an amazing spirit of improvement; in 2006 he was diagnosed with the incurable Cohn's disease and came to take a dozen daily medications. But one day he decided he would do everything possible to strengthen his body, which at that time was very weak. Through a combination of yoga, good nutrition, natural supplements and rigorous exercise he was able to fight the symptoms of the disease and discontinue the medication. Finally, he was declared free of the disease and competed in the Ironman France in June 2011. He speaks regularly in seminars and talks about his struggle against a seemingly insurmountable opponent. He also helps people to be more effective in everything and is an advisor to several companies.
Alexander Osterwalder
Cofounder of Strategyzer and author of "Value Proposition Design". He is also the author of the bestseller "Business Model Generations," a passionate entrepreneur and speaker in high demand. Dr. Osterwalder invented the "Business Model Canvas" a strategic management tool to design, test and build business models, which is used in companies such as Coca-Cola, Mastercard, Ericsson, Lego or 3M. Usually he gives lectures in organizations and leading universities such as Standord, Berkeley, MIT, IESE and IMD.
Verne Harnish
Founder and CEO of Gazelles. He is the author of "Scaling Up, How a Few Companies Make It ... and Why the Rest Do not". He is the promoter of this event and in turn is a recognized world guru on corporate growth.
The Growth Summit is intended not only for CEOs, but for the whole team. Each year we go to this event and we walk away very motivated and eager to take on the world.
The session will be held in Barcelona at IESE Business School (Avenida Pearson 21, 08034 Barcelona) from 9am to 18pm.
Cyberclick