By David Tomas, on 23 August 2017
Attracting customers and then building long-term relationships is one of the best strategies you can use to keep your company healthy for many, many years. And to achieve this, customer service is absolutely essential.

As Sam Walton, the founder of Walmart, said, "The goal of a company is to have customer service that is not only the best, but is legendary.
The demands are high, but so are the rewards. According to a recent IDC study of 24,000 consumers in 12 countries, 25% of users are encouraged to leave an opinion and 18% renew their products and services with the same company after having a positive customer service experience, even if it's not the cheapest option.
Therefore, building customer loyalty is a crucial process that you must begin now, in order to attract customers for years to come! To help you, I will share 6 strategies for attracting customers and keeping them.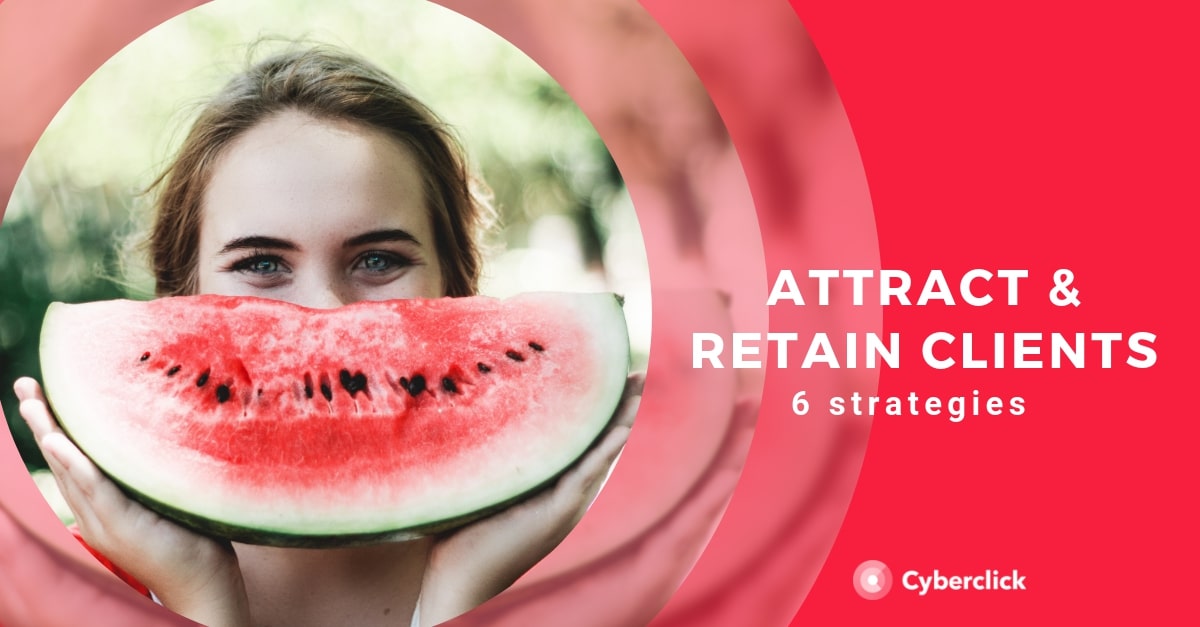 How to Attract Customers and Keep Them
There are a variety of strategies and tactics that you can use to attract customers and retain them over time. I have compiled this list of 6 to help you get started today:
1. Communicate Naturally
One of the main customer service complaints is that it is robotic and unnatural, even when the user is interacting with people and not with answering machines. It turns out that companies are bent on training their employees to memorize greetings, sales pitches, and apologies, while customers want genuine answers. In fact, according to the above-mentioned study, 83% of consumers believe that talking to a person will always be important in customer service. In addition, the more complex the problem is, the greater the need for personal treatment.
So when you talk to your customers, try to make the communication as "face-to-face" as possible. Be sure to use their names, use humor if appropriate, and be polite but natural. Showing empathy will help you greatly in connecting with your clients.
Don't miss any opportunities: all interactions allow you to attract and retain customers. And little by little, repeated interactions form the relationship. Think for a moment about your personal life: the people you build the strongest relationships with are the ones you interact with often, right? Well, the same goes for brands.
So, in order to attract customers, your objective must be to maintain fluid communication, really listening to your customers and reacting according to their response. Quality communication will be the touch that sets you apart from the competition.
2. Know Your Customers
The ancient Greeks said: "know yourself"..., In the case of companies, know your clients. The process of attracting customers has a lot to do with sales: you need to know the name of the person you're talking to, what they need, when their birthday is, and even the breed of their dog.
How can you get all this information? The key is to continue the conversation after the transaction. For example, if your company is in the B2B business, you can search for their profile on LinkedIn or your customer's professional page. Once you have this information, you can start thinking of ways to add value to it: recommendations, content, training...
In today's business environment, the easiest way to differentiate yourself from the competition is through the customer experience, not the products or services you offer. Giving the client an increasingly personalized relationship will make them remember you.
3. Use Complaints to Your Advantage
Improving customer acquisition requires a change in attitude. Instead of thinking about complaints and negative comments as an unbearable nuisance, use them as an opportunity to know what your customers really think of you. Personally, I prefer that a user complains openly than that they ignore or leave our brand without any explanation.
Negative reviews are what help you improve your services, give you the opportunity to redeem yourself, and help you avoid possible online reputation crises. But for that, you have to learn how to handle them correctly.
The next time a user protests, take it as an opportunity to solve their problems. Listen to him, get the information you need to solve the problem and act quickly. Apologize sincerely, thank the customer for sharing their problem and promise only what you can deliver. If everything goes well, you will have managed to keep a customer forever.
4. Keep In Touch
One of the basic keys to a good customer relationship is fluidity. In fact, according to IDC, 67% of consumers and 91% of companies believe that online and mobile services should be faster and more intuitive.
To maintain this fluidity, it is necessary to have regular contact with the customer. Once again, think about your personal relationships: if you never meet someone, if you don't know anything about their day-to-day life, it is inevitable that the relationship will eventually cool down.
Creating an ongoing relationship allows you to monitor how the user feels about your brand and to address potential problems before they surface. These ideas will help you keep the spark of your relationship alive:
After relevant interactions, follow up by phone, email or social networking.
From time to time, send friendly messages to your customers to remind them that you are still available to them.
Create valuable content, such as articles or videos, and circulate them through your newsletter.
Send a monthly email with your company's news, such as product launches, events, and interesting content.
5. Win Your Customers' Trust
All long-term relationships are based on trust and commitment. If you get your customers to trust you, they will be much more satisfied and much more likely to be loyal in the long run. Achieving this is a matter of integrity and common sense:
Be sincere, be honest, and always keep your word. If you promise something to the customer, you better keep it!
Show your good intentions. Many times trust is broken because the customer feels that the company wants to take advantage of him, instead of acting on the basis of mutual benefit.
Be flexible. You know that the customer is always right... and even if he isn't, sometimes it's better to give in a little on your terms.
6. Use Inbound Marketing
Outbound marketing is based on going to where the consumers are and interrupting their daily life to showcase your products and services. This is the case with classic TV ads, banners or spam.
Inbound marketing turns this marketing paradigm upside down to attract and retain customers. The idea is to get your customers to come to you to start feeding your relationship with them.
One of the most common strategies to achieve this is to create valuable content that solves the real problems of your potential customers. Through blog articles, videos, ebooks, reports and other content, you can attract users to leave their contact details and become a lead. And a lead can be the beginning of a beautiful friendship.