By David Tomas, on 23 August 2017
Attracting and retaining clients to create long term relationships is one of the best strategies you can use to guarantee the longevity of your brand and company. In order to achieve this, customer service is key. Sam Walton, founder of Wal-Mart, said it himself: "the goal as a company is to have customer service that is not just the best, but legendary".
Although the standards and requirements may be high, so are the rewards. According to a recent study by IDC on 24,000 consumers from 12 countries revealed that after having a positive customer service experience, 25% of users leave a review and 18% renew their products and services with the same company, even if it is not the cheapest option.
Gaining customer loyalty is, therefore, a long-term, future-oriented investment that companies need to start working on as soon as possible, if they haven't already. To help out in that sense, we would like to share with you today these 6 strategies to attract and loyalize customers, compiled by Client Heartbeat.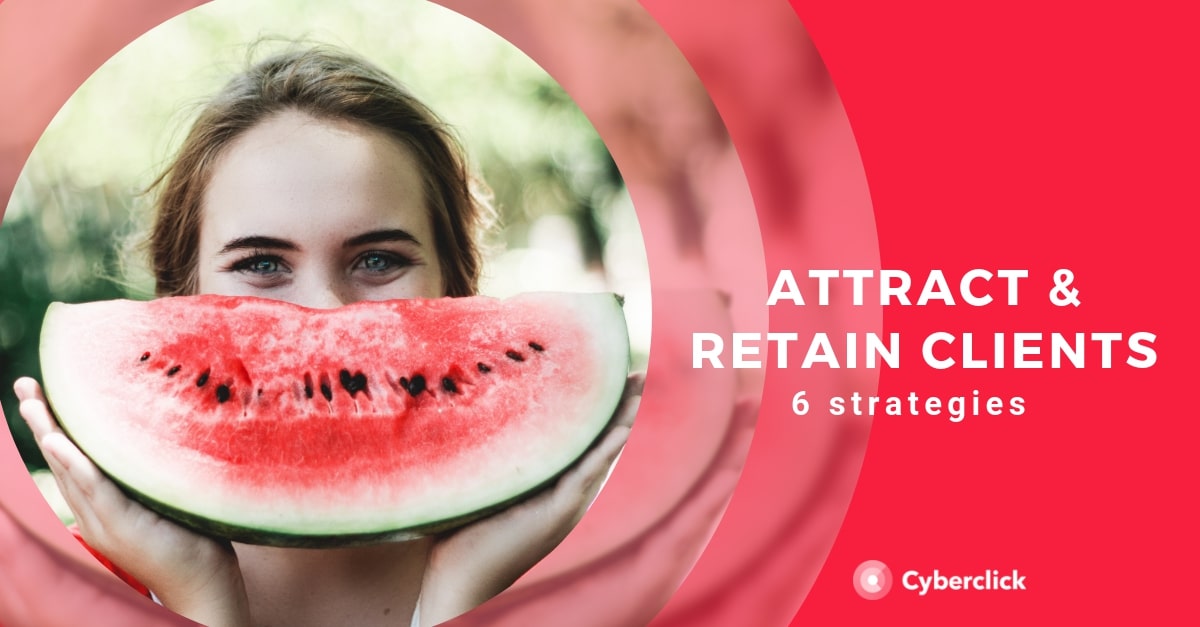 The keys to attracting and retaining clients
1) Communicate as humans do
One of the most frequent complaints about customer service is that they come across and robotic or unnatural, even when the user is interacting with a human being and not an automatic recording or machine. The problem is that companies seem to train their customer service employees to memorize greetings, sales pitches and apologies, while what clients want are genuine answers. In fact, according to the study we mentioned earlier, 83% of consumers believe it will always be important to speak with actual people about customer service matters. The more complicated the problem, the greater the need for human interaction.
When you talk to your clients, try to make your communication as "face-to-face" as possible. Make sure you use their name, be funny if it is appropriate and be polite but natural. Showing empathy will be a huge help in connecting with your clients.
Don't waste any opportunity: any and all interactions will help attract and loyalize clients. Little by little, these interactions will form a relationship. Think about your personal life for a moment: the people you have stronger relationships with are those you interact with most often, right? The same goes for brands.
To attract clients, be sure to guarantee smooth communication, really listen to them and react according to their answers and feedback. High quality communication will make you stand out from your competition.
2) Know your clients
The ancient Greeks were onto something when they said "know yourself"... in the business world, it would be "know your clients". The customer attraction and retention process is very closely to the sales process: you need to know who you're talking to, their name, what they need, when their birthday is and even what kind of dog the have.
How do you get all this information? The key lies in continuing the conversation after the transaction is complete. For example, if you work in the B2B industry, you can search for the user's LinkedIn profile, or your clients professional page. Once you have this information, you can start thinking of ways to offer them value: recommendations, content, trainings, etc.
In the intensely competitive business environment we work in today, the best way to differentiate yourself from the competition is through the customer experience, not the products or services you offer. Make your relationship with client as personalized as possible, until you stick in their minds.
3) Make the most of user complaints
Improving client attraction and retention requires a change in attitude. Negative comments and complaints aren't an unbearable nuisance, but rather a valuable opportunity to know what your clients really think of you. Personally, I would much rather a user complained openly about their concerns rather than abandoning the brand without saying a word.
Criticism is what will help you improve your service, will give you the chance to redeem yourself and avoid potential online reputation crises. In order for this to be true, however, you have to learn how to deal with them in the right way.
The next time a user speaks up, take it as a chance to help them solve their problems. Listen to them, get the information you need to solve their problem and act quickly. Offer them your most sincere apologies, thank them for sharing their problem and only promise what you can deliver. If all goes well, you will have won over a client's loyalty forever.
4) Keep in touch
One of the basic keys to any good relationship is communication and fluidity. In fact, according to IDC, 67% of consumers and 91% of companies agree that online and mobile services should be quicker and more intuitive.
In order to guarantee this fluidity, you need to keep in touch with clients and contact them regularly. Again, it is just like our personal relationships: if you never meet up with someone, if you nothing about their day-to-day life, your relationship will inevitably fade away.
Creating a continuous relationship will let you keep an eye on how the user is feeling about you and your brand, and address potential issues before they become problematic. This ideas will help keep the spark in your relationship alive:
After any relevant interaction, be sure to

follow up

, whether by phone, email or social media.

Send your clients

friendly messages

from time to time, reminding them that you're there for them.

Create valuable

content,

such as articles or videos, and send them out in your newsletter.

Send out a

monthly email

with your company news, such as new product launches, events and interesting content.
5) Earn your clients' trust
All long term relationships are built on trust and commitment. If you can earn your clients' trust, they will be much more satisfied and much more likely to stay loyal to you in the long term. Earning this trust is a matter of integrity and common sense:
Be

honest and keep your promises.

Say what you mean and mean what you say. If you promise, deliver!

Show your

good intentions.

Trust is often broken and lost because the client feels like the company is trying to take advantage of the, rather than acting in mutual benefit to both.

Be

flexible.

You already know the customer is always right… and even if they're not, it is sometime best to give in a little to their requests and conditions.
6) Focus on Inbound marketing
Outbound or traditional marketing is based on going out to find consumers and interrupt their daily lives to show them your products or services (for example through TV ads, banners or unwanted emails).
Inbound marketing turns this all around and attracts and retains clients. The idea is to get your clients to come to you to initiate your relationship.
One of the most popular strategies to do this is to create high-value content that solves your potential clients' real problems. Using an array of blog posts, videos, ebooks, reports and other content to attract users and get them to leave their contact information and become a lead.
A lead can be the beginning of a beautiful friendship.